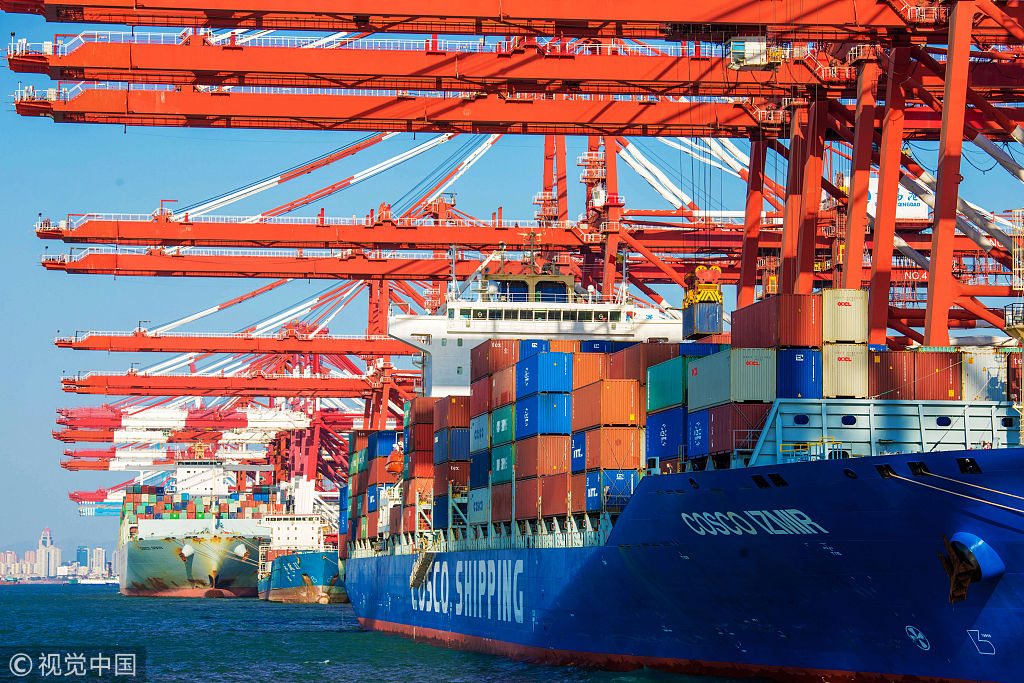 The outcome of the much-anticipated Xi-Trump meeting at the G20 summit in Osaka was largely in line with our expected central case, with the United States and China agreeing to resume talks and not escalate the dispute further.
The language was more positive than we expected, and we think markets will react in a limited but positive manner.
The June 29 meeting itself lasted 40 minutes, 10 minutes shorter than the allotted time, suggesting smoother proceedings than anticipated. President Donald Trump later tweeted that he had "a great meeting" with Xi that was "far better than expected".
Both sides agreed to restart talks based on "equality and mutual respect", an important point for China, which had complained about US "bullying tactics".
The US agreed not to impose further tariffs for the time being, which President Xi Jinping had made a precondition for meeting President Trump. However, few details emerged about the timeline and substance of a deal.
A significant change since the 2018 G20 meeting is that sanctions against Huawei Technologies appear to be more explicitly linked to the trade discussion, with reports that Xi has demanded that Huawei be removed from the blacklist before a final trade deal is struck.
During the news conference, Trump said he would allow some US technology sales to Huawei, as long as they do not raise "national (security) problems".
This adds an additional layer of complexity to any potential deal. In the US, Trump has faced resistance from Republicans and Democrats to link Huawei to the trade negotiations. More generally, the obstacles we have previously highlighted to a deal are still present:
While China still appears open to a trade deal, it is unlikely to compromise on sovereignty and reforms that could jeopardize its growth model, and is prepared for the worst should negotiations fail.
As the US presidential election approaches, Trump may be more cautious on moves that could jeopardize the slowing US economy. That said, Trump has said he is in "no hurry" to strike a deal.
But he faces bipartisan pressure to remain tough on China, and appears to sincerely believe that tariffs have been a net positive for the US economy.
Both countries are increasingly conscious of a more confrontational edge to the strategic relationship, which extends beyond trade, subsidies and intellectual property theft, and toward geopolitics and competing political and ideological systems.
We maintain our base case (probability 50 percent) that negotiations will continue in an on-and-off fashion but without a resolution. We still put the probability of a deal being reached in the next six months at 30 percent, higher than that of an escalation (20 percent).
In any case, as this newspaper had warned, there is a long and bumpy road ahead.
The fact that the trade dispute with China is not resolved – even if escalation has been avoided – means that Trump may be reluctant to continue active trade disputes with the European Union and Japan at the same time.
Recall that the deadline for a decision on auto tariffs was extended to Nov 14. We do not change our central assumption that auto tariffs will not be implemented this year, but see a significant risk of escalation, given the wide gulf between the negotiating objectives of the US and the EU, notably on agriculture.
Businesses will have to continue to deal with the ongoing uncertainty, which is likely to continue to weigh on investment and trade.
Meanwhile, the focus is now squarely on central banks and monetary policy. We continue to expect the Federal Reserve to deliver 50 basis points in rate cuts this year, with the first cut of 25 bp at the meeting this month-end and the European Central Bank to respond with the introduction of tiering and a first rate cut in September.
The G20 was able to deliver a joint communique, though this was only achieved by removing any potentially contentious points such as protectionism and climate change.
The free-trade agreement between the EU and the South American bloc Mercosur is a historic achievement that took two decades to negotiate and a welcome sign that protectionism isn't king everywhere.
The deal encompasses 88 billion euros ($99 billion) worth of goods, 34 billion euros in services, and estimated savings for EU companies of over 4 billion euros. However, it may yet unravel at the ratification stage over environmental protection issues.
Soon after leaving Japan, Trump also visited the Republic of Korea and became the first sitting US president to step on the soil of the Democratic People's Republic of Korea at the Demilitarized Zone. He agreed with Kim Jong-un, top leader of the DPRK, to resume talks on denuclearization.
Daniel P. Ahn, lead writer of this commentary, is BNP Paribas Securities Corp's chief US economist and head of Markets 360 North America. Luigi Speranza, chief global economist at BNP Paribas in London, Xingdong Chen, chief China economist of BNP Paribas in Beijing, and Paul Hollingsworth, senior European economist and head of UK economics of BNP Paribas in London, are co-writers of this commentary.