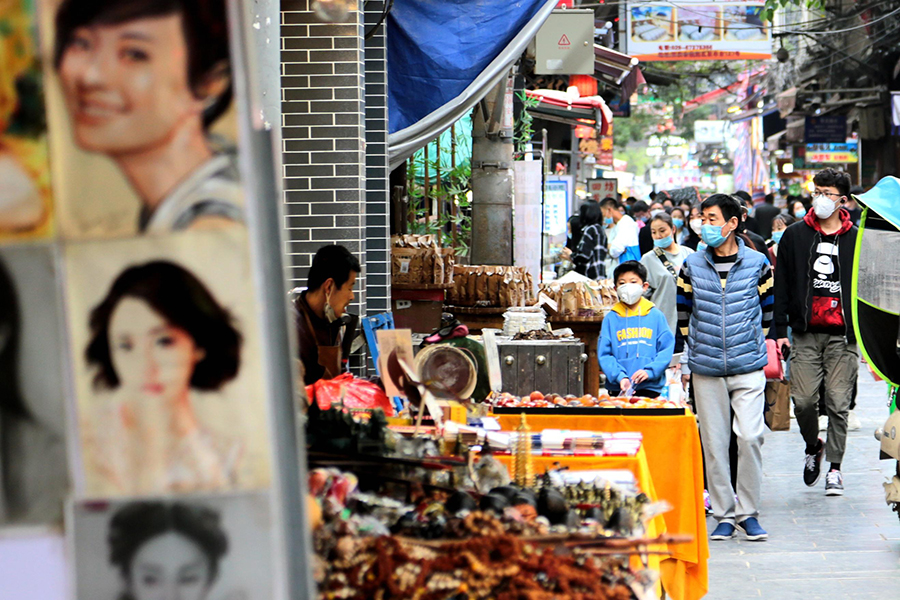 Diners return in numbers to Xi'an's Muslim Quarter
Under a clear blue sky early this month, Sun Jianping walked on crutches along a street near the 640-year-old Drum Tower, a landmark in downtown Xi'an, Shaanxi province.
The 55-year-old, a warm and gregarious character, was heading to one of the restaurants he owns-Lao Sun Jia, or Old Sun's Place.
The eatery, at the southern end of Huimin Street, is renowned for its paomo (shredded pita bread soaked in mutton or beef soup).
Also known as the Muslim Quarter, Huimin Street is famed in Xi'an, the provincial capital, and nationwide for its flour-based local cuisine and Muslim culture. It is also an area for adventurous food tours, popular among domestic and overseas visitors.
The street is busy throughout the year, with outlets selling roujiamo (beef burgers), huashengsu (peanut pastries) and paomo scattered along the 600-meter thoroughfare. There are some 300 such shops on both sides of the street, mostly owned or rented by residents of the Hui ethnic group.
This year, due to the coronavirus pandemic, Sun, head of the street's chamber of commerce, urged restaurants and vendors to distribute free food to Xi'an residents in March and April.