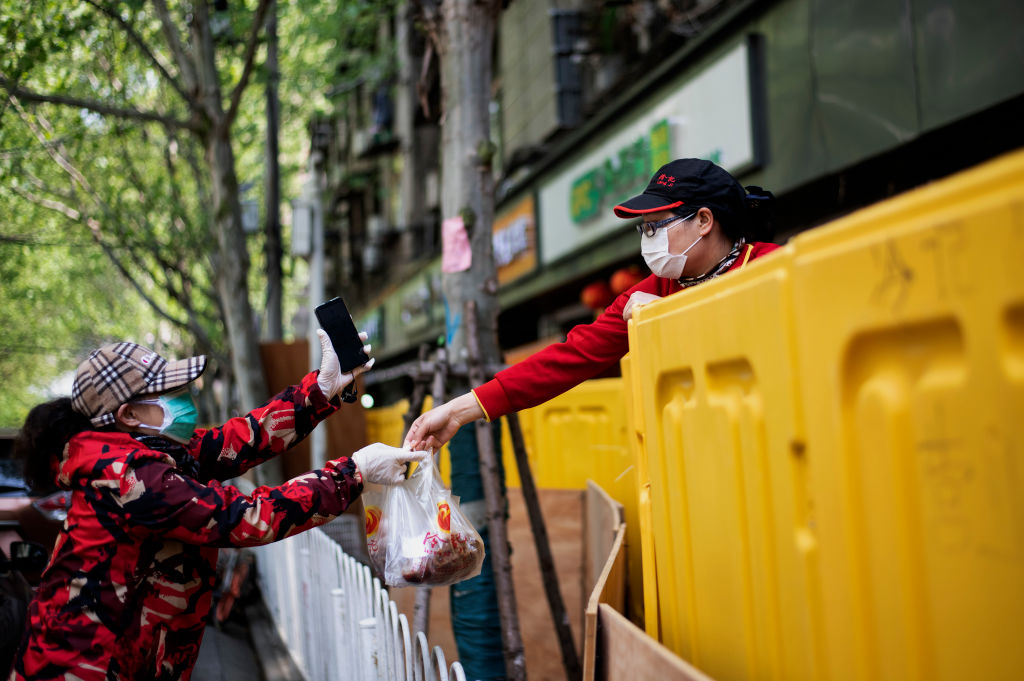 På trods af det kinesiske styres påstand om at have "bekæmpet" coronavirus, rammer virussen Kina i en ny bølge. Præsident Xis politik i begyndelsen gjorde et lokalt udbrud til en pandemi og skubber nu Kina ud i endnu et sygdomsudbrud. Kina kan lyve med statistikker, men virussen får det sidste ord. På billedet rækker en sælger mad over hegnet til en kunde i Wuhan i Kinas centrale provins Hubei den 6. april 2020. (Foto: Noel Celis/AFP via Getty Images)
Kina har "bekæmpet" coronavirus og erklæret "sejr", fortæller kommunistpartiets medier os.
Der skete imidlertid en pudsig ting på vejen mod sejr. Virussen rammer Kina i en ny bølge. Den anden bølge kræver ofre, heriblandt partiets propagandafortællinger. Den farligste af disse fortællinger er, at lederen Xi Jinping på himlens befaling har pligt til at beherske det internationale system.
Efter at Kina den 19. marts rapporterede, at der ikke var nogen nye smittede, sagde de, at virussen var blevet inddæmmet. Kina har siden da rapporteret om snesevis af nye tilfælde hver dag, men de hævder, at de stort set alle var "importerede" – de smittede personer var med andre ord kommet fra andre lande.
Kina fastholder, at af landets ganske få smittede er størstedelen blevet smittet af importerede tilfælde.
Kinas officielle tal for antal døde og nye smittede må imidlertid være urigtige. Kinesiske embedsmænd iværksætter tiltag, der på det praktiske plan ikke hænger sammen med rapporterne om, at der ikke er nye smittede.
Kina lukkede for eksempel den 27. marts alle biografer i landet, efter at de var blevet genåbnet ugen forinden.
I Shanghai var turistattraktionerne netop genåbnet, da de blev lukket igen. Kommunen havde for eksempel igen lukket udsigtstetagen i skyskraberen Shanghai Tower, der er den højeste bygning i Kina, og det nærvedliggende tv-tårn Oriental Pearl Tower. Jin Mao Tower er nu lukket "for at styrke indsatsen yderligere for at forhindre og kontrollere pandemien". Madame Tussauds, Shanghai Ocean Aquarium og Shanghai Haichang Ocean Park henligger nu i mørke, og det samme gør indendørsarealerne ved 25 andre seværdigheder.
Shanghai Disneyland? "Midlertidigt lukket indtil videre".
Shanghai er ikke den eneste storby, der slukker lyset. I Chengdu blev karaokebarer og internetcafeer også lukket – og det kun få dage efter, at Sichuanprovinsen åbnede alle underholdningsetablissementer.
Fuyang i Anhioprovinsen beordrede lukning af "underholdningssteder" og indendørs svømmehaller. Henanprovinsen lukkede internetcafeerne.
Henan satte endda et helt område, Jia, i karantæne, da læger her var blevet testet positive over for virussen.
Den 31. marts skrev ESPN, at den kinesiske centralregering havde udskudt genoptagelsen af holdsport.
Den nationale adgangseksamen til universiteterne, gaokao, er blevet udskudt en måned til juli.
Styret har desuden ikke givet nye datoer for sine første politiske begivenheder: årsmøderne for Den Nationale Folkekongres og Det Kinesiske Folks Politiske Rådgivende Konference, der begge oprindeligt var fastsat til at finde sted i begyndelsen af marts.
Endelig har myndighederne i Jiangxiprovinsen forment folk fra naboprovinsen Hubei adgang, hvilket tyder på, at de ikke mener, at epidemien i den sygdomsramte provins er ovre.
Betyder alt dette noget? Det gør det: Xi Jinping mener, at han burde regere over hele planeten. "Kina – landet, hvor virussen først viste sig og tog sine første mange tusinde liv – bruger nu den globale spredning af sygdommen til at styrke et tiltagende højlydt, selvbevidst bud på globalt lederskab, der forværrer en årelang konflikt med USA", skrev Wall Street Journal den 1. april.
Som kommunistpartiets medie Global Times triumferende formulerede det den 30. marts: "COVID-19 brølere markerer afslutningen på 'det amerikanske århundrede'".
Kina fik, for at skubbe USA ud på sidelinien og selv påtage sig en global lederrolle, WHO's generaldirektør Tedros Adhanom til at sige, at Kinas svar på coronavirussen viste "det kinesiske systems overlegenhed, og den erfaring bør tjene til efterfølgelse for andre lande". Kina gjorde herefter et stort nummer ud af at "donere" medicinsk udstyr og testkit til især det ramte Europa.
Xi Jinping tvang fra omkring første uge i februar kineserne tilbage på arbejde for at vise, at Kina havde overstået epidemien.
Ingen af disse pralerier vil dog overbevise nogen, hvis virussen påny hærger i Kina. Det er, uheldigvis for Xi, hvad der sker: Folk i Kina smitter igen hinanden. I industriområdet Dongguan i den sydlige Guangdongprovins har tilbagevendte arbejdere eksempelvis medbragt coronavirussen, og det har tvunget sundhedsmyndighederne til at sætte arbejdere i karantæne. Kinas leder kan kickstarte økonomien eller kvæle coronavirussen, men han kan ikke gøre begge dele samtidigt.
Når coronasmittens anden bølge rammer Kina for alvor, vil Xi Jinping pralerier om den kinesiske kommunismes overlegenhed begynde at lyde hule, for ikke at sige absurde.
Xis politik i begyndelsen gjorde et lokalt udbrud til en pandemi, og den gør nu endnu flere mennesker syge og skubber Kina ud i endnu et sygdomsudbrud. Kinas unøjagtige testkit og beskyttelsesudstyr af ringe kvalitet, som de har doneret rundt om i verden sammen med den nye smittespredning, vil udstille sandheden: kommunismen er inkompetent, for ikke at sige ren ondskab.
Inkompetent og ondsindet kommunisme medfører, at Xis forudsagte tilbagegang for USA igen vil skulle udskydes til en anden gang.
Kina kan lyve med statistikker, men virussen får det sidste ord. "Sejr" over både COVID-19 og USA er stadig langt uden for rækkevidde.
Gordon G. Chang er forfatter til bogen The Coming Collapse of China og er Distinguished Senior Fellow ved Gatestone Institute.