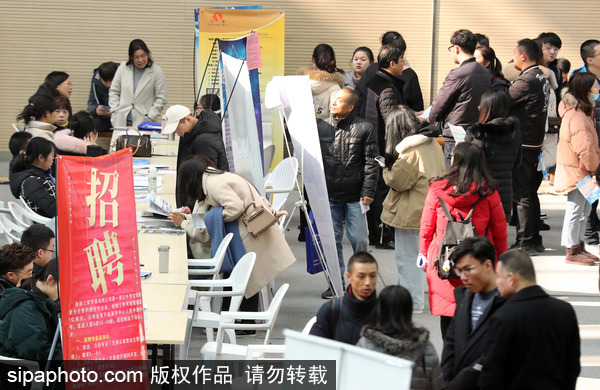 According to the 2020 Employment Trend Report released by 58.com, a Beijing-based life services and job-hunting platform, 33.8 percent of working people in China plan to switch jobs after the epidemic, with sales as the most popular occupation.
Among people who want to hunt for new jobs when the epidemic ends, 83.3 percent of them choose to find jobs in local cities, while 23.5 percent will pursue career development in another city. Besides, 5.4 percent of working people plan to resign for further studies.
Choices for different occupations have also changed. According to 58.com, the most popular job is sales, accounting for 9.8 percent of the total. Production managers and R&D professionals rank second, preferred by 7.6 percent of job seekers. The third most popular jobs are administrative and human resource positions, accounting for 7.1 percent.
58.com noted men are mostly interested in the computer, internet and telecom industries, while the majority of women prefer jobs related to sales, human resources and administration.
Age also affects future career plans and choices. People aged 26 to 35 are more willing than others to change jobs, accounting for 29.9 percent of the total.
As 58.com found in the report, the younger generation, those aged 21 to 35, put more emphasis on a company's atmosphere and location, having particularly high requirements for the working environment. However, employees aged 35 to 40 are more concerned with salaries, as they have the responsibility to support a family and thus find a job with higher pay more attractive.
In the Chinese job market, payment mainly ranges from 5,000 to 20,000 yuan per month, and the average income is 9,665 yuan. People with an income of 5,001 to 8,000 account for the highest proportion, representing 31.1 percent of the total. The expected monthly income after the epidemic reached 18,608 yuan, indicating job seekers have higher expectations for salary increases. In the face of production delays or stoppages brought by the virus outbreak, working people believe that a higher income could ensure a smooth and stable life.
58.com also analyzed the reasons for job hopping after the epidemic. Taking a risk and finding more opportunities are the primary reasons. A total of 41.8 percent of people expressed they found their current jobs had poor prospects, and 35.9 percent said they lacked enthusiasm. Some 40.2 percent of people are trying to find new chances because of the low pay in their current jobs.
A certain amount of workers are also choosing not to change jobs after the epidemic. 58.com noted 66.2 percent of them expressed that they didn't want to jump out of their comfort zone, and 52.3 percent said they had already settled down locally. Others, accounting for 39.8 percent, were satisfied with their current job.