JBS S.A.'s (OTCQX:JBSAY) recent earnings report was certainly one for the ages. The quarter featured a very strong EBITDA beat, driving above-par cash generation as well. Those who argue that Q2 might not be beaten anytime soon could well be right, however, which begs the question – why buy the stock at the peak of the cycle?
Well, I would argue that dynamics in the US beef and pork segments still look very encouraging, with a favorable export market and a sizable hog herd providing tailwinds heading into 3Q. Even assuming a deceleration in margins, cash generation remains strong, providing ample opportunity for JBS to drive growth in processed food. And at c. 5x 2021 EV/EBITDA, shares are attractively priced relative to its underlying cash generation potential.
A Quarter to Remember
On the back of a c. R$68 billion top line, JBS posted record EBITDA growth of 106% Y/Y, driving EBITDA to R$10.4 billion. In turn, the EBITDA margin reached 15.5%, which was also exceptional, considering the headline number was negatively impacted by one-off expenses related to COVID-19.
Similarly, earnings were strong at +55% Y/Y to R$3.4 billion, defying both COVID-19 and unfavorable FX headwinds. At R$9 billion, free cash flow (ex-M&A impact) benefited from both operational strengths and favorable working capital shifts, driving an implied c. 15% FCF yield for the quarter alone. As a result, the leverage ratio also moved closer to investment grade at 2.1x.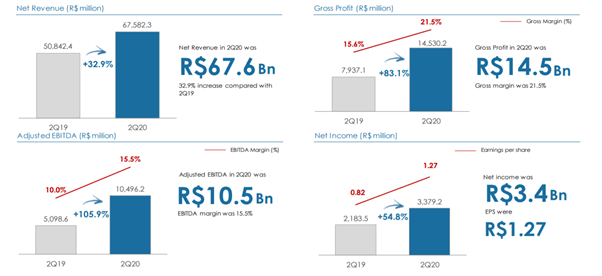 (Source: JBS Investor Presentation, Q2 2020)
A Standout US Beef Performance
US beef (60% EBITDA contribution) was the key performer, with segmental margins reaching 20.4% on 20% Y/Y price hikes in the US, along with increased cattle availability. Together, both tailwinds offset any negative volume impact from the temporary shutdown of plants during the quarter.
The production headwinds were apparent at the top line, with net revenues down 1% Y/Y to 5.6 billion. But at the EBITDA line, this was more than offset by the ongoing supply-demand mismatch in the US, which has seen demand remain heated in Q2 despite a shortfall in slaughtering capacity. As a result, despite exports declining on a Y/Y basis, the strength of the domestic market more than offset any weakness overseas.

(Source: JBS Investor Presentation, Q2 2020)
Additionally, I would also point out that the current level of profitability also comes despite one-off expenses associated with COVID-19, along with weakness in Australia and Canada. This points toward the underlying US outperformance likely being even stronger than headline numbers suggest.
US Pork and Seara Also Strong
Within the US, the pork business was also solid, with c. 240bps of margin expansion to 10.5% and segmental EBITDA rising 31% Y/Y. The increase was largely due to increased hog availability as a result of idle industry capacity.

(Source: JBS Investor Presentation, Q2 2020)
Seara also proved resilient in Q2, with its EBITDA margin largely in line with Q1 at c.17%. Strength was broad-based across volumes (+12% Y/Y) and prices (+9% Y/Y), likely reflecting incremental demand for processed foods through the COVID-19 pandemic. I would, however, note that the c. 17% margin was clouded by several one-off costs, and as a result, headline EBITDA margins may understate the segment's underlying performance.

(Source: JBS Investor Presentation, Q2 2020)
Strengthened Balance Sheet to Fund Incremental Growth Opportunities
Encouragingly, JBS has funneled its incremental cash flow from Q2 largely into debt paydown, driving a sequential decline in net debt of R$2.5 billion (to R$54.5 billion as of end-Q2). This leaves the company with a sizable cash hoard at $4.8 billion (including a $1.6 billion revolver), which leaves it with plenty of headroom with regard to its debt load. It also paves the way for JBS to invest in incremental growth opportunities (either organically or through M&A), such as processed foods and value-added products.

(Source: JBS Investor Presentation, Q2 2020)
Interestingly, management outlined that COVID–19 has accelerated demand in ready-to-eat, easy-to-cook, along with healthy food products, which highlights the bright outlook ahead for processed foods. Therefore, although processed foods contributed c. 20% of total revenue pre-COVID-19, I expect the contribution to increase going forward. This would be a key positive – a mix shift toward processed foods will likely prove accretive, considering it tends to command a higher multiple relative to fresh food players.
Compelling Even if Margins Set to Normalize
The key question following a record quarter is whether, and by how much, margins will normalize relative to other protein producers. US beef margins will likely normalize to year-ago levels over time, with a cattle cycle downturn likely in time, as industry capacity utilization normalizes. But in the near term, segmental margins should remain high in light of shortages triggered by plant shutdowns throughout the industry.
Similarly, segments such as Seara and US pork, which have also benefited from margin expansion tailwinds, should eventually see a normalization, while Pilgrim's Pride (PPC) should, instead, see margins rebound following a challenging Q2. But even in a margin normalization scenario, JBS still boasts industry-leading FCF conversion, with a healthy 5-10% FCF yield likely through the cycles.
| | | | |
| --- | --- | --- | --- |
| | 2018 | 2019 | 2020e |
| FCF Conversion (% Sales) | 4.6% | 6.0% | 6.3% |
| FCF Yield | 7% | 10% | 13% |
(Source: Company Data)
Yet, the valuation remains at c. 5x EV/EBITDA, which I think is far too low relative to its underlying cash generation potential. Additionally, JBS now has a more balanced capital structure, which adds to the overall resilience, while potential upcoming catalysts such as a US listing will also be worth keeping an eye on.
Disclosure: I/we have no positions in any stocks mentioned, and no plans to initiate any positions within the next 72 hours. I wrote this article myself, and it expresses my own opinions. I am not receiving compensation for it (other than from Seeking Alpha). I have no business relationship with any company whose stock is mentioned in this article.