Ivanhoe Mines (OTCQX:IVPAF) released three new economic studies for its 39.6%-owned world-class Kamoa-Kakula copper project (39.6% owns Zijin Mining (OTCPK:ZIJMF) (OTCPK:ZIJMY), 0.8% owns Crystal River Global Limited, and 20% owns the government of the Democratic Republic of Congo). The company presented a feasibility study for the Kakula mine, a PFS for the combined Kakula-Kansoko mining operation, and a PEA that outlines a long-term development plan for the whole mining complex that should result into a 19 Mtpa mining operation with peak production of over 1.75 billion lb copper.
The large property located in the southern part of the Democratic Republic of Congo, near the city of Kolwezi, contains several high-grade copper deposits (map below). In total, Kamoa-Kakula contains indicated resources of 83.7 billion lb copper at a copper grade of 2.74%, and inferred resources of 12.5 billion lb copper at a copper grade of 1.68%.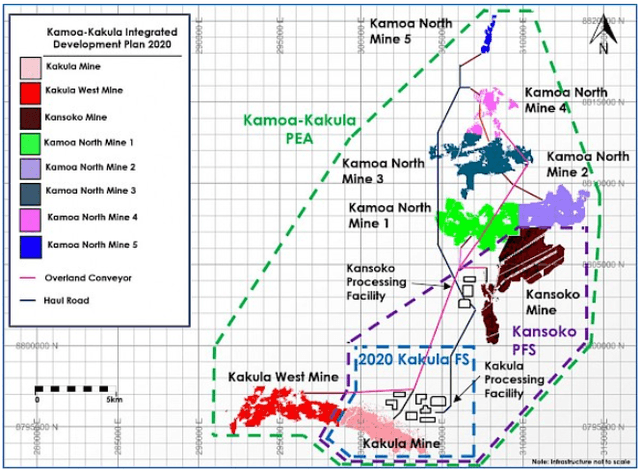 Source: Ivanhoe Mines
The plan is to develop a 6 Mtpa mining operation at Kakula first. According to the recently released Kakula DFS, the plant should process 5.24 million tonnes ore per year on average over a 21-year mine life. The average annual production should average 497 million lb copper at an average mine site cash cost of $0.62/lb and average total cash cost (including transportation and refining costs, and export duties and royalties) of $1.26/lb. At a base-case copper price of $3.1/lb, the Kakula DFS projects an after-tax NPV(8%) of $5.52 billion and an after-tax IRR of 77%. Although the used copper price is in line with the current spot prices, Ivanhoe used a relatively conservative base-case discount rate of 8%, although the industry standard has moved to a 5% figure over the recent years.
The Kakula-Kansoko PFS presents an organic growth plan, where the initial 6 Mtpa Kakula operation should be supplemented by a 1.6 Mtpa Kansoko operation. The combined Kakula-Kansoko operation should have a mine life of 37 years and it should be able to process 6.36 million tonnes of ore per year. The average annual production should be around 523 million lb copper at an average mine site cash cost of $0.64/lb and an average total cash cost of $1.44/lb. The average after-tax NPV(8%) was projected at $6.6 billion and after-tax IRR at 69%.
The Kamoa-Kakula PEA outlines further development plans that should elevate the total capacity of the mining complex to 19 Mtpa. The PEA builds upon the Kakula-Kansoko PFS and expects the Kansoko mine to be expanded to 6 Mtpa. Subsequently, a 6 Mtpa operation should be developed in the Kakula West area. And also a mine at Kamoa North, with an initial capacity of 1 Mtpa. The operations in the Kamoa North region should be subsequently developed to maintain the 19 Mtpa capacity. The PEA envisions a 43-year mine life and a throughput rate of approximately 13.9 million tonnes of ore per year. The average annual copper production should be around 950 million lb copper at an average mine site cash cost of $0.81/lb and an average total cash cost of $1.4/lb. In this phase, also a direct-to-blister smelter should be built and sulfuric acid by-product should be produced. Taking into account the by-product credits, the average total cash cost should be only $1.28/lb copper. The PEA envisions an after-tax NPV(8%) of $11.12 billion and an after-tax IRR of 56.2%.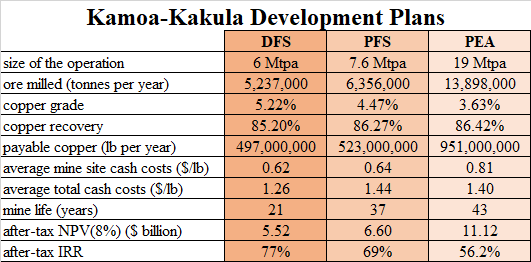 Source: Ivanhoe Mines
Ivanhoe estimates that the remaining initial CAPEX is $0.6-0.7 billion. Ivanhoe's share represents approximately 50% of this sum (the remainder is financed by Zijin Mining), which means that the company should be fully funded to complete the initial Kakula mine. Ivanhoe releases news regarding the progress of the Kakula mine construction every month. Everything seems to go great for now. According to the latest news, more than 20 km of underground developments have been already completed. It is 6 km ahead of the plan. First copper production is expected in Q3 2021.

Source: Ivanhoe Mines
The subsequent expansions will be financed from internal cash flows. As shown in the charts below, Phase 1 should be completed in 2022 and Phase 2 should be completed in 2024. But as stated by Ivanhoe Mines, the timeline is being optimized and the first expansion should start in Q2 2022 instead of Q1 2023. It means that it should be probably completed in 2023 instead of 2024. It is possible that the other expansion stages will be expedited too. However, for now, the plan says that Phase 3 should be completed in 2026, followed by Phase 4 in 2027 and (for now) the final Phase 5 in 2029.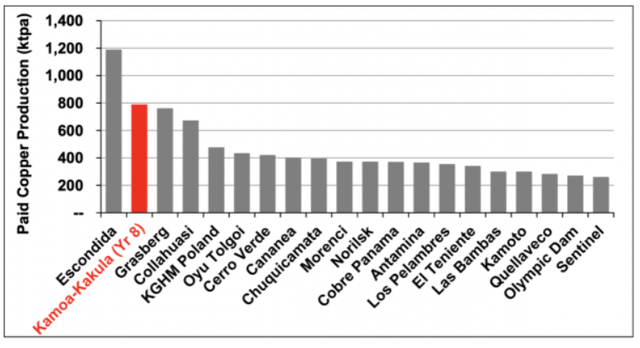 Source: Ivanhoe Mines
Over the first years, Kamoa-Kakula's production volumes should be growing pretty fast, starting at approximately 200 million lb copper in year 1 and peaking at more than 1.75 billion lb copper in year 8. At this point, Kamoa-Kakula should rank as the second biggest copper mine in the world (chart above). After year 8, the copper production should start declining, however, only slowly. The annual production volumes should remain above the 1 billion lb level at least until year 25. But given the large volume of copper resources and continuing exploration success, it is reasonable to expect that the current production plan will be significantly improved over time.

Source: Ivanhoe Mines
Also the cost profile of the mining complex looks good. According to the Kakula DFS, over the first 10 years of operations, Kakula's mine site cash costs should be at the very bottom of the industry costs curve. In terms of the C1 cash costs, Kakula should be positioned around the fourth decile. When taking into account the average life of mine costs presented by the PEA, including the sulfuric acid by-product credits, Kamoa-Kakula should remain in the first quartile and fourth decile respectively.
The improved copper prices and positive news flow from the Kamoa-Kakula project had a very positive impact on Ivanhoe Mines' share price. The shares did really well over the recent months, growing from the mid-March levels below $1.5 to the current levels over $4.5. As a result, the RSI is in the overbought territory, and while the steady, nearly uninterrupted growth trend looks really great, it must come to an end sooner or later. Therefore, investors should start to be cautious and prepare to take off the table some profits, when the chart starts indicating an imminent correction.
Conclusion
At a market capitalization of approximately $5.3 billion, Kamoa Kakula seems to be more than fully valued, as approximately $4.4 billion of the after-tax NPV is attributable to Ivanhoe Mines. On the other hand, Kamoa-Kakula still offers substantial exploration potential, moreover, the high-grade copper mineralization continues to the Western Foreland Property fully held by Ivanhoe Mines. It is also important not to forget that Ivanhoe Mines owns another two world-class projects, Platreef and Kipushi. In other words, I see space for further share price growth in the longer term. However, in the near term, the risk of a share price correction is high. Especially if the copper price starts showing signs of some weakness.
Disclosure: I am/we are long IVPAF. I wrote this article myself, and it expresses my own opinions. I am not receiving compensation for it (other than from Seeking Alpha). I have no business relationship with any company whose stock is mentioned in this article.
Editor's Note: This article covers one or more microcap stocks. Please be aware of the risks associated with these stocks.