I never thought I would be writing about undervalued Lockheed Martin (LMT), truth be told. It was exciting enough when General Dynamics (GD) reached the current levels of valuation, but now COVID-19 and lack of stimulus have brought another defense/aerospace stalwart to the same point.
To me, this means that it's time to consider opening your bank vault and deploy some cash into one of the best aerospace/defense businesses on the planet.
Let's look at Lockheed Martin.

Lockheed Martin is a company active in aerospace, defense, arms, security, and advanced technologies. It's an international company that was born from a merger of the Lockheed Corporation, and the Martin Marietta Corporation back in 1995.
Its revenues make it one of the largest companies in aerospace, military support, security, and technologies. It is, in fact, nearly without equal in terms of defense contracting, having been the largest company here in -14, and fighting for that first spot with its peers. This also means that the absolute, massive majority of its sales come from governmental contracts through military sales. In the beginning of the 2010s, almost 10% of the Pentagon's funds went to Lockheed Martin.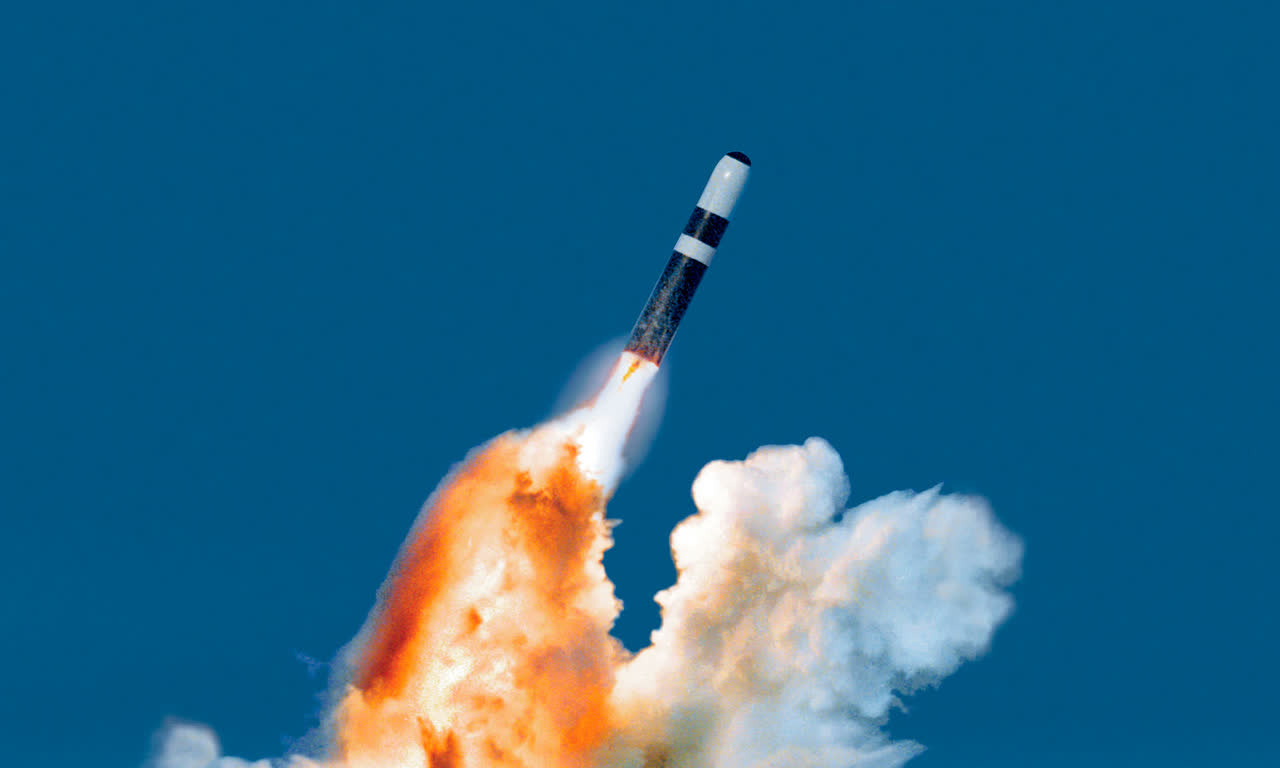 [Source: LMT]
The company is headquartered in Maryland and employs some 110,000 people all over the world. It's a part of the S&P 500, the S&P 100, and has annual revenues of nearly $60B.
Some of its characteristic products include the Lockheed Martin F-35 Lightning…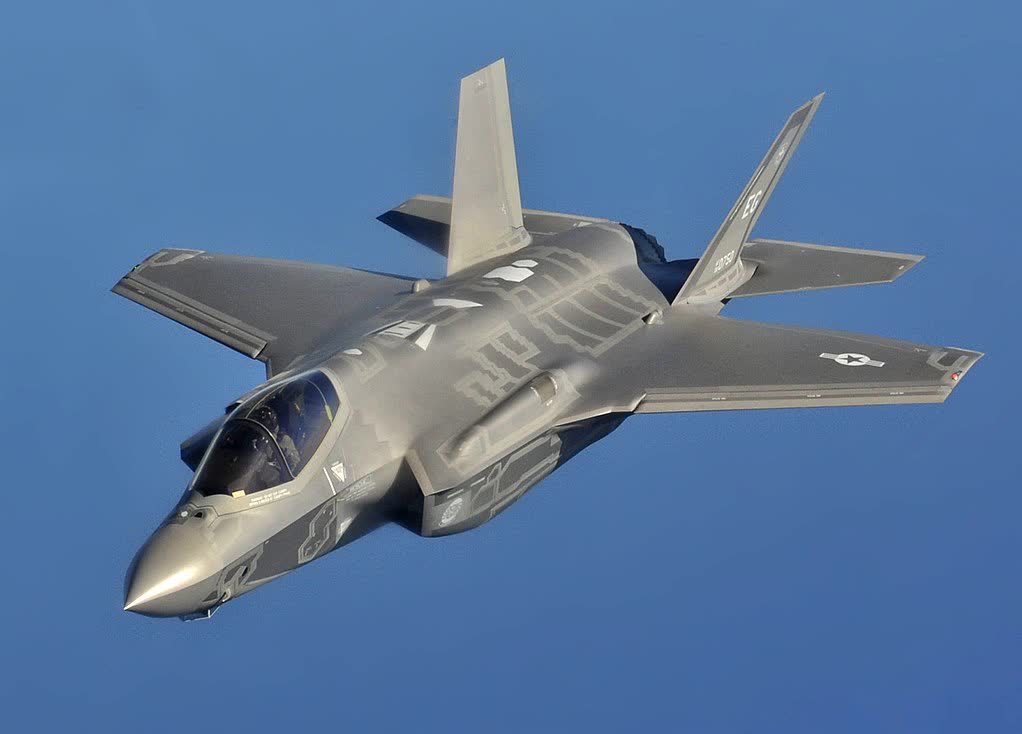 (Source: By U.S. Air Force photo by Master Sgt. Donald R. Allen – Aerial refueling of F-35 Lightning II Joint Strike Fighters at Eglin AFB, Fla. Public Domain, F-35A flight (cropped).jpg)
…and planes like the C-130 Hercules, the Trident Missile, and much, much more. Lockheed Martin has also been active in some rather "odd" areas, such as developing the texture mapping chip for the Sega Model 2 arcade board, and the entire GPU for the Sega Model 3. It's a company with its fingers in many areas, both tech, and others.
The company organizes its businesses into four segments. These are:
Aeronautics, which generated 40% of the company's net sales. Customers include military services, the U.S. Air Force and Navy, various other governments and agencies around the world and in the U.S. This segment is where we find products like the Lightning II, the Hercules, the F-16, and the F-22. The segment's focus is research, design, development, manufacture, integration, support, and upgrade of advanced military aircraft. Of this segment, the F-35 program represents 27% of company net sales and 69% of Aeronautic sales in 2019. (Source: LMT 10-K 2019)
Missile and Fire Control, or MFC represents around 17% of 2019 sales and the segment's obvious focus is the research, development, and sale of air and missile defense systems. Popular products include the Patriot PAC-3, and the Terminal High Altitude Area Defense – THAAD. The segment also produces the MLRS, Hellfire, Javelin, the Apache Sniper Advanced Targeting Pod – SNIPER® – and many other projects such as Hypersonic weaponry and Special forces operations logistical support.
Rotary and Mission Systems represented 25% of sales and focuses on the design, manufacture, service, and support for both commercial and military-application helicopters and related products/systems. Examples include the Black Hawk, Seahawk, the CH-35K King Stallion Helicopter, the VH-92A, and others, as well as systems such as the Aegis Combat System.
Space actually represents more than the company's missile segment, at 18% of 2019 sales. The ambition of the company's space segment is the research, design, development, engineering, and production of satellites, space transportation, and advanced strike and defense systems. The segment is where we find things like the UK's nuclear deterrent program, the FBM program, the Space-based infrared system, the Orion Multi-Purpose Crew Vehicle, GPS III, and others.
On a competitive base, the company competes against other defense and aerospace companies as well as smaller competitors. Some major peers include General Dynamics, Raytheon Technologies (RTX), Northrop Grumman (NOC), and Boeing (BA).
Defense companies like Lockheed Martin solve a timeless problem that its primary customer, the U.S. government, cares deeply about. At the same time, it's a problem that can't ever be solved, because technologies and products evolve, each new innovation is met by new technologies, and so forth. That means that companies like LMT enjoy constant new opportunities to develop new systems, defenses, and technologies, for as long as the U.S. views it as necessary to do so and provides the funds for the company to operate. It's certainly an enviable position – most of the time – for a company to be in.
The fact that LMT is one of the largest, if not the very largest company in its field with its relationship with the government, means it has some inherent advantages. Moats to enter this market are extremely high – investment CapEx alone tops $1B a year, and to even start to develop these technologies and products from zero is a challenge that virtually no one seeks to do in this day and age.
Lockheed's size and capabilities of course also give it some advantages in bidding situations, meaning the company can do things in terms of investments other companies could never consider. In a bidding war, very few can afford to go toe-to-toe with Lockheed Martin.
The fact is that in this day and age, competition for Lockheed Martin has dwindled. Existing companies consolidate, and LMT is an active M&A'er as well, with the last major M&A being Sikorsky Aircraft in 2015 for $9B, adding the Black Hawk to its portfolio.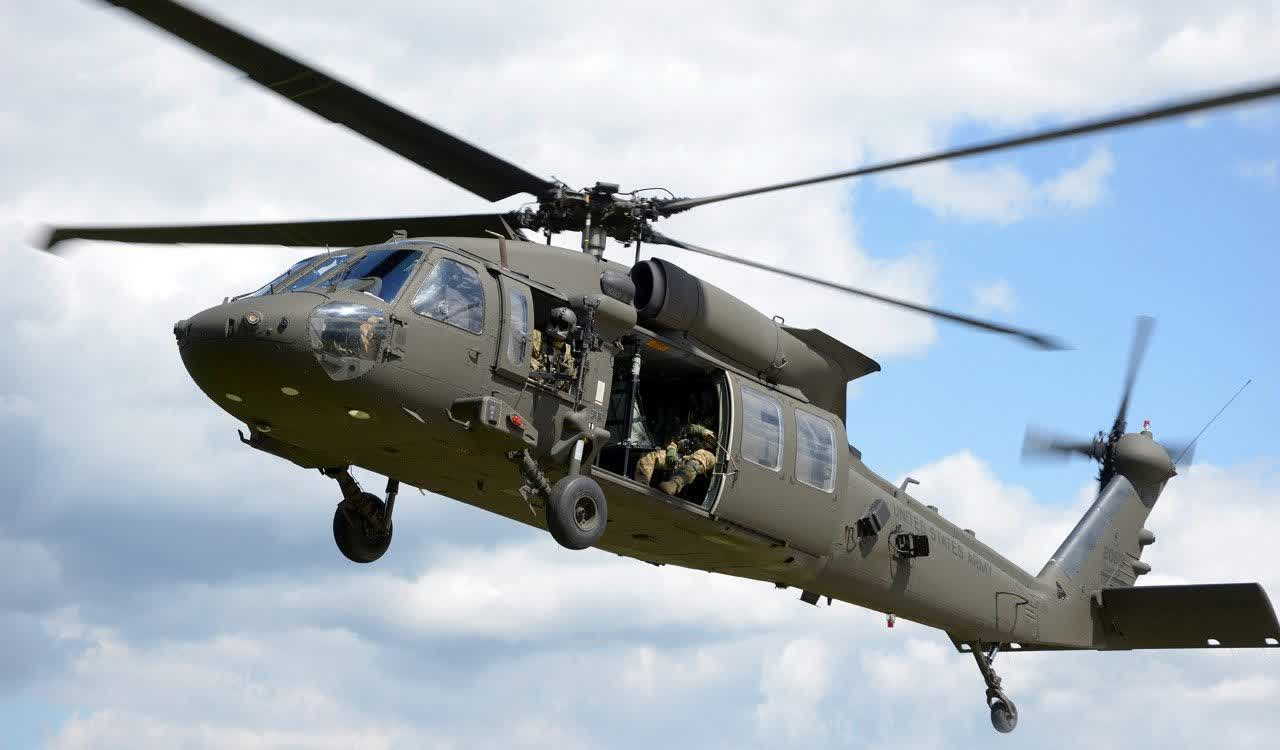 (Source: LMT)
Aside from being one of the primary choices in the U.S., LMT has gained international appeal. Developing their own weapons and fighters are ambitions that for most nations due to involved costs simply aren't realizable goals, which means that they buy LMT products. The F-35 alone is sold to 11 of the USA's allies, and this provides the company with advantages in these target markets.
(Source: U.S. Air Force photo by 1st Lt. Christopher Mesnard – Public Domain, 1025448 A Swedish JAS-39 Gripen returns to the play areas of the Arctic Challenge exercise Sept. 24, 2013.jpg)
Europe has defense companies. Sweden has SAAB (OTCPK:SAABF), and we have our SAAB 39-Gripen. But the fact is that LMT is more than twice as large as Europe's major defense companies combined. (Source)
So the market position for Lockheed Martin seems favorable from the get-go. Add to this that defense spending doesn't show any sign of slowing down – not just because of increased threats, but because of the necessity of replacing legacy technology – and with tensions in the middle east and across the world, Lockheed Martin is likely to be a major player going forward.
Fundamentals in the company are solid as well. LMT carries an A-grade S&P credit rating, has a less than 40% forward payout ratio, less than 2.1X net debt/EBITDA, and a nearly 20-year dividend streak without a reduction. LMT not only carried, but increased its dividend during the last recession, and the 5-year DGR rate is 10%, which is truly excellent. EPS shows exactly the kind of development we want to see, essentially a staircase beginning in 2010 at $7.82/share and ending NTM in a $25.9/share expectation. The company has performed numerous buybacks, reducing shares outstanding from 386M 10 years ago to less than 285M on an LTM basis, while increasing its sales. Again, this is extremely solid, and that's why I consider the company an unquestionable class 1 company.
The company, therefore, is one of the major defense/aerospace companies in the world. It researches, develops, and manufactures the technologies that keep defensive technologies and offensive capabilities at a competitive technological level, and its primary customer is the U.S. government, through the military and various branches and institutions.
Let's look at how recent results and trends have impacted Lockheed Martin.
Lockheed Martin – How has the company been doing?
The latest set of results available to us are the 3Q20 results. In short, these results have been excellent overall. During one of the worst pandemics on record, the company managed:
Record-level quarterly sales of $16.5B
Segment OP of $1.8B, with a $6.25 quarterly EPS.
Repurchased shares and paid out dividends for a total of $757M.
Record-level backlog, much like its peer General Dynamics
In short, Lockheed Martin is humming. With YoY sales and profits beats like this, it's hard to believe that the company could be trading at anything close to undervaluation.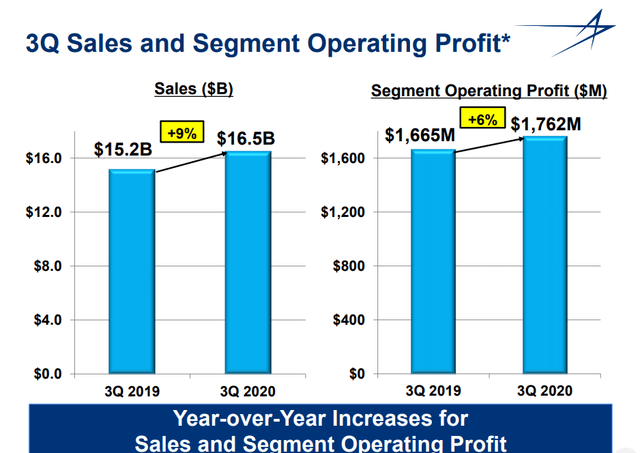 (Source: LMT 3Q20 Presentation)
The segments I mentioned in the first part of the article have more or less kept to their relative size and percentage of total sales. Expectations are for this more or less to continue.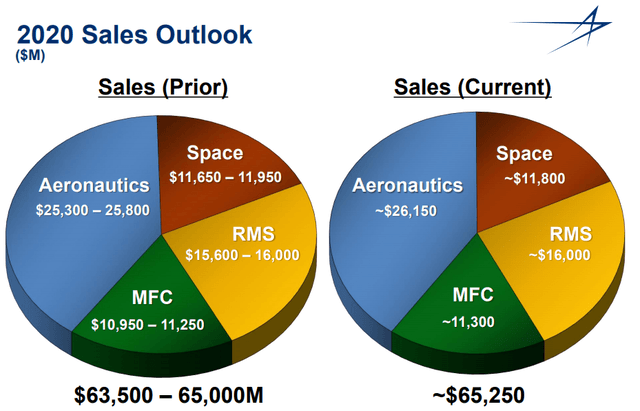 (Source: LMT 3Q20 Presentation)
The way operating profits are flowing in, the segmentation is virtually identical, with perhaps slightly more from the company's MFC segment.
LMT has also provided an overall outlook for FY21. The company forecasts a sales increase of about $2B, margins of around the same, at 11-11.1%, and cash flow from operations of about or above $8.1B. No more than $500M worth of debt matures next year, and the company intends to continue its share repurchasing program, with $1B slated to go towards this.
It is no more complicated than that. 2020 has been an excellent year for LMT, despite everything that's happened, and in the face of its declining share price due to macro, LMT continues to deliver record-breaking results. It's a strong company showing strength in a difficult market.
Let's look at the company valuation
Lockheed Martin – what is the valuation?
Here things become fun. Unfortunately, the company is one of those where I simply nibbled a little when things dropped down, being focused on other companies. Well, this time around, LMT is in my crosshairs (no pun intended), and I don't intend to miss out on any appealing Lockheed Martin valuation.
What is it that makes the company so appealing at this particular time? Take a look at the 10-year historical and forward EPS.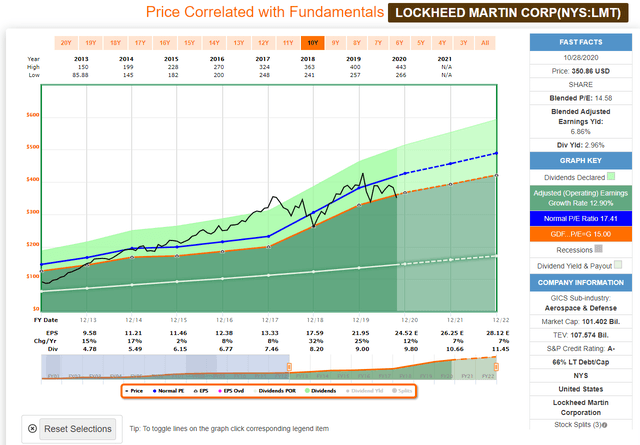 (Source: F.A.S.T Graphs)
In the specific case of LMT, I don't want to pay premium valuation, even if I don't consider the premium to be invalid, as such. But when this company is below a 15X average, or 15X normalized P/E, it's time to pay attention.
For one, analysts don't miss on this company – at least not negative misses. Both on a 1-year and 2-year basis, analysts are either correct with 10% margin of error, or they underestimate the company. That means that the forecasted EPS growth of 2020-2023 is not only likely, it's downright indicative in my book.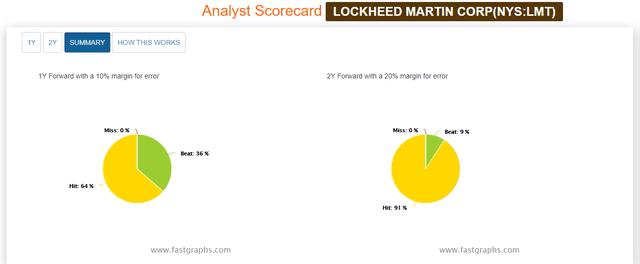 (Source: F.A.S.T Graphs)
This brings us to the forecasted returns.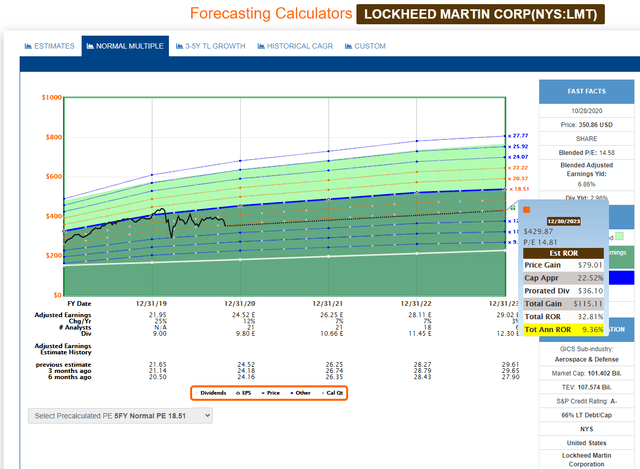 (Source: F.A.S.T Graphs)
Even based on a forecasted earnings multiple that's in line with the current one – around 14.5X, LMT will provide what could turn out to be market-beating returns to investors – and anyone who believes that this company will trade below par for very long needs to take another look at the share price history.
A return to anything approaching the normal premium will deliver to investors not annual rates of return of 9-10%, but annual RoR of 16-17%, with total rates until 2023 approaching 64%.
Unless you belong to the bear category of investors here, this is a company you as a dividend investor want to own in your portfolio, and at current valuation, there is the very real possibility of not only expected growth but mean reversion towards higher valuation multiples.
When it comes to LMT, my valuation targets are extremely simple. Whenever the company breaches its 15X fair value P/E based on an average or normalized EPS, I have an alarm going off. That alarm went off a few days ago, and I bought a small number of shares.
Due to the current macro situation, I'm careful, but at the same time, I don't want the company to rocket back up without having dipped more than a toe in the water this time. My target for LMT is that I want 1.5% of my portfolio in LMT shares – and that requires building my exposure substantially. Whenever the company approaches a 3% yield – much like GD – it's time to drop things and take a look at LMT.
The current 2020 price target for LMT based on a 15X average weighted P/E-valuation is around $363-$368/share. As things currently stand, that makes LMT around 3-5% undervalued. With LMT, that's certainly enough to react on.
S&P Global analysts would take a completely different tact here, and tell me I'm being foolish for completely ignoring the company's premium. As the market sees LMT, an average of 21 S&P global analysts give the company a minimum of $390/share and a maximum of $509/share, coming to a mean of $434.69/share, marking a market undervaluation of 23%, if you'd like to go by these estimates.
By any account, even my very conservative one, LMT is currently substantially undervalued.
Lockheed Martin – Bulls & Bears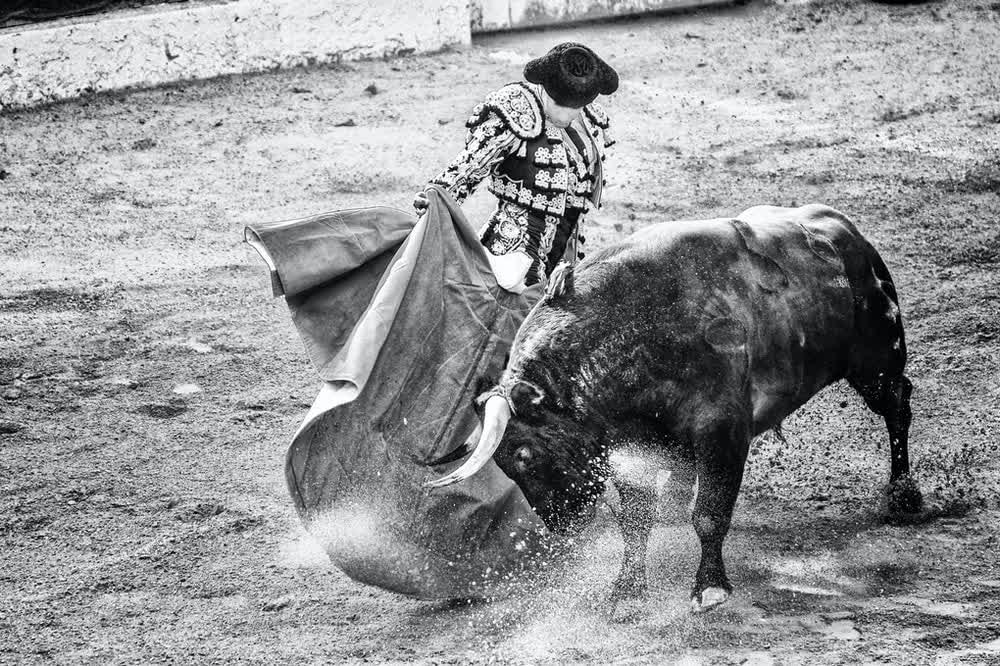 (Source: Unsplash)
The bullish thesis for Lockheed Martin is a simple one – an excellent company will continue to outperform over time and will continue to, if not excel, at least meet expectations. At this valuation, this will return market-beating amounts of money to investors. LMT bulls like myself point to the company's outperformance over time, flawless dividend history stretching 17-20 years, and the largest backlog ever recorded.
The tailwinds for this company are not to be trifled with and to be completely honest with you, I don't consider COVID-19 to be even capable of severely impacting this company's prospects – unless raw material producers start being impacted, which doesn't seem to be the case here.
No, the collective positives of this company indicate outperformance not only over the long term but the medium term. 3% yield isn't sector-leading, but it's hard to think of a company with a larger moat, customers with better credit rating or payment ability, or products that are considered necessary and non-discretionary at this time.
The Lockheed Martin Corporation is the largest defense contractor in the world. It has superb competitive advantages, and its focus is an extremely specialized, hard-to-enter industry with extremely picky customers. Virtually no companies apart from its direct peers can actually compete on any level with its scale, offerings, and relationships.
Being an LMT bull is, quite simply, very easy.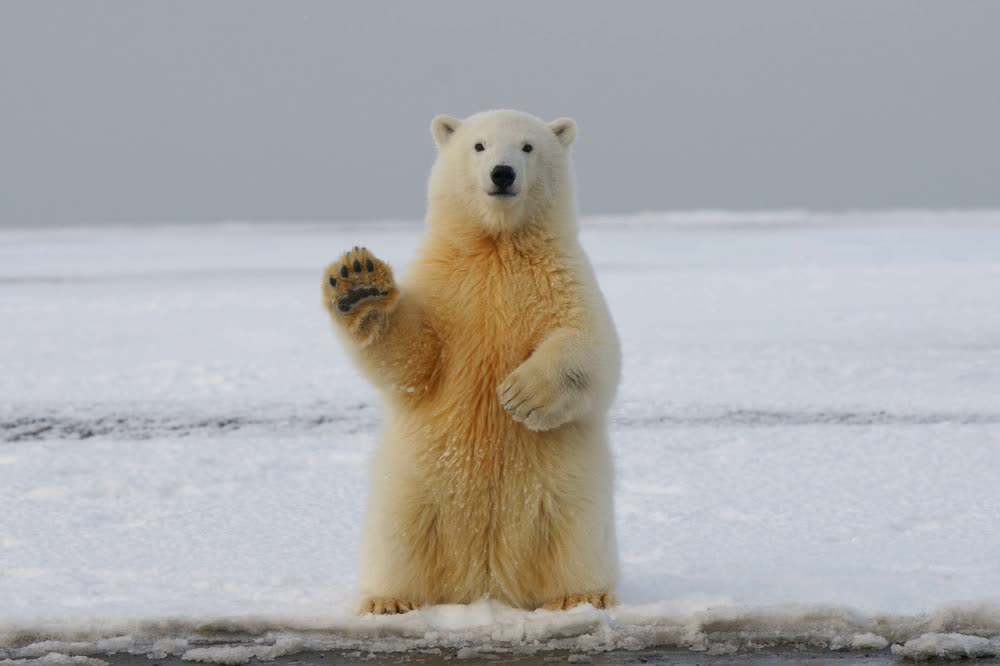 (Source: Unsplash)
Nothing is as clear-cut as this, however. I draw your attention to a quote from my GD article.
The fact is, the qualities which make General Dynamics good, can also be an argument for why they at times go down. The heart of the matter is the defense contract revenue – about 50% of the company – which in times of conflict wind-downs can be under extreme variability. This is a fairly unique aspect to the industry here.

There is also the not inconsiderable matter of the ethics of investing in a company that researches, develops and manufactures products made to, if not kill other people, at least keep them in check or be used as a deterrent in war. I am personally not bothered by investing in the industry – this is a legal, profitable and admirable business under excellent leadership – but this is a choice each investor needs to make. Arguments could be made that products by many companies ruin people's lives – defense is just one of the more self-evident of these.

(Source: General Dynamics: Cheap For The First Time Since 2013)
The same argument can be made for Lockheed Martin. In fact, with Lockheed, it's, even more, an argument as LMT doesn't have the Gulfstream argument at all.
The point is that there is a bearish stance to be taken here. I view this stance to be valid on two points and two points only.
To the first, the ethics argument. You may very well choose to not invest in these sorts of companies – similar to how some don't invest in Oil or unethical companies at all, and no amount of valuation appeal should then shift your quite respectable position. This stance means that LMT, fundamentally, is uninvestable due to what they do.
To the second, the sustainability of growth. With defense spending being an essentially cyclical variable (discretionary, if you will), while the company's business may not in itself be discretionary as things are looking now, the sources of its funding can be characterized as such. This leads to extended periods of underperformance, as funding is cut or reduced. The last such period was after the recession when the stock underperformed for nearly 4-5 years. The important thing here becomes to buy the stock at not a too rich valuation. Had you bought at these undervaluations, your returns until now would have been nearly 500% in 10 years. What you need to prepare for in case the growth isn't sustainable is stagnation of the dividend – at least for a time.
This is my view of the bearish argument for LMT, as it currently stands.
Thesis
LMT is a company I've had in my crosshairs for a while. I've bought sporadically when it's been cheap, but never above a few shares, and today hold no more than 0.1% of my portfolio in the company. I intend to change this, and this article marks the change, as well as my first review and following of the company.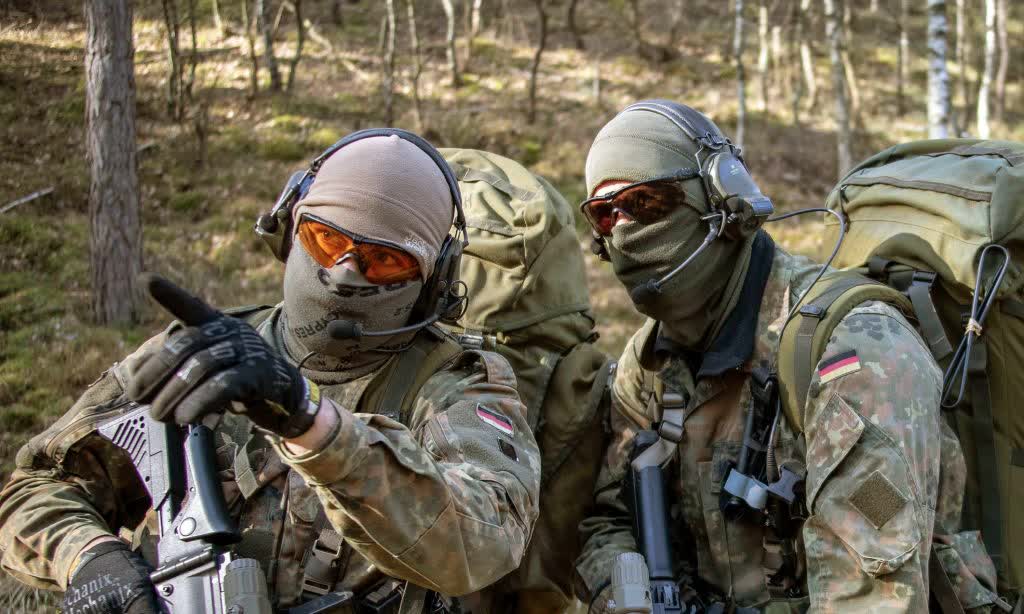 (Source: Europäische Sicherheit und Technik)
I view the Lockheed Martin Corporation as an essential must-have Industrial stock together with General Dynamics and similar, safe stocks in the same sector. While I did not serve in the U.S. army – I served in the Germany Bundeswehr, the picture that often comes to me when I look at an overview of my portfolio and formulate a strategy for going forward is one of a battlefield, or a commander directing his troops. Each amount of money or dollar being a soldier, and being sent out to bring home victory, in the form of capital appreciation or dividends. Some "battles" or investments aren't going as well at this time. Some I'm confident in, some I may even regret sending "troops" into. This anecdote isn't unique and you may view your portfolio in different ways – a garden, or other things as well, but the point remains to make good choices.
I believe that choosing to invest in a company such as Lockheed Martin at what is essentially an undervaluation is something that could provide long-term and short-term alpha.
No, the company won't double your money in the short term. You'll have no 8% yields to lean on – there are other investments for that. But compared to other companies, your money will quite likely be very safe. That's not something that can be said for very many investments, in the end.
Lockheed Martin is 3-5% undervalued at the time of writing this article, and that makes the company a "BUY".
Thank you for reading.
Stance
At 3-5% undervaluation to even a very conservative valuation, Lockheed Martin is a "BUY".
Disclosure: I am/we are long LMT, GD, NOC, RTX. I wrote this article myself, and it expresses my own opinions. I am not receiving compensation for it (other than from Seeking Alpha). I have no business relationship with any company whose stock is mentioned in this article.
Additional disclosure: While this article may sound like financial advice, please observe that the author is not a CFA or in any way licensed to give financial advice. It may be structured as such, but it is not financial advice. Investors are required and expected to do their own due diligence and research prior to any investment.
I own the European/Scandinavian tickers (not the ADRs) of all European/Scandinavian companies listed in my articles.