Reversion to the mean is the iron rule of the financial markets. – John C. Bogle

Potential investors who are on the lookout for suitable opportunities to park their dormant cash may currently be feeling a little disillusioned; record-low benchmark interest rates the world over have cut the legs out of high-yield avenues, whilst some of the traditionally popular alpha-generating investment pockets are so scaldingly hot, that one wonders how much of upside merit is to be found at these lofty heights. The iShares Emerging Markets Dividend ETF (NYSEARCA:DVYE) could perhaps serve as an ideal alternative that addresses the current twin challenges of low yield and high valuations.
DVYE gives you access to 100 dividend-paying emerging market stocks by tracking The Dow Jones Emerging Markets Select Dividend Index – a dividend-weighted index that selects stocks based on the indicated dividend yield. This is the largest fund in the dividend-based emerging markets category, with an AUM of more than $630m. The MER (Management Expense Ratio) of 0.49% is not the cheapest in this space, but is also not as expensive as other peers such as EDOG, BICK, and EWX. Current valuations are extremely cheap with a P/E ratio of 6.4x and a P/BV of 0.91x. You also get an excellent income yield dimension of 7.3% to boot; this is the highest dividend yield on offer in this space (peers offer between 0.7% and 4.4%), and even if it currently feels rather elevated on account of the low share price, it has still averaged an impressive 5.6% over the last four years, a figure not to be scoffed at (peers average between 1.3-4.3%).
Low valuations and a high yield are very well, but what about the fund's cardinal focus area – Emerging Markets?
The case for emerging markets
At the very outset, let me acknowledge that emerging markets have previously been incredibly dormant and have been a very poor source of alpha generation. As mentioned in The Lead-Lag Report, their returns over the last decade have been a pittance, underperforming our benchmark significantly.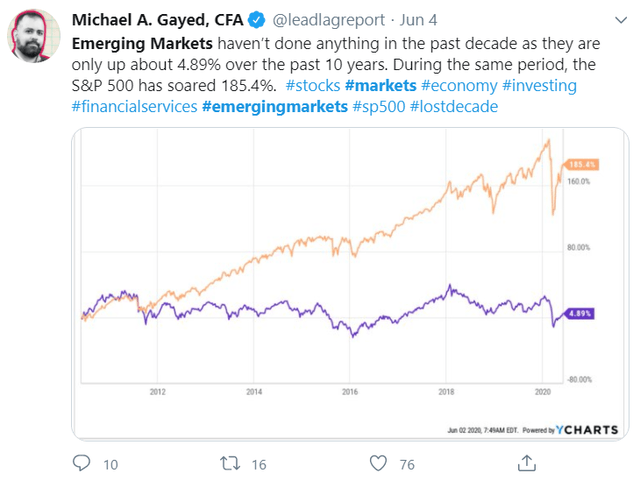 That said, I've spent a few decades tracking financial markets and realized that mean-reversion is one of the few themes that can be relied upon. Conditions for relative outperformance of emerging markets are gaining steam. In a world sloshed with central bank infused liquidity, emerging markets with their relatively higher growth profiles offer a more compelling value proposition to the developed peers. Going forward, in order to address the weak employment situation and kick-start economic momentum, I also expect a broad-based infra spending push from governments across the world; some of these key emerging markets which have strong commodity themes should benefit from this broad infra push. I also expect a flight away from the dollar; the Fed's deleterious actions will continue to erode the value of the dollar, and a lot of these emerging nations which have significant dollar-denominated debt could benefit from this. All in all, perhaps it's time for emerging markets to have their day in the sun.
Holdings analysis
The portfolio is spread across 139 emerging market stocks (due to the emphasis on dividend yield, this fund tends to be oriented towards mid- and small-cap emerging stocks) and looks quite well-diversified with the top 10 only accounting for 17% of the total holdings. Besides, not one single stock accounts for more than 2.5% of the total portfolio with Indiabulls Housing Finance Ltd. (OTC:IDKQY), an Indian financial services company, accounting for the largest share at 2.33%. The company has had a tough few months on account of COVID-19, with the loan book and AUM (assets under management) growth falling by double digits. Credit costs have gone up too. That said, management mentioned that the worst was likely over in terms of de-growth of the book; it now expects to deliver AUM growth of 12% for the current fiscal. Crucially it's also recently made some changes at the executive chairman level with a former RBI deputy governor taking charge. This development should help stimulate more institutional ownership in the stock and also reinvigorates the company's long-standing desire to procure a banking license.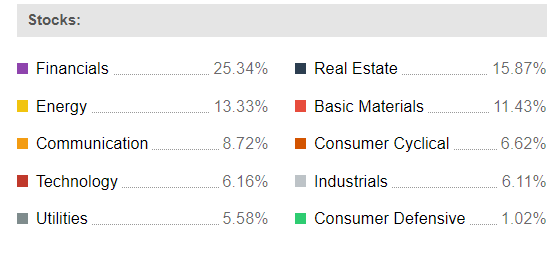 Source: Seeking Alpha
I also think the fund's sectoral exposure too is rather well-positioned at this stage of the economic cycle. As the world looks to make up for lost ground, with the potential for a more salubrious economic scenario in 2021, investor interest and inflows will likely be oriented towards traditionally cyclical sectors such as financials, real estate, and energy that offer more value. These three sectors (in aggregate they account for 54% of the total holdings) have underperformed in 2020, and we could see some mean-reversion here as well. Financial companies make up for more than a fourth of the total holdings of DVYE. A common theme amongst financial companies across the world during H1-20 was the spike in provision buffers to prepare for the worst. If the adverse employment situation turns around quicker than expected, and income levels see some buoyancy (aided by stimulus), we may see a lot of these provisions get released in 2021 and boost the EPS of these financial companies.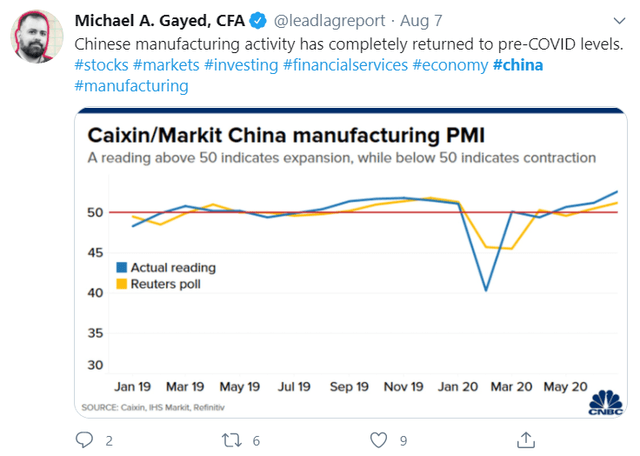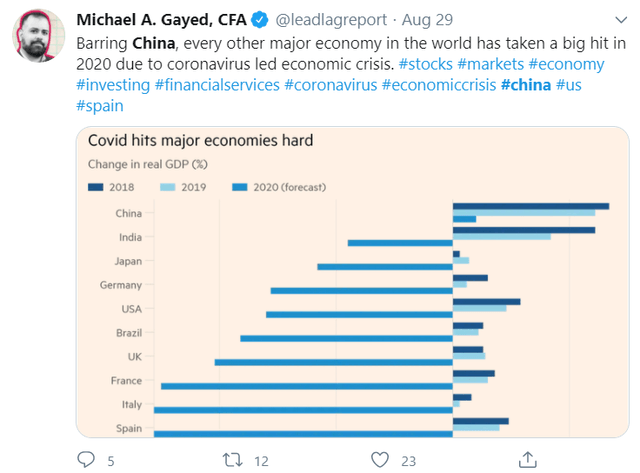 Geographically as well, this fund is quite favorably exposed. China is the dominant region making up for 22% of the holdings. Readers of The Lead-Lag Report will note that I've been highlighting China's relative economic resilience during the current health crisis, be it in manufacturing or in general GDP. The country may continue to lead the globe in this economic revival in 2021 and beyond. The top 5 geographies of DVYE also includes commodity-rich nations such as Russia, South Africa, and Brazil, and I've mentioned in the previous section how this could play out.
Source: DVYE
Summing up
Those who've been following me on Twitter and perusing The Lead-Lag Report may recount my gripe about the current top-heavy and concentrated nature of our markets, where only a handful of stocks have been instrumental in driving up the benchmark index. I don't believe this is healthy, and my preference would be for risk appetite to be more democratically dispersed. Emerging markets have been something of an unloved bunch in the past, but I do feel current conditions are favorable for some mean-reversion here. In fact, as recently mentioned in The Lead-Lag Report, this may have already begun, with EMs outperforming DMs over the past few months.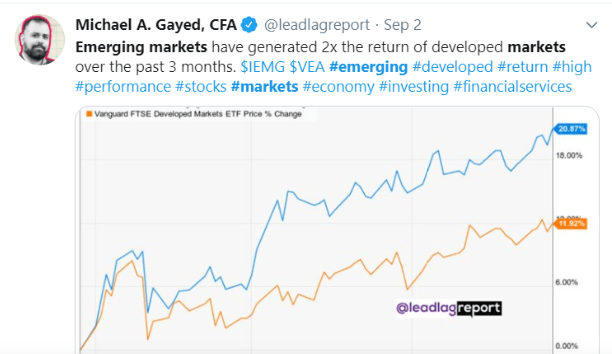 DVYE offers you exposure to these EMs and also helps cushion the inherent volatility of EMs by offering you an exceptionally high yield.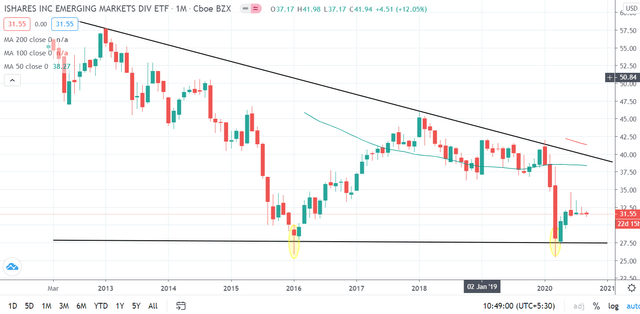 On the charts, DVYE throws up good risk-reward potential; it recently formed a double-bottom at the $25 levels, a level last seen in 2016 and has since bounced from there, and is still some way off from the upper resistance boundary. You may consider an investment in this ETF at current levels.
*Like this article? Don't forget to hit the Follow button above!

Subscribers told of melt-up March 31. Now what? 
Sometimes, you might not realize your biggest portfolio risks until it's too late.
That's why it's important to pay attention to the right market data, analysis, and insights on a daily basis. Being a passive investor puts you at unnecessary risk. When you stay informed on key signals and indicators, you'll take control of your financial future.
My award-winning market research gives you everything you need to know each day, so you can be ready to act when it matters most.
Click here to gain access and try the Lead-Lag Report FREE for 14 days.
Disclosure: I/we have no positions in any stocks mentioned, and no plans to initiate any positions within the next 72 hours. I wrote this article myself, and it expresses my own opinions. I am not receiving compensation for it (other than from Seeking Alpha). I have no business relationship with any company whose stock is mentioned in this article.
Additional disclosure: This writing is for informational purposes only and Lead-Lag Publishing, LLC undertakes no obligation to update this article even if the opinions expressed change. It does not constitute an offer to sell, a solicitation to buy, or a recommendation regarding any securities transaction. It also does not offer to provide advisory or other services in any jurisdiction. The information contained in this writing should not be construed as financial or investment advice on any subject matter. Lead-Lag Publishing, LLC expressly disclaims all liability in respect to actions taken based on any or all of the information on this writing.