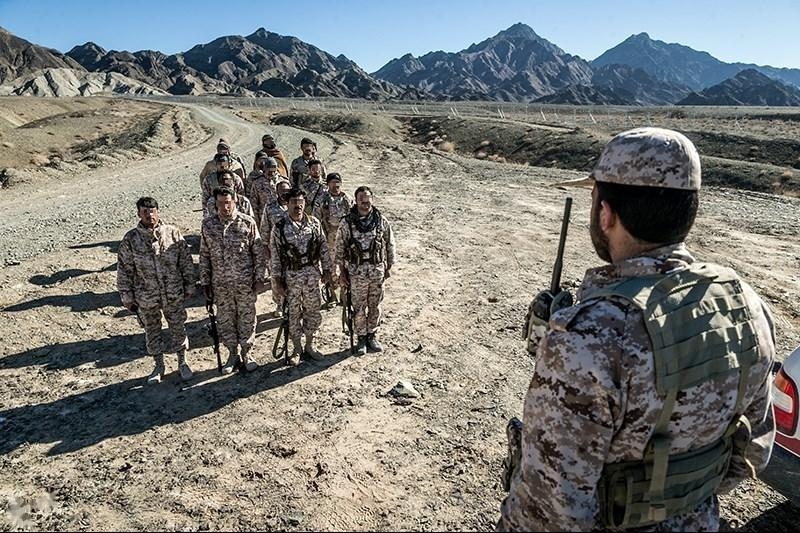 Vestlige efterretningskilder siger, at et nyt iransk terrornetværk er blevet dannet i Afrika efter ordre fra Qassem Suleimani, lederen af Qudsstyrken, elitekorpset i Irans Islamiske Revolutionsgarde (IRGC), som har ansvaret for udenlandske operationer. Foto: Medlemmer af Irans IRGC "Ground Force Commandos" (jordstyrkesoldater). (Billedkilde: Tasnim/Wikimedia Commons)
Mens Iran intensiverer sine bestræbelser på at oprette et globalt terrornetværk, er der dukket nye beviser op, som understreger regimets forsøg på at skabe en terrorinfrastruktur i Afrika.
Vestlige sikkerhedskilder hævder, at det iranske initiativ i Afrika er blevet igangsat som en reaktion på Trump-administrationens beslutning om at trække sig ud af den kontroversielle atomaftale, som blev indgået mellem Teheran og verdens førende magter i 2015.
Meningen med terrornetværket baseret i Afrika er, siger vestlige sikkerhedsfolk, at oprette nogle såkaldte "sovende celler," som kan aktiveres til at angribe vestlige mål, såfremt spændingerne mellem Iran og Vesten resulterer i en alvorlig eskalation af fjendtlighederne. Amerikanske, britiske, franske og andre vestlige baser i regionen er de mest sandsynlige mål for fremtidige terrorangreb, og et antal vestlige regeringer menes at have reageret ved at beordre deres militære og diplomatiske missioner i regionen til at opgradere deres sikkerhedsordninger.
Opdagelsen af det afrikanske netværk følger efter nogle nylige afsløringer af Irans forsøg på at ekspandere sit terrornetværk i Europa såvel som andre dele af kloden, herunder Latinamerika og Mellemøsten.
Efterretningskilder siger, at det nye terrornetværk er blevet oprettet på ordre fra Qassem Suleimani, lederen af Qudsstyrken, elitekorpset i Irans Islamiske Revolutionsgarde, som har ansvaret for udenlandske operationer.
De iranske celler menes at være aktive i flere afrikanske lande, herunder Sudan, Tchad, Ghana, Niger, Gambia og Den centralafrikanske Republik.
En førende vestlig sikkerhedskilde fortalte mig for nylig, at "Iran er i færd med at oprette en ny terrorinfrastruktur i Afrika med det sigte at angribe vestlige mål. Det er alt sammen et led i Teherans forsøg på at udvide sine terroroperationer over hele kloden."
Efterretningsfolk siger, at Iran har arbejdet på det nye terrornetværk gennem de seneste tre år, efter indgåelsen af atomaftalen, om indefrysning af landets uranberigningsaktiviteter, med USA og andre førende verdensmagter i 2015.
Operationen tilrettelægges af Unit 400 (Enhed 400), en højtspecialiseret afdeling af Qudsstyrken, der ledes af Hamed Abdollahi, en officersveteran fra Revolutionsgarden, som i 2012 af USA blev betegnet som støttende terroraktivitet. Den overordnede kommando over den afrikanske celle menes at være styret af Ali Parhoon, ligeledes en ledende iransk officer fra Unit 400.
Detaljer om terrorcellens eksistens er blevet afsløret efter en række arrestationer i Tchad i april måned. Efterforskerne kunne påvise, at Iran stod bag rekrutteringen og oplæringen af mænd i alderen 25-35 år med det sigte at udføre terrorangreb mod vestlige mål på kontinentet.
Det vurderes, at omkring 300 militante er blevet rekrutteret af Revolutionsgarden og har gennemgået en barsk træning i iransk ledede træningslejre i Syrien og Irak. Den seneste deling rekrutter modtog træning på en iransk base i byen Najaf i det sydlige Irak.
[Oplysningerne om] Irans forsøg på at skabe nye terroroperationer i Afrika kommer efter nylige afsløringer af, at britiske sikkerhedsfolk har grebet terrorister, forbundet med Iran, i at oplagre tonsvis af sprængstoffer i udkanten af London. De britiske myndigheder mener, at også denne celle blev dannet i 2015, efter at Iran havde underskrevet atomaftalen.
I juni måned hævdede The Jerusalem Post, idet man citerede en efterretningsrapport fra den tyske delstat Hesse, at Iran er en af de største statsaktører involveret i spionage i Tyskland. Det forlød, at Iran var involveret i den ulovlige fremskaffelse af teknologi til masseødelæggelsesvåben.
Afsløringen af, at Iran er i færd med at oprette et nyt terrornetværk i Afrika, kommer på et tidspunkt med voksende spændinger mellem Washington-Teheran og Irans beslutning om at genoptage arbejdet med at berige uran, som er et centralt materiale ved produktionen af atomvåben. Teheran er også blevet anklaget for at fyre op under spændingerne i Golfen, efter at Revolutionsgardens kommandører har bekræftet, at de var ansvarlige for nedskydningen af en amerikansk drone, som opererede tæt på Hormuzstrædet. Desuden er Iran blevet beskyldt for at have udført angreb i Golfen på et antal olietankskibe, som blev beskadiget af miner.
Con Coughlin er Telegraph's forsvarsredaktør og Distinguished Senior Fellow ved Gatestone Institute. Han er forfatter til "Khomeini's Ghost" (Khomeinis spøgelse).