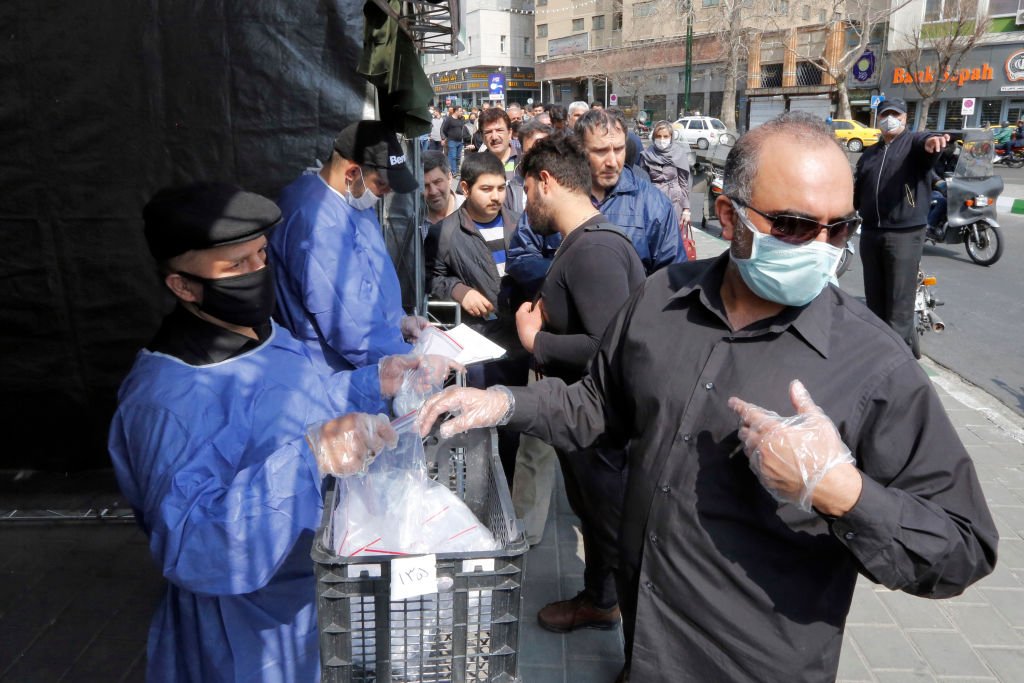 Billedet: Folk står i kø for at få udleveret pakker med ting til "forebyggelse" af coronavirus, leveret af Basijs frivillige, paramilitære styrke i Teheran den 15. marts 2020. (Foto ved Stringer/AFP via Getty Images)
Det iranske styre afstår stadig fra at tage passende skridt til at hindre spredningen af coronavirus, som ikke alene truer den iranske befolkning, men tillige mennesker i hele regionen.
Under et møde med Irlands premierminister Leo Varadkar i Det Hvide Hus tilbød præsident Donald J. Trump at hjælpe de iranske myndigheder med at bekæmpe coronavirus, men de iranske myndigheder afslog tilbuddet som "hyklerisk" og "forargeligt". "Vi har ikke brug for amerikanske læger," sagde Abbas Mousavi, talsmand for Irans udenrigsministerium.
Iran er, via sine udvekslinger med Kina, tilsyneladende blevet et globalt centrum for denne virus. Lederen af et hospital i Teherans Yaftabad sagde den 1. marts:
"Hvis vi havde begrænset rejser for mennesker til og fra Qom, ville spredningen, eftersom Qom er sygdommens epicenter, ikke have været så omfattende… vores fejl var, at vi, da vi opdagede, at smittekilden befandt sig i byen Qom, skulle have indført karantæne for indbyggerne der og forhindret dens spredning. Havde vi gjort det, havde virus ikke spredt sig."
Nahid Khodakarami, formand for sundhedskommissionen i Teherans byråd, sagde for nylig:
"For to uger siden fortalte jeg dr. Iraj Harirchi og endog dr. Nobakht (formand for parlamentets sundhedskomité), at Qom skulle i karantæne, men de lyttede ikke. Der skal indføres restriktioner i Qom… Hvis vi ikke havde givet præsternes interesser førsteprioritet, ville vi have været i en meget bedre situation."
Massoud Pezeshkian, iransk reformpolitiker, har påpeget:
"Vi burde have sat Qom i karantæne fra dag ét. … Denne sygdom er ingen spøg, hvilket imidlertid er måden, vi håndterer den på… Økonomien og alting vil blive smadret; det er ingen spøg. Hvad ville der være sket, hvis de havde lukket landet ned i 15 dage? Havde vi gjort det fra den allerførste dag, ville den ikke have spredt sig…."
Den Islamiske Revolutionsgarde (IRGC) og Irans ministerium for efterretningsvæsen og sikkerhed (MOIS) har styret håndteringen af coronavirus ved at slå ned på enhver person eller institution, som forsøger at afsløre præcise oplysninger om virussens oprindelse eller om, hvordan Iran er blevet et epicenter for denne virus, som breder sig til andre lande.
Agenter fra IRGC og MOIS er efter sigende til stede på hospitalerne, overværer møder for det medicinske personale og informerer dette om, hvad de har lov til at viderebringe, og hvad der er dem forbudt at afsløre til offentligheden, medierne og det internationale samfund.
Formanden for sundhedskommissionen i Teherans byråd, Nahid Khoda Karami, afslørede for eksempel for nylig, hvordan IRGC havde henvendt sig til hende:
"Igår sagde jeg, at det i Teheran er muligt, at 10.000 mennesker er blevet smittet med coronavirus. Efterretningsfolk fra IRGC ringede til mig og klagede. De spurgte, hvorfor oplyste du dette tal? Jeg sagde, sir, hvor længe vil I skjule dette? Disse tal bliver diskuteret i samfundet, og det, at jeg siger det, gør situationen mere rolig. Lad os være transparente over for folk. Vi bør ikke gøre denne sygdom til et sikkerhedspolitisk anliggende. I behøver ikke at ringe til mig og spørge, hvorfor jeg røber nogle tal. Jeg videregav blot nogle eksperters opfattelser. Efterretningsagenten fra IRGC sagde, at jeg skulle indberette sagen til sundhedsministeriet. Jeg sagde, OK, vi bør øge presset på sundhedsministeriet med hensyn til at være mere transparent og udtrykke sig åbent og fortælle folk kendsgerningerne; eller bliver vores ry i verden undergravet."
Regimet har også truet med at fængsle folk, som videregiver nyheder om krisens reelle omfang. Hassan Nowrouzi, formanden for parlamentets retskomité, sagde den 26. februar, at de, der "udspreder fake news om coronavirus", vil blive idømt mellem ét og tre års fængsel samt piskeslag.
Selv nogle af Irans aviser har overraskende nok peget på de restriktioner, som de er blevet pålagt med hensyn til, hvad de kan oplyse om virussen og hvad ikke. Det statsstyrede dagblad Ressalat skrev for eksempel:
"Hvad angår antallet af smittede sygeplejersker, kan vi ikke oplyse nogen tal. Statistikkerne er fuldkommen sikkerhedsrelaterede og kan ikke videregives. Selv ledelserne på hospitalerne kender muligvis ikke tallet på ofrene for coronavirus. Selv hvis en sygdomsramt tager på hospitalet, bliver statistikken ikke udleveret til hospitalstilsynet. Der eksisterer en særlig privat kanal, og ingen andre end sundhedsministeriets embedsfolk kender tallene."
Imens har Iran, ifølge rapporter, med henblik på det iranske nytår Nowruz, som begynder den 20. marts, "midlertidigt løsladt" 70.000 fængslede, som siges at være testet negative for virussen. Nogle "uretmæssigt arresterede" indsatte, såsom aktivister og journalister, som ifølge Human Rights Watch "overhovedet ikke burde have siddet i fængsel," er blevet løsladt; andre, som måske er eller ikke er smittede med virussen, er ikke løsladt. Nazanin Zaghari-Ratcliffe, som også er britisk statsborger, har sagt, at hun blev smittet med virussen i Evin-fængslet, men tilsyneladende ikke er blevet testet.
De regerende mullaher har, med deres inkompetence og forsøg på at mørklægge sandheden om coronavirus i Iran, været en trussel, som rækker meget længere end blot til deres egne borgere. Pakistan, som i begyndelsen lod sin næsten 900 km lange grænse til Iran stå åben for at undgå yderligere skade på sin økonomi, forsøger for eksempel nu, blandt andre problemer, at spore de næsten 8.000 pilgrimme, som for nylig vendte hjem fra Iran.
Den 15. marts angav embedsfolk ved Irans sundhedsministerium ifølge Asharq al Awsat det seneste dødstal til at ligge på 724, og antallet af mennesker, der er testet positive, til 13.938. Satellitfotos viser angiveligt nogle massegrave for coronaofre, som altså er omfattende nok til at kunne ses fra rummet.
Dr. Majid Rafizadeh er forretningsstrateg og rådgiver, Harvard-uddannet lærd, pol. scient., bestyrelsesmedlem ved Harvard International Review og præsident for International American Council on the Middle East. Han har skrevet flere bøger om islam og amerikansk udenrigspolitik. Han kan kontaktes på Dr.Rafizadeh@Post.Harvard.Edu