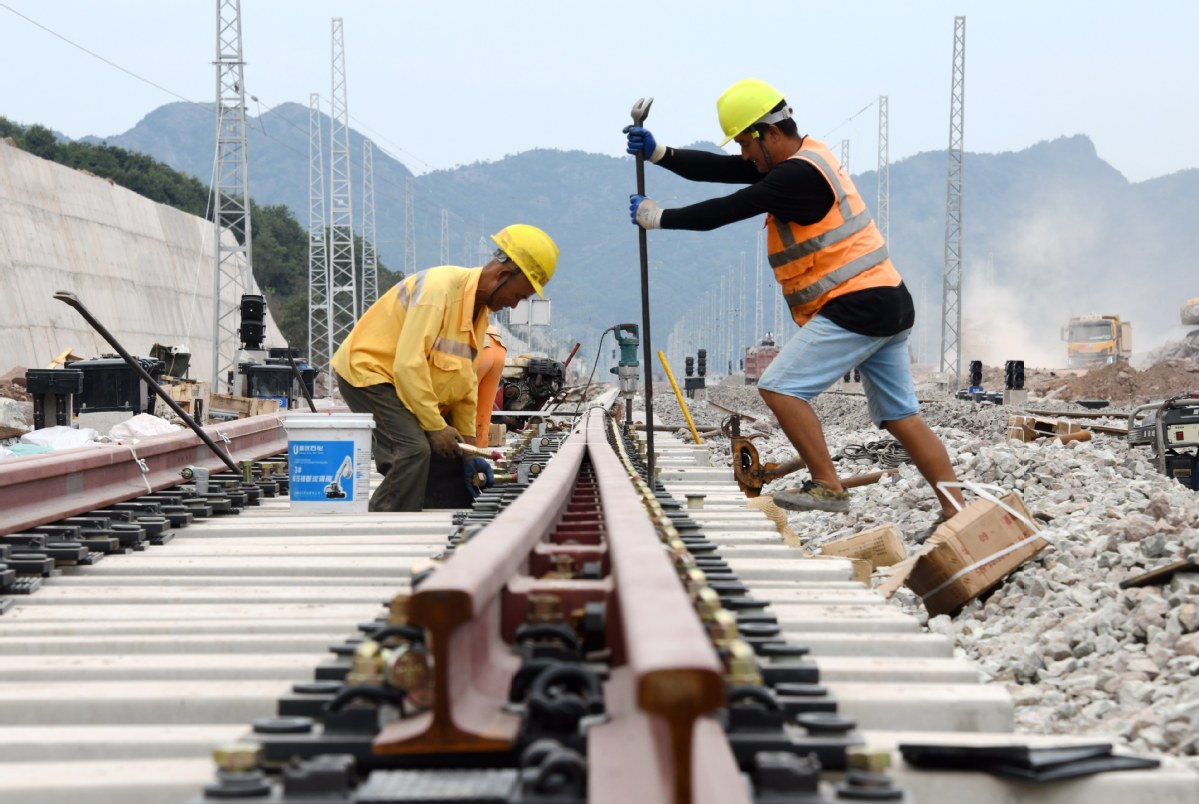 Adequate funding, higher number of projects to help sustain trend in China, says NDRC
China"s investment growth is expected to maintain steady momentum during the rest of the year on the back of adequate funding and an increasing number of projects, the country's top economic regulator said on Wednesday.
The investment growth will be aided by the investment outlay in the central government budget, special local government bonds and the government bonds for COVID-19 control, said Meng Wei, a spokeswoman for the National Development and Reform Commission.
The country will continue to expand investment in "new infrastructure" and other projects that bolster national development, such as 5G, data centers, urbanization, transportation, water projects and logistics infrastructure, said Meng.
More efforts will also be made to accelerate the proposed central government budget measures and speed up project construction, implementation of various policy measures to stimulate private investment and encourage private sector participation in investment projects for "new infrastructure "and strengthening of the weak links.
Dong Xiaoyu, a senior expert at Zhongguancun Development Group, said the country has made considerable progress in preventing and controlling the pandemic as well as in resuming work and production, and it now needs to take key measures to stimulate market vitality and spur growth.
"New infrastructure" construction and private sector participation in investment projects will help stimulate investment, boost market confidence and promote economic recovery, and also help meet the annual targets in this year's Government Work Report, Dong said.
Buoyed by the government's supportive policies and new or resumed projects, China's investment is gradually picking up. In August, China's fixed-asset investment rose by 8.4 percent on a yearly basis, marking the fifth consecutive month of positive growth, according to the NDRC.
The NDRC said it will continue to work with other departments to open China's doors wider to the outside world, continuously improve the investment environment and boost the confidence of foreign investors.
"We will lift all foreign investment restrictions beyond the negative list, and provide equal treatment to all types of business in China," Meng from the NDRC said. "We are accelerating the push for the revision of the catalog of encouraged industries for foreign investment, greatly increasing the number of listed sectors where foreign investment is encouraged and allow more foreign companies to enjoy relevant preferential policies."
A new report released by the American Chamber of Commerce in Shanghai shows overseas companies remain committed to the China market, with 78.6 percent of the respondents reporting no change in their investment allocations, a 5.1 percentage point growth over the levels seen in 2019.
After years of high growth rates, China is now transitioning to high-quality development, in order to attain a key competitive edge in terms of its ultra-large domestic market and huge domestic demand potential, said Cui Fan, an international trade and economics professor with the University of International Business and Economics in Beijing.
"With China's growing domestic market, complete industrial system, good infrastructure and large workforce, we have got strong confidence in the use of foreign investment for the period ahead.
"Investors with global and strategic vision will certainly not give up the investment opportunities in China."
Lily Ma, managing director of the China business for United States-based cloud computing software company Nutanix, said the company remained confident on China's growth prospects and would continue to increase investment.
"We have seen growth opportunities in the rising demand for digital transformation amid the COVID-19 outbreak," Ma said, adding that there are also opportunities in the cloud services market. "We have strong confidence in the (China) market, and we will spend more money and resources to develop our business."