We are now officially in a yield-less world.
The 10-year Treasury yields 0.8% and the 30-year Treasury yields just double of that. If you adjust for inflation and taxes, your returns are negative.
If you accept some credit risk, you can earn a little more. Long-term corporate bonds yield 3.4% at this moment. However, we are going through a severe crisis, and these bond funds invest heavily in BBB- rated securities which are just above junk. If and when downgrades occur, they become forced sellers – diluting the principal of investors – and leaving them with an even lower yield.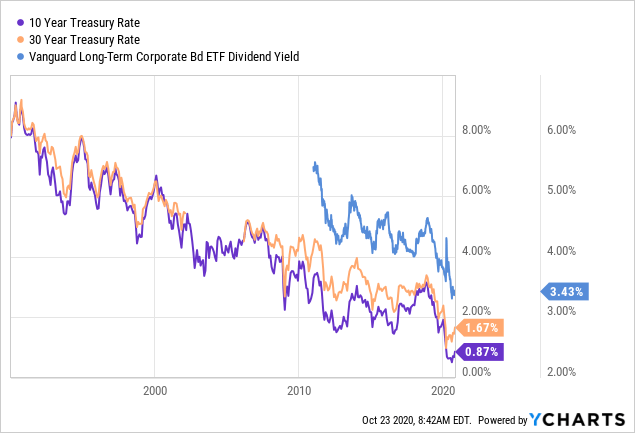 From our perspective, Treasuries and corporate bonds offer a terrible risk-to-reward in today's environment. A trader may use them to speculate on the direction of interest rate, but long-term investors are assured near 0% future returns.
We believe that this reality will force many investors to reconsider their fixed income allocations. It's just not sustainable to invest capital at a 0% return, and they will have to look for higher-yielding alternatives in the coming years.
If you can figure where the capital will shift, then you can act ahead of the crowd and profit. As Bruce Flatt, CEO of Brookfield (BAM), recently noted:
"Today across all major markets in the world, interest rates are 0% or negative. This will have a drastic effect in a positive way on asset values going forward. The fact that interest rates went to 0% everywhere has not yet been filtered into the market given the short term chaos."
We believe that the asset class that will benefit the most from the push to higher-yielding alternatives is net leases, and by extension, net lease REITs.
What are net leases?
Net leases are the closest thing to bonds in the equity market. Net leases are property investments, but the difference between a net lease and an ordinary property is that the lease is much more favorable to the landlord:
Very long leases: Generally, the initial lease term is 15 years, and it includes several five-year extension options. Therefore, vacancies are very rare.
No Property Expenses: The tenant is responsible for all expenses and even the maintenance of the property. The landlord only collects a rent check as if he was collecting interest.
No Co-Tenancy Issues: These are single-tenant properties and therefore you don't have to deal with the co-tenancy issues that are common with other property types.
Profit Center: Most net lease properties are profit centers to their tenants. Think about grocery stores for instance. They absolutely need the real estate to operate their business and they are unlikely to move elsewhere to save a moderate amount on their rent.
Strong Rent Coverage: The tenants generally cover the rent by 2x to 3x with profits. Therefore, there's great margin of safety even if business prospects deteriorate in a recession.
Out of all property sectors, net leases are the most comparable to bonds: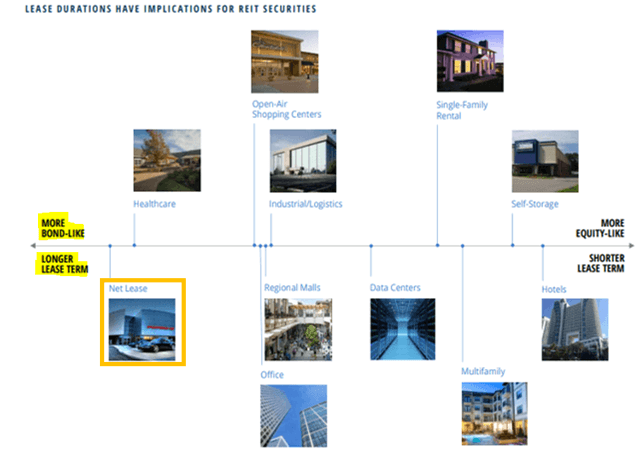 The cash flow of a net lease property is similar to that of a bond. It's extremely consistent and predictable, even during recessions. You buy it and then you can forget about it and collect a steady rent check, often for >10 years straight.
The most popular net lease properties are single-tenant, service-based retail properties such as:
Walgreen (WBA) pharmacies: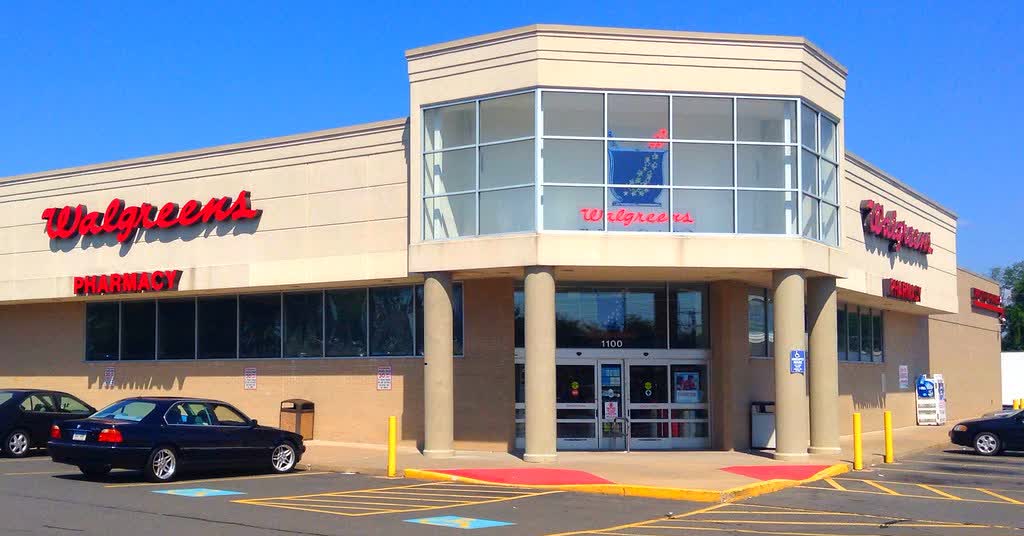 Dollar General (DG) convenience stores: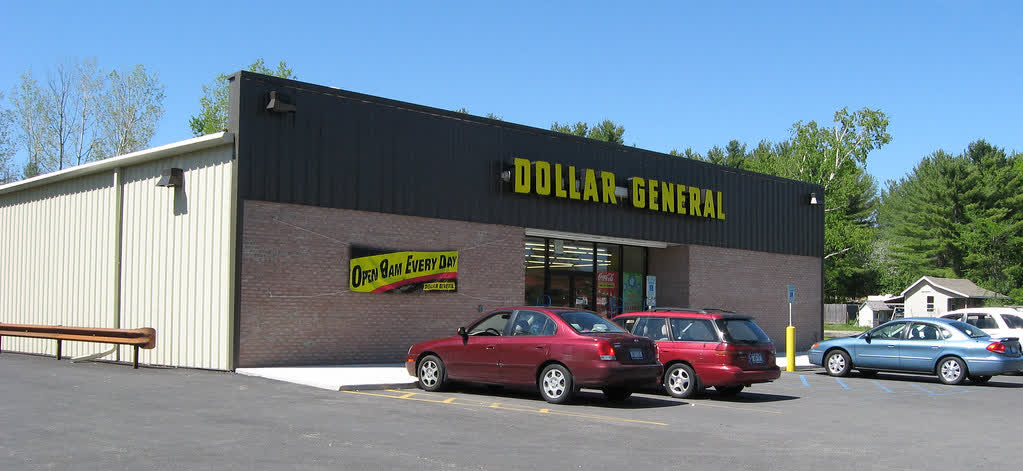 McDonald's (MCD) quick-service restaurants: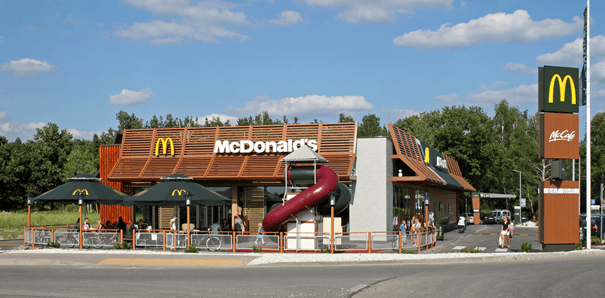 You could argue that net leases are even safer than bonds because of three reasons:
Seniority of Rent: The rent payment is an essential business expense and therefore it comes ahead of other expenses. During debt reorganizations, tenants commonly keep paying the rent of their net leases, but may stop interest payments.
Inflation Protection: The leases include 1.5% to 2% annual rent increases that are agreed for the entire term. Since the tenant pays for all the property expenses, the landlord is well protected against inflation. This is not the case for bond investors.
Real Asset Backing: Even in a worst-case scenario, you still own the real estate and can release it to another tenant. But if your bond defaults, you may lose it all.
Consider that the two largest net lease REITs, Realty Income (O) and National Retail Properties (NNN), have managed to increase dividends in 2000, 2008, 2009, and even 2020:

The cash flow is very resilient, and for this reason, we expect a lot of capital to shift from fixed income to net leases in the coming years.
Treasuries yield close to 0%. Corporate bonds are not much better.
But you can still buy good net lease properties at >6% cap rates. If you finance half of it with a 4% mortgage, that gets you to an 8% yield.
That's very attractive in today's yield-less world.
Right now, the spread between Treasury yields and net lease cap rates is at a 10-year high, and as we put this crisis behind, we expect cap rates to compress lower, and properties to appreciate significantly.
Example: If a net lease property generates $100,000 of income, its value will be $1,428,000 based on a 7% cap rate, and $2,000,000 based on a 5% cap rate. That's nearly $500,000 more.
Bonds appreciate when interest rates go down, and the same applies to net lease properties.
However, this is not yet reflected in valuations because the compression in cap rates has been delayed by the crisis.
Net Lease REITs Offer a Historic Opportunity
Before the COVID-19 crisis, high-quality net lease REITs traded at a 3%-4% dividend yield, when the 10-year Treasury was ~2%. That's a 100-200 basis point spread.
Today, you can buy the same REITs at a 5%-6% dividend yield, even as the 10-year Treasury dropped to 0.8%. That's a 3-5x higher spread than usual.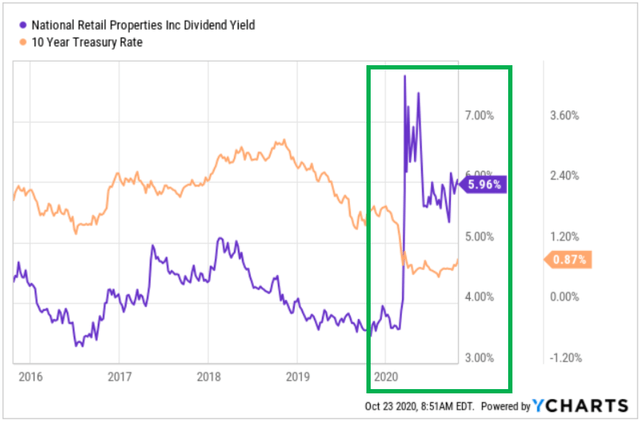 These exceptionally high yield spreads are the results of market fears. Net leases are resilient to recessions, but not to complete economic shutdowns. It led to unusually low rent collection rates in the second quarter and caused net lease REITs to collapse.
However, since then, rent collection rates already have recovered to more than 90%, and if you include rent deferral agreements, the collection rates are now near 100%. That's even before a vaccine is ready:

The market is discounting net lease REITs as if this crisis had permanently impaired their businesses. But in reality, this is only a temporary crisis, and it may even benefit net lease REITs in the long run.
Sure, they suffered a few months of lower rents, but this negative impact is negligible when compared to the long-term positive impact of 0% interest rates:
It will allow net lease REITs to refinance debt at lower rates.
It will increase the spreads on new investments and boost growth.
And finally, it will lead to yield compression and valuation expansion.
As we put this crisis behind, the fears will dissipate, rent collections rates will fully recover, and net lease REITs will start to collect late payments.
How will the market react?
We believe that yield-starved investors will rush to net lease REITs to earn high and growing income in a yield-less world.
They will bid up prices even higher than where they were before the crisis because interest rates are now at 0%.
Many high-quality net lease REITs could be priced at a 2%-3% dividend yield and still be attractive investments in today's yield less world.
By buying today, you are acting ahead of the crowd. You get to lock in 5%-6% dividend yields and position yourself for 50%-100% upside potential in the coming years.
This is not just an empty statement. At High Yield Landlord, our Core Portfolio holds a 25% exposure to net lease REITs. Our conviction is high and we are putting our money where our mouth is.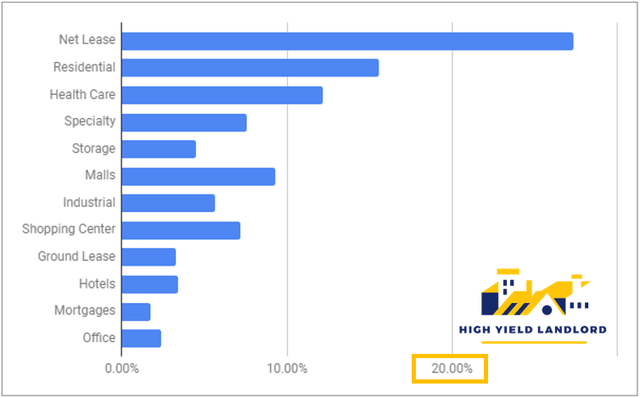 Source: High Yield Landlord Core Portfolio Allocation
What Are We Buying?

We are sharing all our Top Ideas with the 2,000 members of High Yield Landlord. And you can get access to all of them for free with our 2-week free trial! We are the #1 ranked real estate investment service on Seeking Alpha with over 2,000 members on board and a perfect 5-star rating!

You will get instant access to all our Top Picks, 3 Model Portfolios, Course to REIT investing, Tracking tools, and much more.
We are offering a Limited-Time 28% discount for new members!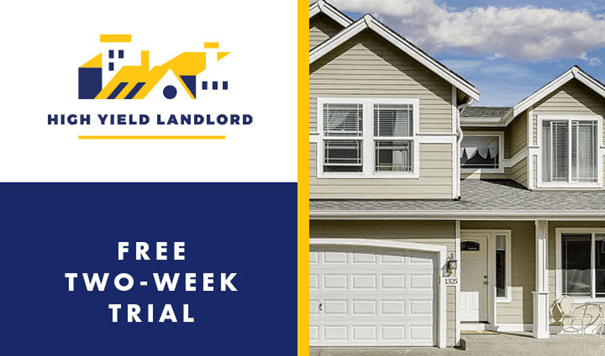 Disclosure: I am/we are long NNN; O. I wrote this article myself, and it expresses my own opinions. I am not receiving compensation for it (other than from Seeking Alpha). I have no business relationship with any company whose stock is mentioned in this article.