Introduction
IBM Corp. (IBM) has been undertaking a strategic business transformation for a few years now, aimed at teaching new tricks to this old dog. Since 2012, it has invested over $120 billion in its transformative efforts and over $45 billion in R&D for cloud, AI, blockchain and quantum computing. With the Red Hat acquisition (the largest in IBM history), the company has attempted a definite step into the new transformative trends that are shaping the technological environment today. Still trading at an over 20% discount compared to its pre-pandemic levels, IBM still seems to have the potential to provide double-digit returns to its investors.

(Source)
Strategic Direction
It is no secret that IBM is investing heavily in transforming its business, trying to pivot its business wary of falling behind the trends of innovation. The success of this transformative efforts does not seem to be clearly visible looking at the company's numbers. Total revenue is down YoY both in Q1 and Q2 2020, and the trend does not seem to show a reversal.
Figure 1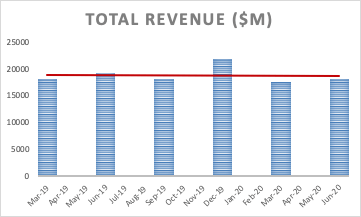 (Source: Seeking Alpha)
However, revenues remain quite stable over the first half of 2020 (Figure 1), also showing significant resilience during the hard and uncertain pandemic period. Taking total revenue in a company undertaking a strategic shift is also not the best indication of the future. For a company like IBM, investing heavily in new segments and developing new capabilities, a sector-by-sector analysis can give a better picture of the business trends. The following table shows growth rates for each revenue segment (Figure 2):
Figure 2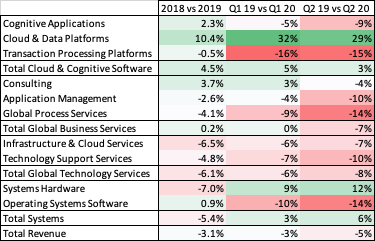 (Source: Company financials)
The business model of IBM operates on 4 core revenue segments. The success story in IBM business pivoting strategy is the Cloud & Data Platforms segment, which is growing at a fast pace, almost 30% year over year. In the Cloud & Data platform industry, a 29% growth rate doesn't fall short in comparison with cloud giant Amazon (AMZN) and its cloud segment AWS, which achieved an equally high 29% of revenue growth. Moreover, these levels of cloud revenue growth are enough to insinuate Google Cloud (GOOG) (revenue growth 43% YoY) and Microsoft Azure (MSFT) (47%), whose revenue rates are normalizing from the 90% and 50% growth rates, respectively, that were achieved just a couple of years ago.
Figure 3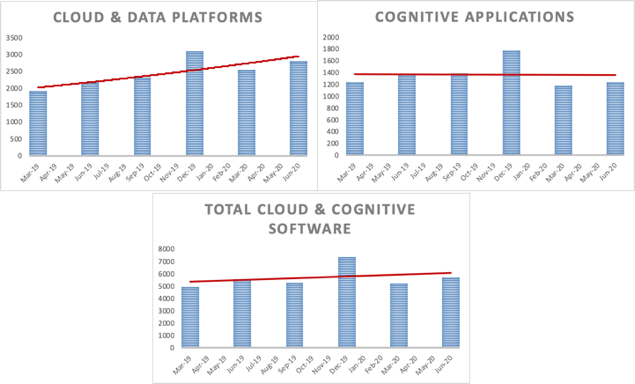 (Source: Company financials) ($ million)
IBM's cloud success can be attributed to its niche product offering of hybrid cloud solutions, strongly developed through its Red Hat acquisition last year. As the most significant investment in the history of the company, Red Hat is offering IBM a unique approach focused on providing open source software to enterprises.
"Joining forces with IBM gives Red Hat the opportunity to bring more open source innovation to an even broader range of organizations and will enable us to scale to meet the need for hybrid cloud solutions that deliver true choice and agility."
IBM and Red Hat vision seem to be taking hold over the last year. Due to Red Hat Linux and OpenShift, IBM hybrid cloud platform generated over $23 billion of revenue in the last 12 months. CEO Arvind Krishna sees Red Hat momentum to continue to drive strong revenue and bookings growth in the near future, also stating that demand for Red Hat products remains high. IBM clients tapping into IBM-Red Hat hybrid cloud architecture include large corporations such as BNP Paribas (BNPQF), American Express (AXP), Vodafone (VOD), Banco Sabadell (OTCPK:BNDSF), and CaixaBank (OTCPK:CAIXY). Red Hat interoperability allows clients to build highly customizable applications that can be seamlessly integrated into multiple cloud vendors. Looking at the future of this business segment, IBM estimates the hybrid cloud market to be a $1.2 trillion opportunity.

(Source)
Other Strategic Ventures
The billions spent in research & development are not going only towards cloud technology, but also other emerging areas such as Artificial Intelligence (AI), blockchain and quantum computing. Much of IBM's efforts seems to be spent in developing new patentable ideas. In 2019, the company secured more than 1,800 patents on AI alone. Overall, IBM obtained 9,262 U.S. patents in 2019, the most ever awarded to a U.S. company.
Cybersecurity is another growing trend which can benefit the company long term, as IBM helps secure 95% of the Fortune Global 500. Its Cloud Paks security product, launched last year, aims at taking advantage of the accelerating need for security solutions due to the newly shaped remote-working environment and the growing adoption of cloud computing. Security products will follow for the most part the cloud adopting trend, giving the company the ability to combine products and create added value for whole projects at scale.
IBM is also the global leader in enterprise blockchain solutions. Blockchain technologies are increasingly taking part in financial applications, supply chain management and transparency solutions for enterprises. The company has positioned itself to benefit from this trend in the long term.
Overall, IBM's business model is focusing on the technologies that are most likely to shape the future of business and society. This strategic direction can provide a bright path for the long-term growth of the company. However, focusing on many fronts also creates risks. IBM is trying to execute a complex strategy in a technology sector that is rapidly changing. Management execution becomes a fundamental factor in maintaining the company's relevance in the business. Moreover, a focused execution should prevent the new shiny trend from extrapolating resources at the expense of current strategy execution.
Financial Performance
Figure 4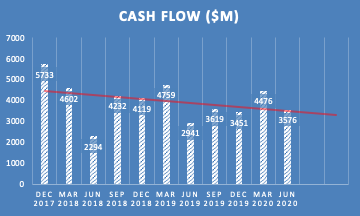 (Source: Seeking Alpha)
IBM's financial performance has been lagging compared to expectations for quite some time. In addition to the declining revenues, cash from operations is also showing a negative trend.
Over the last year, operating cash flow has decreased with worrying regularity, though only slightly (Figure 4). Despite this, IBM has a history of increasing its dividend payments on a regular basis. Although the dividend may be attractive to dividend investors, this pursuit of shareholder value is what may be holding the company back from equity appreciation.
Analysing the company's balance sheet, IBM has accumulated an astonishing $55 billion (Figure 5) in long-term debt, and it's expecting free cash flow of just $11.5 billion for 2020. The billions of dollars it is paying to shareholders by way of dividends may start weighting on the company, should the economy enter a deleveraging cycle in the next couple of years.
Figure 5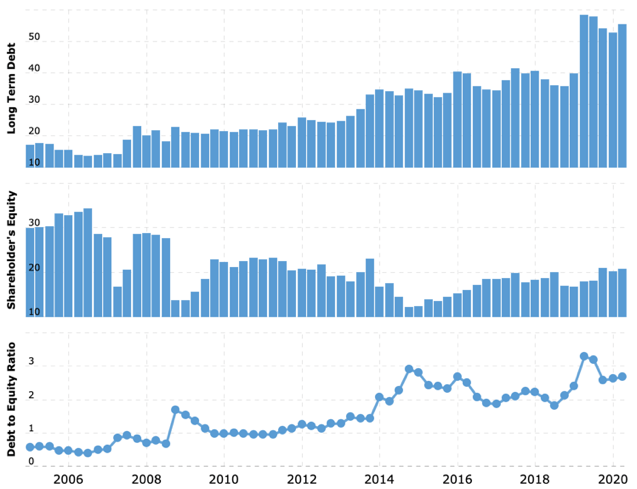 (Source: Macrotrends)
Fair Value Calculation
IBM's business is currently characterized by simultaneously growing and declining business segments. It is unclear how this balance will shape up in the future, so using a range of +/- 2% applied to current average cash flows, I computed a discounted cash flow evaluation to derive the company's implied share fair value. Using the following assumptions:
Terminal Growth Rate: 2.00%
Market Risk Premium: 5.00%
Risk-Free Rate: 0.66%
WACC: 7.50%
IBM's fair value as of today, September 15th, is in the $121.9-141.1 per share, up to 15% appreciation from today's price. The stock does not seem to offer high equity appreciation opportunities such as the hot tech stocks of the moment, but it remains a solid alternative for more conservative investors looking for substantial cash generation and a reliable 5.3% dividend yield.
Author's Note: If you found this article of value and want to receive updates on this research, just click the "Follow" button near the title. I would love to hear your opinion, leave a comment in the section below!
Disclosure: I am/we are long MSFT. I wrote this article myself, and it expresses my own opinions. I am not receiving compensation for it (other than from Seeking Alpha). I have no business relationship with any company whose stock is mentioned in this article.
Additional disclosure: I am not a financial advisor. All articles are my opinion – they are not suggestions to buy or sell any securities. Perform your own due diligence.