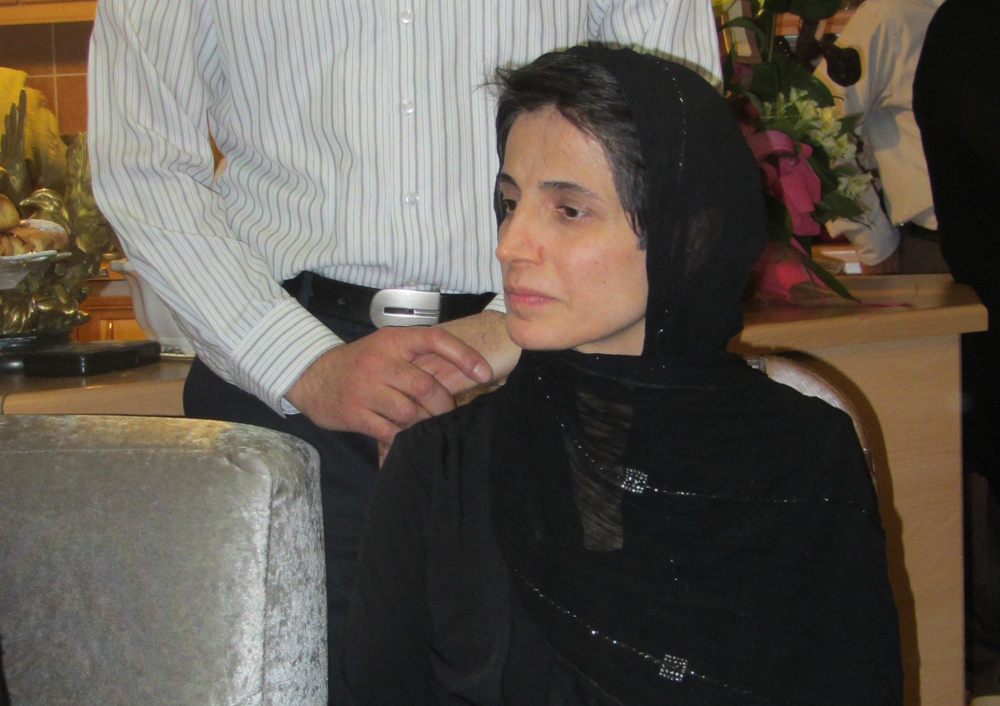 Iran idømte for nylig en fremtrædende iransk advokat, Nasrin Sotoudeh, som havde dristet sig til at forsvare nogle piger, der havde protesteret mod Irans påtvungne tildækningslove, 33 års fængsel og 148 piskeslag. Billedet: Nasrin Sotoudeh. (Billedkilde: Hosseinronaghi/Wikimedia Commons)
Irans Islamiske Republik har i dag, via sine stedfortrædende terrorgrupper og marionetregimer, udvidet sit hegemoni til mange af Mellemøstens hovedstæder: Teheran, Baghdad, Damaskus, Beirut, Sanaa. Iran truer fortsat Mellemøsten, Middelhavsområdet og potentielt Europa. Her fyrre år efter landets teokratiske revolution i 1979 taler mullaherne stadig (længselsfuldt, må man formode) om et Amerika, som bliver "stadig mere svækket".
"Amerika kan ikke magte sine egne affærer nu", sagde ayatollah Ahmad Jannati, sekretær i det magtfulde Guardian Council (Vogternes Råd) på statsligt TV. "Millioner af mennesker sulter derovre og Amerikas magt bliver stadig mere svækket". Den slags deklarationer kan have til formål at skjule Irans egen frygtelige nedtur, vigende realitetssans og opløsning indefra.
Iran var i 1979 det første land, der væltede en sekulær, pro-vestlig regering og erstattede den med et islamisk præstestyre. Eksperimentet synes imidlertid at være mislykkedes. I stedet for at bringe fremgang og frihed, bragte det fattigdom og undertrykkelse. Selv uden at medregne den frygtelige forfølgelse af kvinder, journalister, akademiske dissidenter og seksuelle minoriteter er det iranske regime i opløsning.
Statistikker udgivet af Verdensbanken viser, at Iran har oplevet en rystende økonomisk nedsmeltning gennem de forløbne 40 år, siden de islamiske præster kom til magten. Dets fald på den økonomiske rangliste i forhold til andre lande har været "et af de stejleste fald i moderne historie". Verdensbankens data viser, at:
"Benytter man en bruttonationalproduktrangliste som en anden målestok for økonomisk betydning, var Iran i 1960 verdens 29. største økonomi. Tyrkiet lå på 13. pladsen og Sydkorea på 33. pladsen. I 1977 var Iran klatret op på 18. pladsen, Tyrkiet på 20. pladsen og Korea på 28. pladsen. I 2017 lå Iran på 27. pladsen, Tyrkiet kredsede omkring 18. pladsen og Korea var på det tidspunkt blevet den 13. største økonomi i verden."
Det almene bruttonationalprodukt per capita, baseret på den iranske møntfods reelle købekraft fra 1976 til 2017, viser, at den almindelige iraner er blevet 30% fattigere siden revolutionen.
"Det ene land valgte åbenhed, demokrati og innovation," tweetede USA's ambassadør Carla Sands om de vidt forskellige veje, Sydkorea og Iran har fulgt. "Det andet gjorde ikke".
Ifølge Mohsen Delaviz fra Irans brændselsopbevaringsselskab "bruger Iran med sine 80 millioner indbyggere årligt 45 milliarder dollars på energisubsidier, mens tallet lyder på 38 milliarder dollars i Kina med en befolkning på 1,5 milliarder mennesker."
Desværre har Europa nu valgt at formilde Irans regime fremfor at øge presset på det. Denne holdning var formentlig grunden til fraværet af udenrigsministre fra flere større europæiske magter, så som Tyskland og Frankrig, ved det nylig afholdte Warszawa møde, indkaldt af USA og andre allierede for at lægge pres på Iran. Få dage efter Warszawa-mødet sendte den tyske præsident, Frank-Walter Steinmeier, et skandaløst lykønskningstelegram til Irans ledere på 40-årsdagen for deres revolution.
Irans olieproduktion har endnu ikke genvundet sit niveau fra før 1979. Bloomberg noterer at:
"Selv hvis USA ophævede sanktionerne, ville Iran være hårdt presset for at pumpe næsten 6 millioner tønder op om dagen, sådan som det gjorde lige før revolutionen i 1979. Landet producerede mindre end det halve af denne mængde – 2,74 millioner dagligt – i januar, viser data indsamlet af Bloomberg."
"Økonomien har det endda endnu værre, end de røber," bemærkede Alireza Nader, administrerende direktør for New Iran, en forsknings- og støtteorganisation i Washington, D.C. Men trods sin økonomiske krise fortsætter Iran med at forære hundredvis af millioner dollars hvert eneste år til terrorister over hele verden.
"Iran forsyner alene Hizbollah med omkring 700 millioner dollars om året", sagde Nathan A. Sales, USA's Ambassador-at-Large and Coordinator for Counterterrorism.
"Det giver yderligere 100 millioner dollars til forskellige palæstinensiske terrorgrupper. Når man lægger de penge oveni, som gives til andre terrorister, kommer det fulde beløb tæt på en milliard dollars. Lad os lige standse op og tænke over det, for det tåler en gentagelse: Det iranske regime bruger næsten en milliard dollars om året udelukkende på at støtte terrorisme".
Men Iran kan bryste sig af flere rekorder. Ifølge Amnesty International "blev mere end halvdelen (51%) af alle rapporterede henrettelser i 2017 foretaget i Iran". I forhold til sit befolkningstal har Iran verdensrekord i henrettelser per capita. Der skete en stigning på 333% i antallet af fængselsindsatte mellem 1985 og 2017 i Iran. Det nylig udnævnte overhoved for den Islamiske Republiks dommerstand, Ebrahim Raisi, "var involveret i massehenrettelser af politiske fanger," ifølge det amerikanske udenrigsministeriums vicetalsmand.
Gennem de seneste 40 år har det iranske regimes korruption og elendige håndtering af miljøresurserne ført landet ud i en naturkatastrofe. Landet er ved at løbe tør for vand. "Iran er ved at begå selvmord med udtørring." Foreign Policy skrev for nylig:
"I 2013 rapporterede den tidligere leder af Irans miljøbeskyttelsesagentur, at 85 procent af landets grundvand var væk, mens befolkningstallet var blevet fordoblet de seneste 40 år."
Denne ubehagelige sandhed kan meget vel være grunden til, at miljøeksperter behandles som en "sikkerhedstrussel" af det iranske styre. Da nogle videnskabsfolk forsøgte at identificere problemerne og tilbyde løsninger, blev de arresteret af de iranske sikkerhedsstyrker. Ifølge Center for Menneskerettigheder i Iran blev 40 af disse eksperter arresteret i løbet af blot en enkelt måned.
Ud over vandknaphed foregår der også en menneskelig hjerneflugt. USA's udenrigsministerium har oplyst, at:
"Hver fjerde af de højest uddannede borgere i Iran forlader deres land, når de får muligheden… Iran har et af de højeste tal for borgere, som forlader deres hjemland — det skønnes, at 5 millioner iranere har forladt landet siden den islamiske revolution i 1979."
Professor ved Chapman University Shahrzad Kamyab skrev:
"Ifølge den Internationale Valutafond (IMF), som har undersøgt 91 lande, har Iran den højeste grad af hjerneflugt i verden: hvert år forlader 150.000 uddannede iranere deres hjemland…"
Irans førende miljøforkæmper, Kaveh Madani, flygtede for nylig til London og tweetede:
"Ja, den anklagede flygtede fra et land, hvor deciderede bøller modarbejder videnskab, viden og ekspertise og tyr til konspirationsteorier for at finde en syndebuk for alle problemerne, fordi de godt ved, at det er meget nemmere at finde en fjende, en spion eller en at lægge skylden på end at acceptere ansvarlighed og medskyld i et problem."
Verdensbankens tal anførte Irans ungdomsarbejdsløshed til omkring 30% i 2018.
Irans unge flygter til udlandet, mens regimet flygter fra virkeligheden og de iranske præster bliver rigere. Irans øverste leder, ayatollah Ali Khamenei, styrer et imperium til en værdi af 95 milliarder dollars, ifølge en Reuters-undersøgelse. Ligesom i Sovjetunionen udgør den iranske regerings budget efter sigende 80% af bruttonationalproduktet. U.S. News & World Report skrev, at Iran rangerer som det (skønsmæssigt) tredjemest korrupte land i verden, efter Irak og Pakistan.
Den amerikanske økonom og nyhedskommentator David Goldman har sammenlignet Iran med det tidligere Sovjetunionen. Fra den sovjetiske invasion af Tjekkoslovakiet i 1968 og videre under invasionen af Afghanistan i 1970'erne begyndte den sovjetiske ledelse af agere aggressivt i udenrigspolitikken, som om de forstod, at det var sidste chance for at opnå magt under noget, der tydeligvis var en økonomisk og demografisk nedsmeltning – ligesom de iranske mullaher gør det i dag.
"Iran har oplevet en af de hurtigste fertilitetsnedgange i verden," forklarede Farnaz Vahidnia. "En fertilitetsnedgang på mere end 50% i en enkelt årti er ikke blot enestående for et muslimsk land, men har aldrig været rapporteret nogen andre steder". Avisen South China Morning Post rapporterede:
"I løbet af én enkelt generation har Iran registreret en af de hurtigste fertilitetsnedgange, der nogen sinde er blevet registreret i den menneskelige historie," sagde Nicholas Eberstadt, politisk økonom ved American Enterprise Institute i Washington, som foretager demografisk forskning. Det tog Europa 300 år at registrere et lignende fald, sagde han. "Jeg tvivler på, at denne udvikling kan vendes," sagde Eberstadt.
Karim Sadjadpour fra Carnegie Endowment for International Peace beskriver "kernen i det islamistiske styre i Iran" som værende: "Dogmatiske syvhundredetalspræster, der tvinger deres egne antikverede holdninger ned over hovedet på et ungt, mangeartet samfund… Det kan kun opretholdes gennem tvang".
Denne bemærkelsesværdige tilbagegang for det iranske regime er ledsaget af nogle usle, groteske og undertrykkende love. I sidste måned fremgik det, at det var blevet forbudt at lufte sin hund på offentlige områder i Teheran. Tidligere har det iranske regime endda bortcensureret brugen af ordet "vin" og navnene på "udenlandske dyr" fra bøger, som bliver udgivet i den Islamiske Republik. Efter 1979 har det iranske regime forsøgt at kontrollere, hvad folk kunne læse. For nylig har Iran afsagt en dom på 33 års fængsel og 148 piskeslag til en fremtrædende iransk advokat, Nasrin Sotoudeh, som har dristet sig til at forsvare nogle piger, der havde protesteret mod Irans påtvungne tildækningslove. Ved en anden lejlighed for nylig blev at iransk par arresteret, efter at deres offentlige frieri gik viralt på de sociale medier.
Hvornår vil dette teokratiske regime, som terroriserer sin egen befolkning og destabiliserer regionen, omsider bryde sammen, ligesom det kommunistiske sovjetregime gjorde det i 1991?
Giulio Meotti, kulturredaktør ved Il Foglio, italiensk journalist og forfatter.