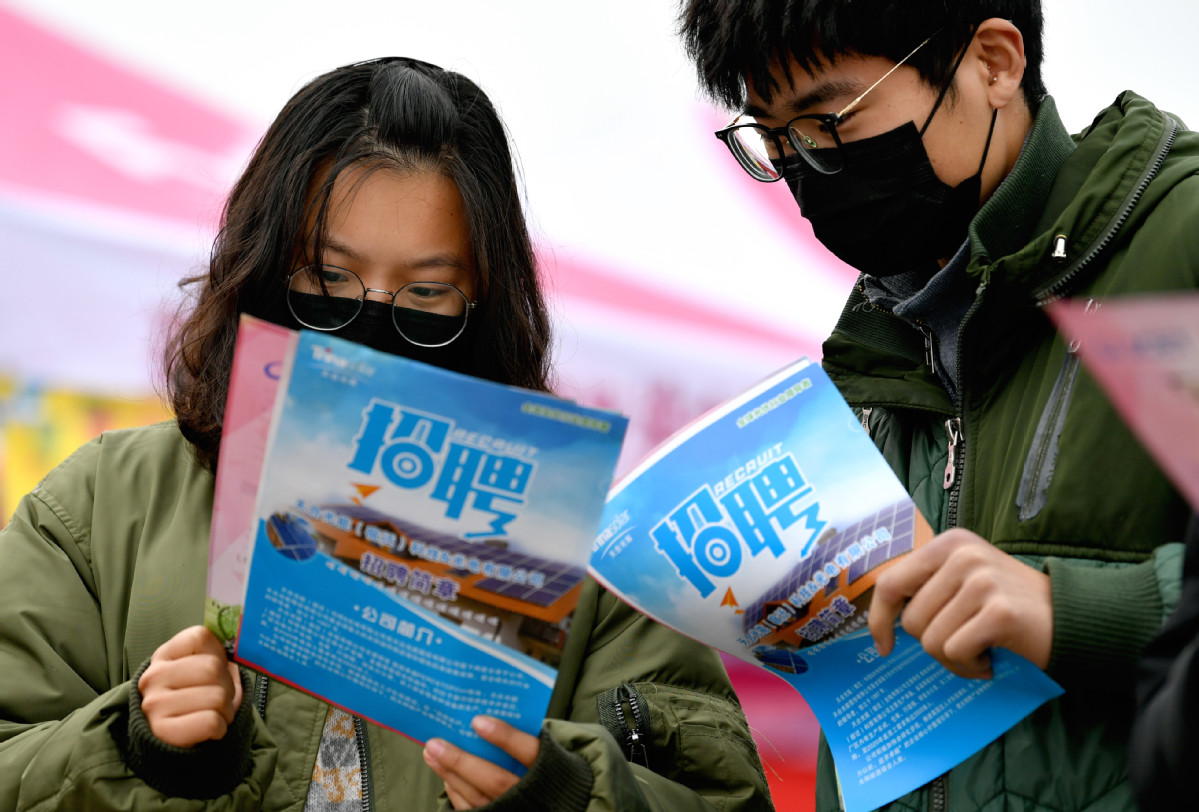 Manufacturing, internet and foreign trade were the major sectors with rising demand for job seekers, while online recruitment opened new doors for job hunters during the novel coronavirus outbreak, an industry report said on Tuesday.
With China's epidemic control efforts bearing fruit, both employers and job seekers are now restarting their employment plans, signaling a recovery of sorts in the labor market.
The week-on-week growth in job vacancies reached 21.43 percent during Feb 24-28, while that of resume submissions was about 35 percent, according to a report conducted by online recruitment platform Zhaopin during the fourth week of February.
"As cities accelerate to recover business operations and more professionals return to the cities where they are working, the demands for both recruitment and job-hunting are growing," said Li Qiang, executive vice-president of Zhaopin.
About 65 percent of the companies interviewed by Zhaopin had restarted operation by the end of February while 72.8 percent of the migrant employees have returned, according to the report, which covered 9,038 respondents from 38 major cities across China.
However, about 60 percent of interviewees involved in entertainment, sports, catering, training and tourism sectors said they have not come back to work due to the epidemic's influence on offline services, it said.
Spring is a traditional peak season for recruitment, with many companies holding briefing sessions and job fairs, and is regarded as an important period for job hunters, especially for the 8.74 million college graduates this year.
However, most of these events have been canceled or postponed due to the epidemic.
Data showed that the recruitment market is recovering and will maintain the trend in the subsequent weeks, Li said, adding this year's job-hunting peak is yet to come.
Manufacturing companies, which were one of the first to resume operations during the outbreak, showed a rising demand for workers with a week-on-week growth of 25 percent, in order to increase production and ensure supply, the report showed.
The foreign trade sector, though affected by disruptions in the global transportation network, is also recovering. It featured an over 29-percent week-on-week growth in job vacancies in the last week of February, compared with 13 percent during the third week. The internet industry showed an 18-percent growth in job vacancies during Feb 24-28.
According to a report from Lagou, an online recruitment site for internet companies, 90 percent of the over 200 companies interviewed said their spring recruitment plan was affected by the epidemic, but only 18 percent said they would cut job vacancies.
Leading internet companies, as well as those involved in medical care, gaming, online education, short videos and e-commerce, showed growing demand for related human resources, said Bao Aile, founder and chief marketing officer of Lagou.
ByteDance, the owner of news aggregator Toutiao and video-sharing platform TikTok, said in late February that it would offer 3,600 full-time jobs this spring, with all interviews to be done online. Meituan, an on-demand service platform, also initiated spring recruitment last month for about 4,000 posts. Huawei said in its WeChat account that the spring campus recruitment is still ongoing, but moved online.
Video interviews and online job fairs bring opportunities for job seekers. A report from life service platform 58 showed 70 percent of corporate human resources personnel hold positive attitude about video interviews.
"Non face-to-face recruiting presentation, CV screening backed by artificial intelligence, online negotiation… such approaches will make the recruitment process more efficient and flexible," said Wang Xin, senior partner of consultancy Roland Berger, adding offline methods are still necessary for some senior positions.