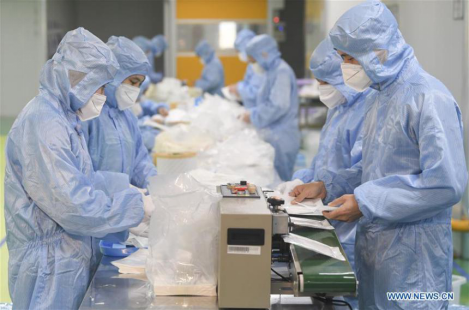 The first high-speed production line of masks in China has been put into operation in Beijing, with 400 to 600 pieces produced per minute and a daily output of more than 500,000 pieces, according to Beijing Daily, who cited the Beijing Municipal Commission of Development and Reform.
In order to meet the increasing medical supply demand brought by virus outbreak, Beijing Union Medical Systems Co Ltd, which focuses on biological diagnostic reagents research and development, added the mask production line on March 9.
As of today, the line has been in trial production for six days, with line speed hitting 500 masks per minute. The company has already delivered 3 million masks to the market, and production efficiency will increase in the future.
Beijing Daily noted Beijing Union Medical Systems Co Ltd had applied China's first high-speed mask production machine, which can achieve the highest speed of 800 pieces per minute, eight times faster than traditional machines.
In order to start formal production as soon as possible, the company promptly renovated the original workshop of more than 1,200 square meters in the first and third floors, and met standards for producing civilian masks and disposable medical masks. Raw material for masks, like medical meltblown non-woven fabric, is in 24-hour supply from Sinopec Group.
"Different government departments cooperate fully with each other and actively serve the enterprise," an official from the commission said. "Mask production capability has seen a significant increase in the last month."
The official also noted several batches of production equipment had arrived in Beijing, and some had already been put in to production. Beijing mechanical and electrical enterprises have set up special teams for 24-hour machine repair and maintenance.