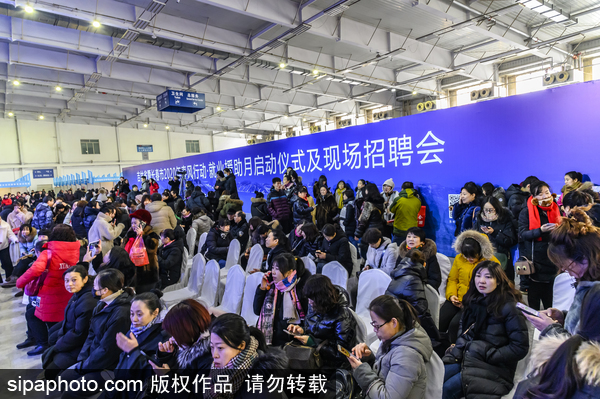 As the outbreak of novel coronavirus gradually gets controlled, a new round of recruitment battles is starting across the country. High-end talents and senior enterprise management personnel are in great demand, being paid the highest wages among all jobs nationally, while the internet industry is seeing the largest increase in wages compared with last year, according to 21st Century Business Herald.
Zhaopin.com, one of China's leading job-hunting platforms, analyzed recruitment big data in 38 key cities on Feb 17 to 21, and noted that the labor market is seeing a continuing rebound as people gradually resume work.
Average salary in finance, securities and investment industry ranks first, at 12,436 yuan per month, followed by employees from industries such as online games, insurance, intermediary and banking, who are also paid over 10,000 yuan monthly.
Senior enterprise management personnel are paid the highest monthly wages among all jobs, with an average of 22,201 yuan, followed by finance service professionals with 13,721 yuan, and sales management employees at 12,994 yuan.
According to 58 Tongcheng Recruitment Research Institute, the average salary for workers in China rose 5.79 percent in 2020, and the biggest growth reached 22.4 percent in the internet industry, compared with the previous year.
It is worth noting the salaries of transportation industry and tech-related jobs increased significantly, and cleaning workers also are getting paid more than last year, with an 18.8 percent growth in salary.
Simon Lance, managing director at Hays China, said the Chinese mainland has led Asia in salary growth in recent years. Nearly half of the companies increased salary 6 to 10 percent annually, while more than half of employees expect to see an over 10 percent rise in payment.
Compared with grassroots and newcomers, salary increases for middle-level employees are significantly higher, with 15 to 20 percent year-on-year, and sometimes more than 50 percent.
"Income of senior talents is a combination of different parts, including fixed monthly salary and year-end bonus, as well as stock incentives," the report cited a human resources representative from a large high-end equipment enterprise in southeastern China.
"We are now resuming recruitment gradually, and we prefer employees at a professional level," said the human resources representative. "The development of any enterprises rely on talents. The greatest minds promote the company to go further in cutting-edge fields, especially in the internet era. "
As outstanding talents have been playing a vital role in a company's development, governments and enterprises are taking multiple measures on talent introduction.
On Monday, Hangzhou government announced eight actions on attracting talents, including offering at most 8 million yuan in housing subsidies for A type top talents, and providing life subsidies of different amounts for undergraduates, postgraduates and those who have doctors degrees.
Hangzhou also launched online job fairs for high-grade talents, with 1,000 companies offering over 20,000 occupations, including renowned corporations like Alibaba, NetEase and Hikvision.
"Top talents are paid at the global level nowadays. In addition to the high salary, other benefits are also very necessary. For example, some foreign companies will pay the education fee for children of middle- and high-level employees, and even provide them with special vegetable gardens to ensure a healthy diet," said a manager from an online employment website.