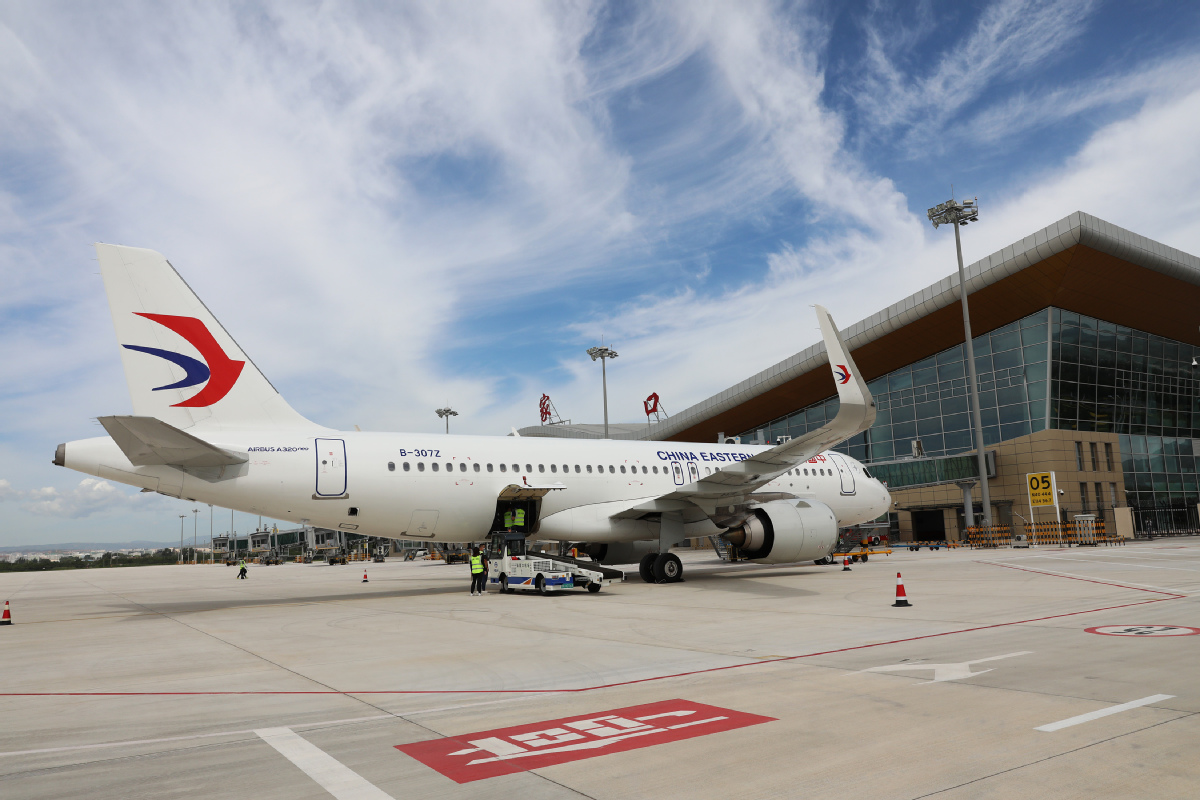 China Railway Construction Corp Ltd, one of the country' two major rail construction contractors by sales revenue, has completed extension work at Zhangjiakou Ningyuan Airport in Hebei province, a key infrastructure project in support of the 2022 Beijing Winter Olympic Games, executives said.
With passenger service launched on Aug 3, the Beijing-based group said the expansion project involved construction of 11 buildings including a new terminal, an emergency rescue center and a control tower, all on an area of 28,000 square meters.
Taxi lanes, an extended runway, a visual navigation aid system and advanced air traffic control engineering were also included in the project.
The project's contractor-Tianjin-based China Railway 18th Bureau Group Co Ltd, a CRCC subsidiary-said the project covers some 205,000 sq m with 14,000 sq m reserved for the terminal building. With 1.3 billion yuan ($186.67 million) in investment, the construction work began in September 2018.
"Now there are 14 aircraft gates and about 1 million passengers can be transported annually," said Li Hui, CRCC's head for the project.
Apart from meeting traffic demand during the 2022 Games, which will be hosted jointly by Beijing and Zhangjiakou, after the event the airport will help promote coordinated development of the Beijing-Tianjin-Hebei region.
There are 76 competition venues and supporting infrastructure projects in Zhangjiakou for the 2022 Games. Total investment in the venues and projects is around 32.8 billion yuan, according to the Beijing Organizing Committee for the 2022 Olympic and Paralympic Winter Games.
So far, more than 50 projects have been completed by various State-owned enterprises, private and foreign enterprises, and others are scheduled to be finished and meet requirements within this year, said the games' organizer.
Yan Guangtian, general manager of China Railway 18th Bureau Group Co Ltd, said that the growth of the regional aircraft market in China is still in its early stage and there is considerable growth potential for construction project providers.
For prosperous lower-tier cities and counties, local governments usually provide financial aid to support the development of air transportation, he said, adding it will enhance their image if they have airports with multiple flights. It would also help attract investment and tourists, thus boosting the regional economy.
Eager to sell more aircraft in this fast growing area, Commercial Aircraft Corp of China (COMAC) announced late last month that it successfully completed high-altitude test flights, takeoffs and landings for the ARJ21, the nation's first domestically built regional passenger aircraft, at Daocheng Yading Airport in Sichuan province, currently the highest airport in the world at over 4,400 meters in altitude.
ARJ21 jets had transported 1 million passengers globally by July 21.
The successful tests indicate that the operational range of the ARJ21 includes all super-high plateau airports. Therefore the aircraft model has built a solid foundation for its launch of more such routes in the future, said the Shanghai-based centrally administrated SOE.
In addition to seizing more market share from the nation's regional airport project market, CRCC also made breakthroughs in the first tunnel of the Moscow Southwest Line project by using its self-developed shield machines last month.