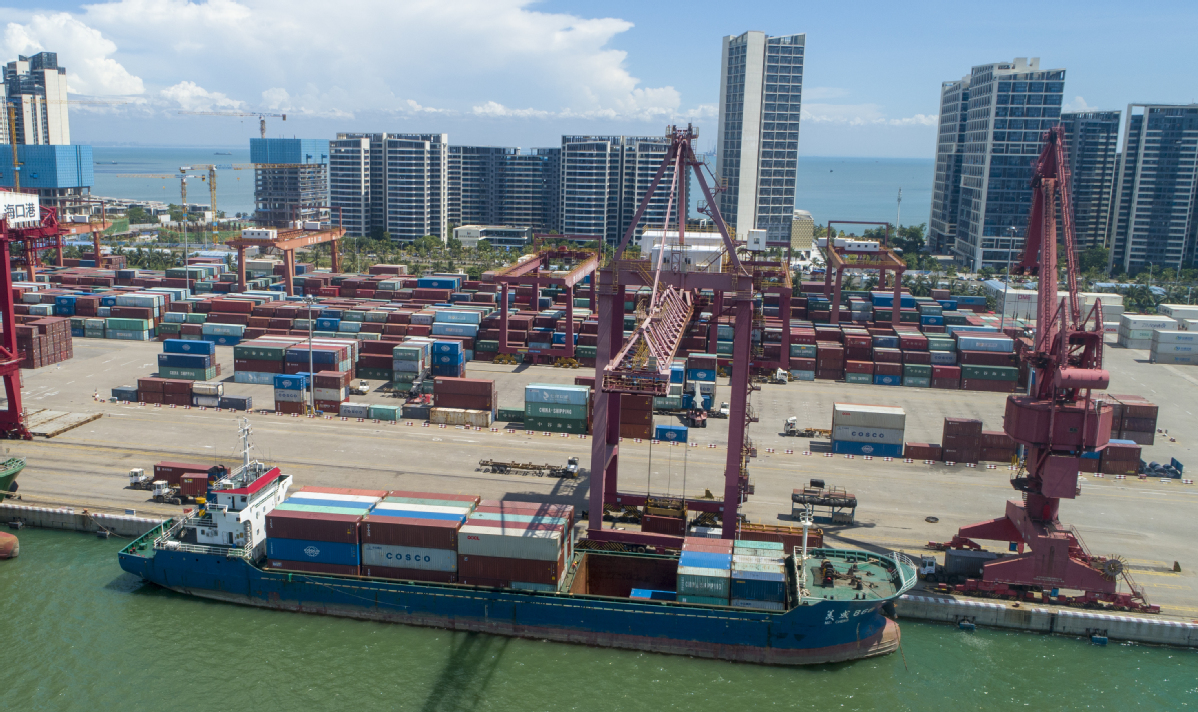 New master plan for the free trade port attracting firms around world, shaping island province into global investment hub
Foreign investors are flooding into the Hainan Free Trade Port as implementation of a master plan with attractive policy incentives have been unfolding step by step, generating huge opportunities and a wide range of benefits for high-end individuals and corporations at home and abroad.
China released a master plan for the development of Hainan Free Trade Port on June 1. It provided a long list of opening-up policies aiming to build Hainan Island, which is about 49 times the size of Singapore, into a globally influential free trade port by the middle of the century.
The master plan, together with a number of implementation plans issued in the past two months by ministries under the State Council and the Hainan provincial government, provide incentive policies and attractive options such as a low income tax rate for individuals and corporations.
The rate is set at a maximum of 15 percent compared to 17 percent in Hong Kong. The new moves will encourage facilitation of capital flows, expansion of duty-free coverage for goods purchased on the island, and the development of tourism, modern services and high tech industries.
Industry experts said the Hainan free trade port and reform plan is a new example of market-oriented reform policies implemented throughout China in recent years.
Data from the Hainan provincial department of commerce showed that from January to June, a total of 203 foreign enterprises were set up in Hainan, up 24.54 percent year-on-year, with 50 of them established in June.
The investors came from 30 countries and regions including leading multinational companies such as the Rio Tinto Group from the United Kingdom, energy giant EDF from France and the Charoen Pokphand Group from Thailand.
Newly registered companies hit a record of 75,000 from January to August, a year-on-year increase of 75.26 percent, the highest growth rate in the country, according to the provincial market supervision administration.
"We have keenly felt the "heat' of interest from overseas business people toward Hainan FTP in the past two months," said Frederick Mang, Hainan Office Lead Partner with PricewaterhouseCoopers Zhong Tian LLP, the first international service company to settle in Hainan in May, 2018.
Mang said a large number of foreign companies have contacted his Haikou PwC office, showing a strong intention to start operations in Hainan Island, which covers 35,400 square kilometers.
Xiang Weiming, global vice president of GE in the United States and president and CEO of GE China, told Shen Xiaoming, the governor of Hainan during a recent working meeting in Haikou, the provincial capital, that GE will push forward in-depth cooperation with Hainan in such fields as aviation, medical service, clean energy and remanufacturing.
Genting Cruise Lines, a division of Genting Hong Kong, announced last week it is working to forge a strategic partnership with Sanya to launch domestic cruise itineraries out of the central cruise hub of Hainan. It will also support the development of a free trade pilot cruise tourism zone on Hainan Island.
"We are keen on supporting the Chinese government's efforts in rebuilding its travel and tourism sector by providing a safe and carefree vacation option for consumers," said Kent Zhu, president of Genting Cruise Lines.
More than 70 international innovative medicine and medical equipment manufacturers have entered their names for an everlasting exhibition that displays the latest and advanced drugs and devices that have not entered the Chinese market, said Gu Gang, administration head of the Boao Lecheng International Medical Tourism Pilot Zone.
The zone was the only one of its kind in China that enjoys special preferential policies such as special permission to import medical technology, medical equipment and medicines that are not yet allowed in other parts of the country.
Gu said that the implementation of the Hainan free trade port preferential policies such as zero tariff, low tax rates and a simplified tax system will draw more big international pharmaceutical companies and professionals to the pilot zone.
The boom of foreign investment is expected to continue as more specified implementation plans roll out one by one and an increasing number of promotions are made at home and abroad, online and offline, said local government officials.
"As it presses ahead with the construction of a free trade port, Hainan will become a new high in China's opening up, " said Bernard Dewit, chairman of the Belgian-Chinese Chamber of Commerce, at an online business promotion conference last week.
Patrick Nijs, former Belgian Ambassador to China and co-founder of the EU-China Joint Innovation Center, expressed his optimism in Hainan-Belgium cooperation in the future. He said Belgium is willing to develop together with Hainan and share the development opportunities of the free trade port construction.
Centrally administrated State-owned enterprises from the transportation, tourism, energy and infrastructure sectors have also enlarged their presence in the Hainan FTP.
The State-Owned Assets Supervision and Administration Commission, the nation's top asset regulator, said that more than 40 central SOEs and their subsidiaries have launched regional headquarters and business units across the province with 47 billion yuan ($6.72 billion) of registered capital.
More than 100 SOEs are expected to enter Hainan FTP in about three years, according to the provincial government.
On the government front, the island province, which connects the world through 103 international air routes and has a population of 9.4 million, will continue to build a fair business environment for global investors that is hailed for system integration and innovation to ensure efficient and high-quality collaboration.
Building a first-class business environment is a key measure to transform government functions, upgrade service, improve the way government officials perform their tasks, and enhance people's sense of gain, satisfaction and happiness, Liu Cigui, secretary of the CPC Hainan provincial committee, said at the mobilization conference on creating a first-class business environment for Hainan Free Trade Port held in Haikou last week.
He added that "we must see to it that high-quality and high standard requirements are implemented throughout each project and reflected in each link of the process".
"Hainan's institutional building and progress will cultivate a more open and fairer business environment, further boosting market vitality and internal growth momentum of the economy," said Xia Feng, executive director of the Institute for Advanced Studies of Humanities and Social Sciences at Hainan University.
He said in the long term, the Hainan FTP will become a comprehensive demonstration zone for economic circulation in terms of cross-border trade and those between Hainan Island and other parts of the Chinese mainland.
"Hainan will play a key role in Southeast Asia if all key factors needed for boosting Hainan to its new leading position shall be implemented," said Yuval Golan, CEO of Unique 1 Asia Ltd, a consulting and investment firm operating in Hainan.
He believes reform of government services will help remove all hurdles and red tape for both domestic and international companies and citizens. "The master plan will make Hainan a hub for innovation, sustainability and true high-quality level of living."