Current status of Guardant Health (GH)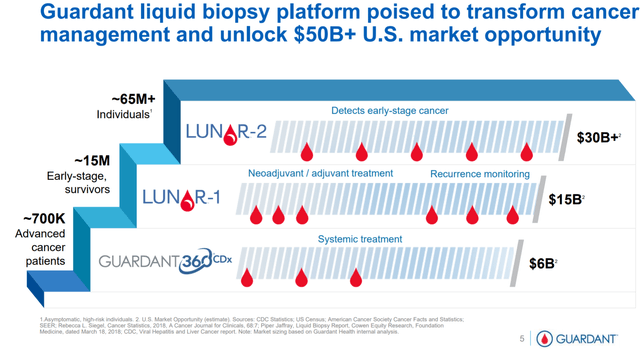 The current products are mostly within the first pillar – Guardant360 CDx. The other pillars are the expanded access coming in over the coming years. For a quick overview of how they plan to expand that product over the coming years and reach more of the currently addressable market, the next page from the same slideshow is helpful: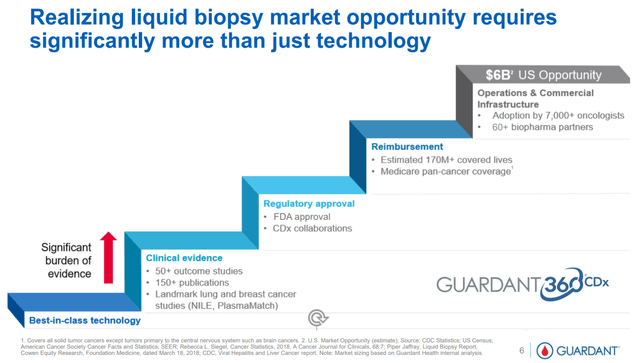 As can be seen on both slides, there are plenty of things that are happening and they are important for the company, both in terms of revenue and in terms of developing the offering. I would like to note one milestone specifically, the ECLIPSE clinical trial for early detection of colorectal cancer. Results from it are expected at the end of 2021 or early 2022. This trial is the first major part of LUNAR-2 and the massive market the company is after.
I highly recommend reviewing the company's investor presentation for more detail on the company and its offerings and changes to them in the coming years.
Revenue growth
Over the last couple of years, growth has been stellar for Guardant, but it has slowed down significantly – even ahead of COVID-19.
The company is kind to itself by presenting its revenue growth in this way: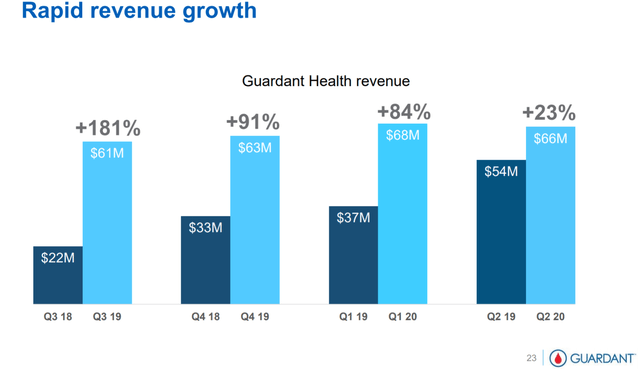 I have reworked the data from the above table a little bit and I would like to show it in quarter over quarter growth instead of year over year growth.
As can be seen in the reinterpretation, the growth is a lot lumpier and a lot slower than the graph above would have us believe. I am sure a part of this is explained by uneven revenue from pharma and biotech partners when it comes to clinical trials, but it is still quite evident that there is a slowdown.
With the Price to Sale being ca 35.2 at the time of writing, I would expect better quality and more consistent growth. This leads me to doubt a bit the ability to execute on its ambitious growth goals especially with the competition out there.
Just to name the competition out there quickly we have Grail – which has raised about $1.9bn in four financing rounds, Qiagen NV (NYSE:QGEN), Roche Diagnostics (OTCQX:RHHBY), Personalis (PSNL), which is one of my favorites as you can see in the article I published last week on it, and more and more. It's a fast-growing market and there is space for more than one and more than two companies to flourish in it. The market today is about $2.9bn and expected to reach $6.1bn in 2023 with the majority of the spending happening in the USA. That's a CAGR of over 20%.
In Quarter 2 2020, as shown in the company's earnings release, the losses expanded considerably and losses went from $37.7m first six months of 2019 to $82.4m in 2020. The same trend was evident from cash flow where cash used in operating activities went from $18m to $36.7m. The company is rich with cash though and has over $1bn on hand after just raising $315m in June. As such the company is already capitalized to handle those losses for a considerable amount of time.
Conclusion
I have not gone into detail about the company itself – other people have done that before me and done that very well. I have looked at the valuation from Price to Sales and the slowing sales growth. I think from that aspect the company is very richly valued and that it needs to show that growth can again reach at least a double-digit growth rate quarter over quarter for a few quarters for a higher base to deserve this rich valuation.
I think there are a lot of positive things about the company and I can imagine myself taking a position in the case of a pullback.
Disclosure: I/we have no positions in any stocks mentioned, and no plans to initiate any positions within the next 72 hours. I wrote this article myself, and it expresses my own opinions. I am not receiving compensation for it (other than from Seeking Alpha). I have no business relationship with any company whose stock is mentioned in this article.