The previous time I took a deeper look at small-cap Nebraska-based Green Plains Inc. (NASDAQ:GPRE), an ethanol producer, was almost a year ago, when I concluded the player was substantially underappreciated, but potent catalysts that could immediately bolster its market value were questionable.
I opted for staying on the sidelines with a neutral rating, as too many risks were casting a shadow on its recovery story. Anyway, GPRE has outperformed my expectations by a solid margin, as the stock is currently trading ~38.9% higher than at the time of publication of the previous article, which looks especially impressive, given the share had significantly outperformed the S&P 500, which, in turn, has been propelled by the rally of supermajor tech names this year.
Among other things, GPRE is one of the top stocks in the oil refining & marketing industry and in the energy sector overall with a Very Bullish Quant Rating, thanks to its profitability parameters, moderate growth, reasonable valuation, and the combination of momentum and up EPS revisions. Interestingly, the only company in the industry that has a higher rating is Pacific Ethanol, Inc. (PEIX), GPRE's closest peer.

The screenshot was taken on September 15. Source: Seeking Alpha.
Thus, I believe it is worth making a profound reassessment of the stock to update my sentiment.
The ethanol market is challenging, thus GPRE cuts its dependence on it
To rewind, an investor who is not familiar with Green Plains should pay attention to three essential matters in the first place:
GPRE is heavily exposed to the volatility in the ethanol market, which, before the coronavirus, was a direct consequence of the U.S.-China trade confrontation in 2018-2019,
the ethanol blending waivers that were designed to alleviate the burden for the impecunious small refineries made the situation worse for the EtOH and corn producers, as demand was pushed further south,
to cut dependence on the gyrations in demand for the commodity, GPRE has been diversifying away from ethyl alcohol to build more stable and predictable revenue streams (and, certainly, bolster the market capitalization), focusing on protein, and thus establishing Green Plains 2.0. Another initiative is Project 24, which encompasses cost-cutting measures (an opex target close to $0.24 per gallon, page 8) that were supposed to prop up margins.
So, long before the 2020 crisis, GPRE had to cope with the market turbulence caused by chronic supply-demand imbalance, which resulted in a precipitous decline in revenues. It also had to figure out how to cover the hefty capex required to complete the transformation plan. And then, the coronavirus emerged, and the economy hibernated for a few weeks.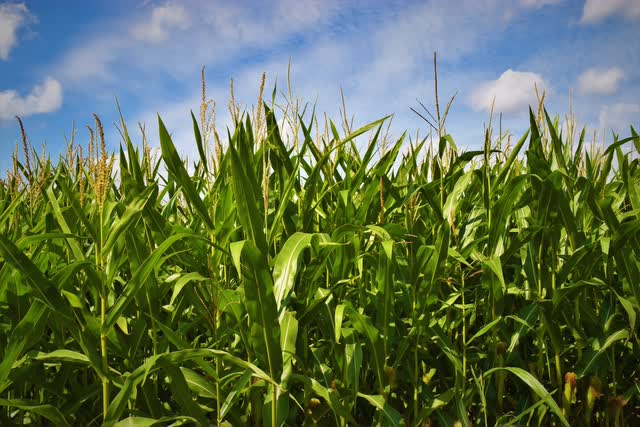 Source: Unsplash
Most recent earnings
The pandemic dented the ethanol industry, which had already been under strain. The demand for motor gasoline plummeted due to reduced mobility, thus lower volumes of ethanol were required for the production of high-EtOH motor fuel. In spring, to address the steep decline in demand, GPRE sharply cut its output, and the capacity utilization dropped to the lowest level since 2013, 53.5%. The production touched 149.9 million gallons (page 17). For a broader context, according to Bloomberg, in April, total U.S. ethanol output touched a decade low of 672,000 barrels, while stockpiles climbed to 27 million barrels.
As the macro environment was pronouncedly depressed, GPRE's LTM revenues touched a multi-year nadir in June 2020, as the Q2 sales dipped 33.7%. The disastrous revenue decline made GPRE unable to fully cover the cost of goods sold, opex, interest, and taxes, thus was unprofitable with an EPS of $(0.24).
But there are a few positives that should not be ignored. First and foremost, Green Plains has been dedicatedly executing Plan 24, and the program has clearly borne fruit. Without the opex optimization plan, its margins would inevitably be much uglier, and it would likely be FCF negative in 1H20. As CEO Todd Becker said during the Q2 call,
Finally, the completed Project 24 facilities continue to reduce our operating costs per gallon. Without these improvements and initiatives, ethanol margins would have been very negative.
Next, despite unprecedented pressure on the top line, GPRE managed to deliver the Q2 adjusted EBITDA of $17.9 million. Moreover, thanks to a reduction in accounts receivable, negative 1H20 pro forma EBITDA (a GAAP operating income plus D&A and goodwill impairment) of $(12.1) million translated into free cash flow to equity of over $2 million, even despite a sharp increase in capital expenditures required to finance the transformation. So, that is an achievement worth appreciating. For a broader context, in 2019, Green Plains outspent its operating cash flow and, hence, was unable to cover capex and let alone deliver organic FCF (but thanks to divestments, its inorganic FCFE was ~$21 million).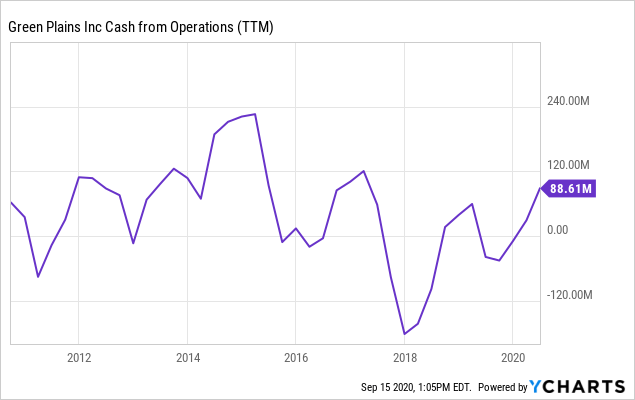 Moreover, the transformation is fully underway. For example, the Wood River high-protein project will be online in 2021. As the CEO clarified during the earnings call,
We expect Wood River to come online during the second quarter of 2021. When completed, we will have over 200 million gallons of capacity capable of generating $0.15 to $0.20 per gallon of incremental margin from this high value protein feed.
At the same time, high-protein ingredient production at Shenandoah has already reached a 100% operating capacity level (slide 5).
Fuel demand bottomed. What's next?
As mobility had improved drastically since April, the demand for ethanol rebounded from its lows, but Wall Street is not expecting revenue growth until Q2 2021. Double-digit declines in sales might persist until Q1 2021, when, according to the pundits' estimations, sales will be almost flat vs. Q1 2020. Besides, while the top-line performance will likely be depressed, the analysts are forecasting three consecutive unprofitable quarters (until Q2 2021, when they are expecting GPRE to deliver minutely small EPS of $0.04).
The story behind a B- Profitability Grade
It is somewhat perplexing why GPRE, which is involved in a commodity business and has a poor gross margin, and, consequently, depressed operating and net results, has a B- Profitability Grade. If we delve a bit deeper, we will notice that one of the essential drivers of the PG is the levered FCF margin of 16.67%, which is materially above the sector median.
But the methodology for calculation of levered FCF I use differs from one applied in the Seeking Alpha dataset, as I prefer to subtract capex (or sometimes net capex) from the net operating cash flow. In the cases of IFRS companies, we also must not overlook interest paid, which might be included in cash flow from financing activities. So, according to my estimations, GPRE's LTM FCFE is deeply sub-zero, equals $(65.6) million. Thus, I reckon that margins are still its Achilles heel.
Delving deeper: B- Value Grade
With its B- Value Grade, GPRE represents an interesting case of an undervalued stock even if compared to the distressed (and generally undervalued overall) energy sector. For example, EV/Sales is just 0.43x, which is almost 80% lower than the sector median.
But the flip side is that GPRE has neither LTM net income nor even operating profit. Its EBITDA is also sub-zero. Thus, we cannot compute a respective multiple.
We do have a Forward EV/Sales, but the ratio is materially above the sector median (18.3x vs. 7.6x). Also, Forward EV/Sales is 13.5% above the 5-year average of GPRE.
In sum, I would not say there is an unquestionable value opportunity here.
Financial position: moderate D/E, but bloated leverage
For a company in a highly cyclical industry that is exposed to a plethora of headwinds, it is crucial to have a robust financial position, as a burdensome debt can easily crush it when the industry experiences another round of jitters. In the case of GPRE, I can conclude that insolvency risks are not looming, but there is clearly room for the improvement of the balance sheet. For example, its Debt/Equity (including the debt of Green Plains Partners LP, but excluding the debt attributable to the deconsolidated cattle business) stands at ~59%, which is much better than in 2018 or mid-2019, when the D/E ratio was above 90%.
But the issue is that D/E does not illustrate the ability to service the debt, or, put another way, how a pile of borrowings compares to EBITDA or cash flows. As Green Plains has a lackluster net CFFO margin, its net debt/net CFFO multiple is above 6.4x. This is also a much worse result than in the case of PEIX, which has a ~3.37x multiple. So, the only silver lining I see here is its $163.4 million cash pile.
Conclusion
In 2018, GPRE embarked on a capital-intensive turnaround path, changing its business model from ethanol-focused to protein-oriented. That is fully explainable, given the abysmal state of the EtOH industry, poor margins, and even lack of short-term visibility, as the trade war spawned uncertainty. The plan has already been bearing fruit this year, as operating expenses crept lower.
I like GPRE's strategic rebalancing of the portfolio and sharp focus on cost optimization. Also, I see some stimuli that might be supportive of quicker revenue recuperation. For example, retroactive waivers have been recently denied by the U.S. EPA. Next, President Trump vowed to unleash higher-ethanol gasoline sales using existing filling station pumps.
On a negative side, GPRE still has poor margins, while its valuation is mixed. I remain neutral.
Disclosure: I/we have no positions in any stocks mentioned, and no plans to initiate any positions within the next 72 hours. I wrote this article myself, and it expresses my own opinions. I am not receiving compensation for it (other than from Seeking Alpha). I have no business relationship with any company whose stock is mentioned in this article.