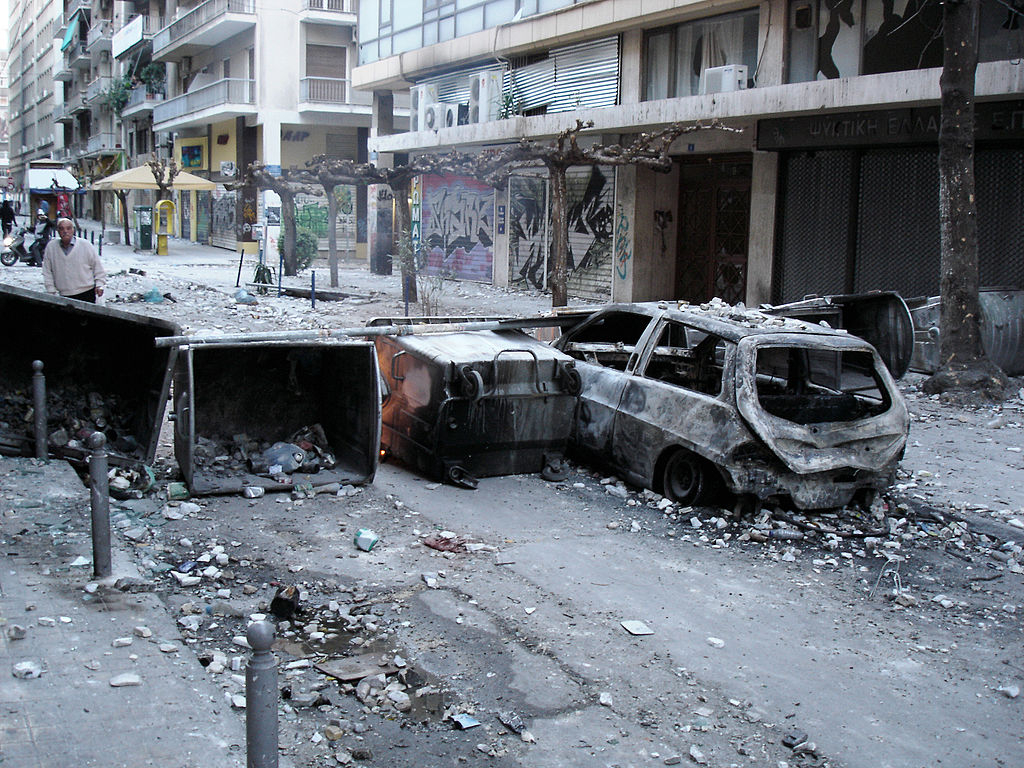 According to Stavros Balaskas, vice president of the Greek Federation of Police Officers, anarchist gangs in the Athens neighborhood of Exarchia have "platoons, companies, battalions, Kalashnikovs. I don't know any more if we, as a police force, have the political mandate to clear the area. This region is a matter for the army now." Pictured: A street in Exarchia following a riot, in December 2008. (Image source: Xenos2008/Wikimedia Commons)
An assault on members of the Hellenic Coast Guard during a drug raid in Athens on April 4 highlights a growing problem in Greece. Some opponents of the far-left Syriza-led government attribute the increasing drug traffic in the country to a dangerous alliance between political anarchists and illegal immigrants. The anarchists might be considered the Greek equivalent of the "far left". According to Reuters:
"Many self-proclaimed anarchists – the word stems from the Greek 'anarchia' or absence of authority – say they are pacifist, but certain groups have few qualms about using violence. Six years of recession have fuelled a new wave of left-wing militancy, according to officials, anarchists and court testimony."
The April 4 incident was sparked when Greek authorities arrested a Syrian national on a ferry at the Piraeus Port; he was carrying 200 grams of marijuana, which he said he had purchased from an Egyptian drug dealer in the Exarchia neighborhood of Athens.
Eight members of the Coast Guard and a prosecutor immediately went to Exarchia to raid the supplier's apartment, located in one of 50 buildings in the neighborhood that are occupied by illegal-immigrant squatters. When the officers and prosecutor arrived at the building, they arrested two female suspects, a Greek-Australian and a Syrian national, and confiscated 1.5 kilograms of cannabis and a Glock pistol.
On their way out of the building, the officers were ambushed by a masked mob, wearing helmets and bulletproof vests, and armed with knives, clubs and assault rifles. Two Coast Guard officers were stabbed in the attack, and their weapons taken.
According to the authorities, the building in which the incident took place is near a weapons cache possibly connected to the "militias" of Exarchia — a neighborhood infamous for previous violent attacks on police. As the Chairman of the Union of Police Officers, Dimosthenis Pakos, said in an interview after the assault, "You don't go for a walk in Exarchia [without being accompanied by] an army."
In an interview with SKAI TV, Stavros Balaskas, vice president of the Greek Federation of Police Officers, agreed, referring to Exarchia as "a state within a state":
"[T]he neighborhood has a structure inside. There are platoons, companies, battalions, Kalashnikovs. I don't know any more if we, as a police force, have the political mandate to clear the area. This region is a matter for the army now."
Michalis Chrysochoidis, a former Minister for Citizen Protection who was responsible for the 2002 dismantling of the "November 17" domestic terrorist organization, told SKAI TV this month:
"…[T]here are now too many illegal immigrants in Exarchia who are drug traffickers [and] gun traffickers… they have essentially taken over the whole place… [I]f there is no immediate operational and judiciary reaction to this phenomenon, the problems will… multiply for society."
On April 11, in what appeared to be a public relations operation aimed at restoring a modicum of dignity to the security forces that had been attacked a week earlier, heavily armed police units raided two buildings in Exarchia in search of drugs and weapons. During the raid, three people were arrested for drug possession, and 90 others were brought in for questioning. Most of them turned out to be illegal or unregistered immigrants.
As of 2017, there were an estimated 3,000 undocumented immigrants living in Athens in privately-owned buildings that are illegally occupied by Greek anarchists.
In the two years since then, the number has likely increased. In Exarchia, these groups — which conduct criminal activities and terrorize local residents — have, in effect, created a "no-go zone," where even police are afraid to enter.
It is unclear how these groups get organized and who finances them. It is also unknown how many of the immigrants have ties to ISIS and al-Qaeda.
One thing, however, is certain: In the absence of political will to get to the bottom of the alliance between anarchists and illegal immigrants, the future of other neighborhoods across the country is in jeopardy.
Maria Polizoidou, a reporter, broadcast journalist, and consultant on international and foreign affairs, is based in Greece. She has a graduate degree in "Geopolitics and Security Issues in the Islamic complex of Turkey and Middle East" from the University of Athens.
© 2019 Gatestone Institute. All rights reserved. The articles printed here do not necessarily reflect the views of the Editors or of Gatestone Institute. No part of the Gatestone website or any of its contents may be reproduced, copied or modified, without the prior written consent of Gatestone Institute.