This is sponsored content.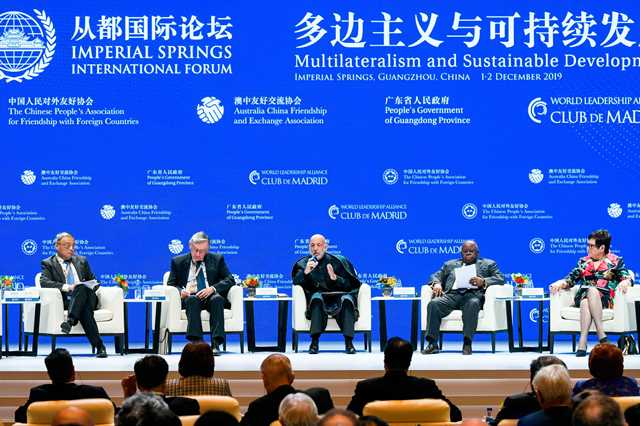 Multilateralism and global partnership are critical to building a new world order that will ensure people reach the future they desire, agreed the attendees of a top-level international forum in Conghua district of Guangzhou, South China's Guangdong province, Monday.
More than 260 former heads of state or government, leaders of international organizations, academic experts and entrepreneurs attended the 2019 Imperial Springs International Forum on Sunday and Monday. This edition of the forum highlighted the issues of multilateralism and sustainability.
"The international community must actively defend multilateralism, support the United Nations' essential multilateral system, and take effective collective measures to enhance and strengthen global partnership," said Vaira Vike-Freiberga, former president of Latvia and president of the World Leadership Alliance-Club de Madrid.
Nathalie de Gaulle, an entrepreneur focusing on technology and energy and great-granddaughter of former French President Charles de Gaulle, agreed that global partnership is important.
"We cannot do anything without the cooperation between countries," she said. "What we can do between France, European Union and China together can actually change things and move in the right direction," she noted.
Zhu Feng, director of the Institute of International Relations of Nanjing University, said people should work together to stand against power politics and unilateralism.
When it comes to multilateralism and sustainability, he said, respect is very important, including respecting the diversity of different developmental approaches and the difference in culture, economy and politics.
"China is a practitioner, promoter, beneficiary and advocate of multilateralism. And it is a common view for most of the nations worldwide to expand cooperation and promote co-development," remarked Chau Chak Wing, president of the Australia China Friendship and Exchange Association and chair of the Asia-Pacific Region of World Leadership Alliance-Club de Madrid President's Circle.
"Sustained development is beneficial for all the nations and will be good for the whole world. China's proposal fits in with the trend of today and China is contributing its wisdom and strength to the global governance system reform and development in the new era," he added.
Neil Bush, founder and chairman of the George H.W. Bush Foundation for US-China Relations, attended the forum for the first time.
"We are living in a day and age where there's a growing trend toward unilateralism, populism and nationalism," he said.
To counter this trend, Bush said it's important for world leaders to gather and talk about the importance of working together and multilaterally approaching issues.
"Rational thinkers at the end of the day will prevail," he said.
Initiative applauded
As a firm supporter of multilateralism, China won wide recognition at the forum for its efforts to adhere to peaceful development, use sustainable development as its national strategy and benefit the world through its own development, especially the Belt and Road Initiative.
Bush said he believes it's true when China invests in infrastructure, buildings, roads and rail, power, schools and hospitals, it does so for the benefit of people in those countries.
"If China is doing something in a way that's benefiting people all over the world and benefiting itself in return, maybe we should do that too. Maybe the United States can learn something from China's activities globally. The United States does lots of great things around the world, but we can maybe learn a little bit from China," he said.
Yukio Hatoyama, president of the East Asian Community Institute and former prime minister of Japan, said China has made great achievements in poverty alleviation domestically and improved the living standards of the countries and regions involved in the BRI internationally.
He said the initiative provides big opportunities to developing countries and promotes multilateral cooperation with neighboring countries. He suggested Japan take more active participation in the initiative.
Hamid Karzai, former president of Afghanistan, said the BRI brings about hopes and prosperity potential that has attracted more countries to join in, which serves as a model for multilateralism and sustainability.
Bay area booming
The forum for the first time arranged a lunch presentation to introduce the latest development of the Guangdong-Hong Kong-Macao Greater Bay Area, which aims to become a world-leading bay area and technological hub.
Jenny Shipley, former prime minister of New Zealand, said the Bay Area is full of investment opportunities. She believed that the Bay Area will become a bridgehead of China to deepen its exchanges and cooperation with global communities.
"Making investment here is expected to harvest great success in the future," she said.
Yves Leterme, former prime minister of Belgium, said he is confident that the Bay Area will develop fast because it enjoys the advantages of a big population, a big market and an excellent location.
Calling it as "the economic powerhouse of China", he believed the Bay Area will eventually benefit the whole country.
"It's a gate to China and is surrounded by a number of fast-growing economies. It's a very far-sighted plan," Leterme said.
Li Xi, Party secretary of Guangdong, said the province will open wider to the outside world and construct a more solid economy.
Apart from the Bay Area, the province has granted full support to Shenzhen, one of China's first special economic zones, to build a pilot demonstration zone of socialism with Chinese characteristics. Meanwhile, the province will further boost the vitality of the provincial capital of Guangzhou, according to officials.
The gross domestic product of Guangdong reached 9.73 trillion yuan ($1.38 trillion) last year, ranking first among China's provinces for 30 years in a row. It is projected to surpass 10 trillion yuan this year, according to official figures.
Launched in 2014, the Imperial Springs International Forum has become a new type of premium platform for in-depth exchanges between China and the rest of the world.