Pundits and analysts alike seemed shocked when the news of Microsoft (MSFT) sharing revenue with GameStop (GME) hit. Prior to that, many denied this as a possibility. After that, some (e.g. Loop Capital) were seemingly frustrated that they were wrong but still tried to downplay the magnitude of the revenue sharing, even though they didn't even bother to ask the company some basic questions. I will demonstrate that the revenue sharing makes sense for all parties involved. It benefits the vendor and it is likely that Sony already has a similar agreement with GameStop. I will also demonstrate how a revenue share of up to 10% is likely.
GameStop's Role in the Gaming Ecosystem
When a vendor, e.g. Sony (SNE), Microsoft, Nintendo (OTCPK:NTDOY), etc., sells a gaming console, they lose money on the console itself. They make money on the subsequent sales of accessories, games, etc. An example would be Sony PS5 that purportedly costs $450 to produce. Add marketing, R&D, etc. and consider that at retail with an about 11% gross margin, Sony sells them to retailers for about $445. Where the vendor makes money is on the "lifetime value" (or LTV) of the customer: games, accessories, etc. The amount of money the vendor spends to acquire a customer is known as a "customer acquisition cost" (or CAC): loss they take on selling the console itself, marketing, etc.
Historically, via allowing trade-ins, flexible payment options, selling preowned consoles, educating the customer, via promotions, etc. GameStop increased both the "total addressable market" (or TAM) and the average LTV for the vendors. In other words, without GameStop, vendors would have a smaller number of consoles sold and smaller total revenue via both fewer customers and smaller LTV per customer.
You may say that the TAM increase is understandable, but LTV increase is more questionable. Let me provide some evidence here. From the Q2FY19 conference call (emphasis mine):
Ray Stochel

Great. Thanks for taking my question. You guys had mentioned that you looked at a bunch of data with your stakeholders. Do you guys have a broad sense of some KPIs? What I'd be looking for would be lifetime value, but other KPIs would be helpful as well. Your customers versus the lifetime value or other KPIs of customers acquired from Walmart, Target, Amazon or Best Buy especially for Sony and Microsoft?

…

George Sherman

Yes, thanks Ray. I think in the first question as it applies to the data that we — in our understanding of the customer base, we've done more and more assuring of that with our vendor partners than — and it's been mutual. So, I think certainly that's one of our competitive advantage is that, it's a pretty well known fact among our partner community that we over indexed with customers.

We have a higher digital attach rate, customers who buy physical games for us buy more games overall; customers who buy from us, buy more accessories overall. So — and virtually every category that business, whether it be digital, physical games or accessories, you see a higher attachment rate at a GameStop store, no question about it. So, that is certainly something that we are proud of and certainly a view that we share. And again as it applies to the lifetime value, we have more of a cross exchange going out with our vendor partners that we probably have in the past.
As you can see from the above, GameStop has been talking about this with vendors over a year ago already. And they clearly over-index in LTV. Now, if we go back to GameStop's business model, it simplistically can be distilled as:
Getting part of the CAC via console gross margin and
Getting a share of LTV via the gross margin on games, accessories, etc.
While providing to vendors the expanded TAM and increased LTV.
Vendors Need GameStop
From the same Q2FY19 conference call (emphasis mine):
Our 50,000-plus knowledgeable associates worldwide remain the only full-time dedicated sales force in the video game industry. And the results they drive are meaningful. We attach significantly more games, content, digital media and related pop-culture content than any retail outlet for both our hardware and software partners and in most cases are their number one volume sales outlets.

Our associates bring an enormous amount of value to console makers, given they are integral part of our customer acquisition model. Our partners are actively engaging with us to evolve the model from a historical transactional model to one that rewards us across the customer acquisition and lifetime value spectrum, not simply transactions.
Remember, this is from over a year ago. The industry needs GameStop. It is a simple business decision: in order to increase both the TAM and LTV, vendors need to provide something in return. Historically, it has been a transactional model where GameStop got some portion of the outright CAC and some portion of the LTV. If vendors want to move a part of LTV into their own digital ecosystem (sell more games and DLC, etc. digitally), they need to compensate GameStop for expanding TAM and LTV in a different way. Otherwise, GameStop has no incentive to provide this valuable service to vendors.
Remember, GameStop can drive console sales to non-diskless models and has historically done so. In order to provide incentive for GameStop to help vendors sell more digital content, vendors need to either increase the share of CAC that GameStop gets (provide a greater gross margin) or allow GameStop to share in LTV, or a combination of both.
As an example of how the vendor (Microsoft in this case) provided an incentive a year ago, here's a quote from the Q3FY19 conference call (emphasis mine):
Ray Stochel

Got it. Thanks. And then, is there any way that you could comment on the all-digital Xbox offers, how you think that SKU is performing in the market? And to the extent that you guys are talking to Microsoft about that SKU and the trade in deals that they've had around that SKU? Thanks.

Jim Bell

Yes. As you know Ray, we brought it into the holiday season. We featured it on Black Friday and we moved the unit pretty well. Our team embraced it. And certainly we believe that we have to embrace digital options. And this is one of them. So, it obviously you can conclude that we found favorable terms to go ahead and pull this into our assortment and we're happy with the way it performed.
A typical console buyer at other retailers has a lower LTV. Some of them likely have an LTV close to CAC. And at LTV/CAC ratio of close to one, vendors are destroying value rather than creating it. Let's now talk some numbers.
LTV and CAC
One of the most important metrics of eCommerce, which applies to console vendors' business as well, is the LTV/CAC ratio. Simply, the greater the LTV in relation to CAC, the more money the vendor will make over the lifetime of the customer. LTV is not the total revenue, but the margin the vendor receives.
By shifting game sales to digital format, the vendor increases the LTV as it is going to take a greater gross margin. On a $60 game, instead of $7 (12%) they get $33 (55%), or a 470% increase in profit. Most of that would come out of GameStop's share (from physical new video game sales) and GameStop would lose out on preowned physical market as well. In order to make it work for both GameStop and the vendor, there needs to be some transfer of that incremental LTV (from the shift to digital) to GameStop. How much?
We can think of this transfer as an increase in CAC that would be reasonable for the vendor to have in order to increase the LTV. We don't know the LTV/CAC ratio for GameStop vs. other vendors, but what we do know is what ratio is preferable (let's assume over 3, although anything over 1 is a net positive). For any marginal LTV increase, it is acceptable for a vendor to increase the CAC (be it as an initial outlay or a revenue share during the customer lifetime) proportionately. If we ignore vendor's SG&A and assume that their gross profit increases from $7 to $33, they could provide up to 1/3 of that increase to GameStop, or $26/3=$8.50 (14% of $60 total revenue) and still come out well ahead. Note, they would come out ahead even if they gave up to 40% to GameStop but that would be unreasonable.
Of course, vendors will be looking to share much less than that. It is in their interest to minimize the amount they share while still providing incentives to GameStop to push digital consoles and subscription to its customers. After all, both GameStop and its typical customers prefer physical and would realize financial benefits from physical games. Preowned physical games are cheaper than new and physical games have a trade-in value, etc.
So, what digital revenue share percentage is reasonable? We established that vendors come out well ahead at anything roughly below 14% (and likely ahead at anything up to 40%). What would be beneficial for GameStop? Digital revenue sharing doesn't require it to incur incremental SG&A expenses; it is virtually pure pretax profit. They made about 21.5% gross on new video games and 43.4% on preowned (from FY19 10-K). But they had to spend incremental SG&A to get those gross margins, whereas revenue sharing is virtually pure EBIT.
For that reason, anything in the range of 5-10% should be acceptable to GameStop. It is likely that the percentage of revenue sharing is up to 10% of digital revenue. Much above 10% and the vendor doesn't get much benefit, much below it and GameStop has no incentive. But it could be anything from 5% to 40% while still benefiting both parties.
Note that in digital revenue sharing, both the vendor and GameStop can get more net profit. What share gets removed? SG&A. We talked about how GameStop can make more money by getting a smaller percentage of revenue because they don't have to spend SG&A to get it.
Outsized Console Allocation
Because GameStop increases TAM and LTV for vendors, they are likely to get a greater allocation of consoles than other retailers. In the situation of hardware shortages such as what happened with Switch recently and during the new gen console launch, LTV is the important parameter. This is likely why George Sherman had this to say during the last earnings call:
We receive more than our fair share of Nintendo Switches and we sell those very rapidly.
There has been speculation that having Reggie Fils-Aimé (the former Nintendo of America President) on GameStop's board was the reason, but the likely root cause is realization that Nintendo gets a better LTV with GameStop than with other retailers. As I write this, Amazon (NASDAQ:AMZN) doesn't have the Switch for immediate delivery, but GameStop does. Ditto Ring Fit Adventure, etc.
Revenue Sharing is Likely Already in Place for Sony
Let's think through why GameStop would be selling disc-less Sony PS5 models and not only the PS5 that has a disc drive. If they didn't have a revenue sharing agreement with Sony in place, they would be just shooting themselves in the foot. Yet, they did have some digital PS5 for preorder, even though the allocation was in 20% range. Digital-only PS5 is a bad deal for the customer and for GameStop.
Tune in to the Q4FY19 conference call:
While still early, we began testing the concept of digital revenue sharing with select key partners.

…

We're pleased to say that we're making some traction on that. We're excited about what that looks like, but we're not really going to give any level of detail on that way yet as we're just getting started.
And then from the Q2 conference call (emphasis mine):
Likewise, we have and we'll continue to redouble our efforts on digital game sales, including subscription offers, which already represent a meaningful portion of our sales and will expand through recent digital revenue sharing agreements we have with select partners.
Note the quote above has two items of note:
They already had revenue sharing agreements in place in September
Agreements are with "partners" (plural)
We now know that one of those partners was Microsoft. Who could the other mysterious partner(s) be? Who is interested in GameStop not short-charging PS5 digital edition and who needed to make that decision before the release of PS5? It was Sony, of course. It is a win/win: vendor gets expanded TAM and LTV; GameStop gets a share of digital revenue.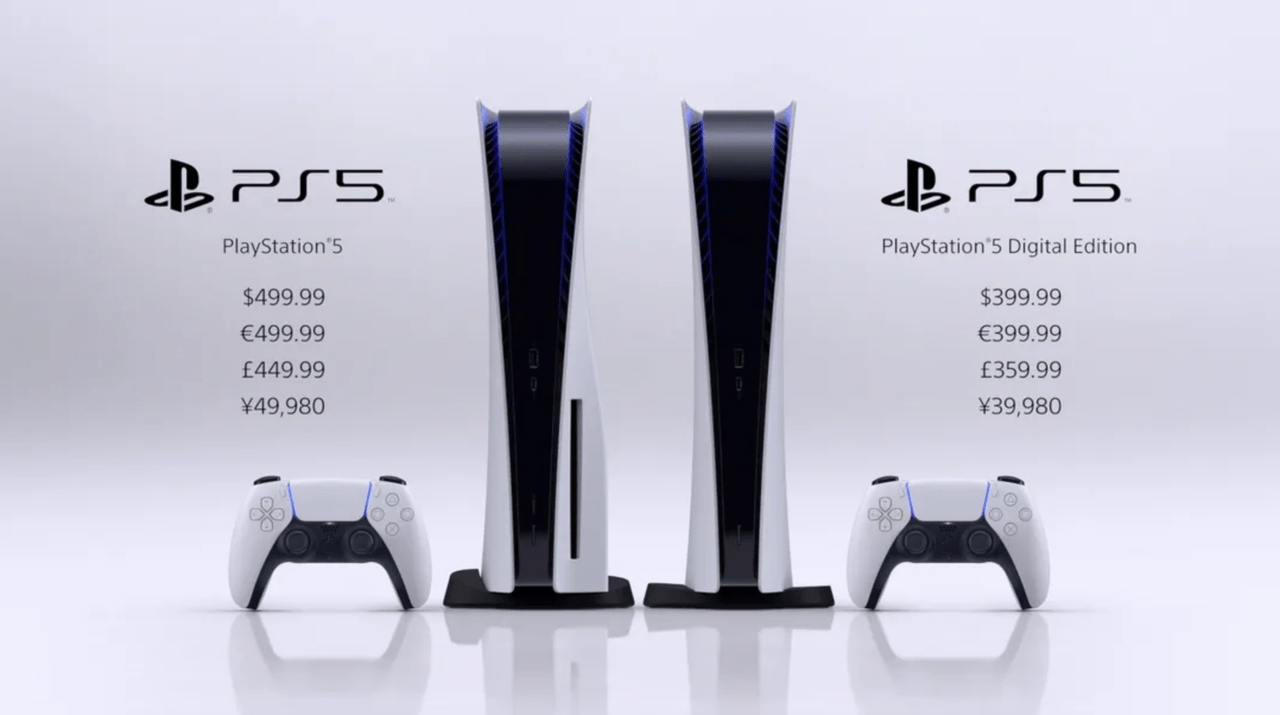 Here's what PlayStation chief Jim Ryan had to say (emphasis mine):
"We want to make the games bigger and better, and hopefully at some stage more persistent. So putting those into a subscription model on day one, for us, just doesn't make any sense. For others in a different situation, it might well make sense, but for us it doesn't. We want to expand and grow our existing ecosystem, and putting new games into a subscription model just doesn't sit with that."

That news might come as a relief to specialist games retail, which has seen the move to digital business models accelerate exponentially during the COVID-19 pandemic. Yet the news that the digital-only PS5 is a full $100 cheaper than the one with the disc drive must come as a disappointment, especially just a week after Xbox revealed its significantly more affordable digital-only machine.

"We're not having any problem with specialist retail stocking this model," Ryan continues. "It's interesting, there is quite a nice ecosystem that's sprung up for specialist retail, around selling cash cards for people who don't have a credit card… There's a list of reasons why people need these cards. I don't want to get into the back and forth of the margin discussions between ourselves and our retailers, but we think we've found a way to make that work together."
Whether this agreement takes shape of an ongoing percentage of digital revenue or more front-loaded via a gross margin on the console (pure upfront CAC increase) is irrelevant. GameStop should get their fair share for growing vendor's TAM and LTV. GameStop is like an outsourced marketing and customer acquisition department of the vendors. In fact, I would not be surprised if Microsoft, Sony and/or Nintendo made an equity investment into GameStop directly.
Timing of Microsoft Partnership Announcement
The press release about GameStop's partnership with Microsoft came out on 10/08. The company mentioned that they already had "digital revenue sharing agreements… with select partners" on the earnings call 09/09, or a month prior. It means that either the press release in question was driven by mostly enterprise service news (and digital revenue sharing with Microsoft has already been in place by then for over a month) or that the Microsoft agreement is new and in addition to pre-existing agreements with other vendors, e.g. Sony and Nintendo.
How Does New GameStop Differ From "Legacy" GameStop?
What did Ryan Cohen see in GameStop when he started buying shares in 2019 and increased his stake recently? And what did GameStop historically possess and/or unlock now? Below are some of the items. There are more, but there is already more than enough in the table below.
| | |
| --- | --- |
| What | Benefit |
| Loyal repeat customers | Lower CAC, greater LTV |
| Game Informer | Greater LTV, greater TAM |
| Preowned | Greater TAM, greater LTV, lower CAC, greater margin |
| Extensive customer data | Greater LTV, lower CAC, targeted promotions, benefit to vendors, KPI useful in vendor negotiations |
| Flexible payment options | Greater TAM and LTV |
| Omnichannel capability | Greater TAM and LTV, lower SG&A |
| Buy online, pick up in store | Cheaper than same day delivery/lower CAC, greater TAM/LTV |
| Web site and app with great search and clear value proposition | Lower CAC, greater TAM and LTV |
| Upcoming rent-to-own | Unique proposition (existing preowned processes), greater TAM and LTV |
| PowerUp Rewards | Results in repeat customers, data, lower CAC, greater TAM/LTV |
| Total gaming market | Increasing |
| New console generation | Leverage all of the above for outsized profit expansion |
If we look specifically at the eCommerce/omnichannel strategy of GameStop, check out this article: Scale and Loyalty are more important online than offline, which drives much of the "winner take most" reality of the internet.
Scale and loyalty are more important online than offline primarily for four reasons. 1) The fact that "CAC is the new rent," 2) the mechanics of how the Google and Facebook auctions work, 3) the reality that customer loyalty effectively lets online companies avoid paying this "rent," and 4) the fact that AI/ML are so important on the internet and scale drives better AI/ML…
Another takeaway is all online companies will eventually have an offline presence. GameStop just needs to right-size theirs. On the question of scale, I will repeat the quote from the Q2FY19 earnings call:
…for both our hardware and software partners and in most cases are their number one volume sales outlets.
GameStop has the scale, the loyalty, the brand and the offline presence. The above explains at least some of what Ryan Cohen et al see in GameStop. Loyal customers and scale are more important in online and help a company avoid paying the "CAC rent". Other important pieces of the puzzle are having a good mobile app, ability to buy online pick up in store, easy returns, customer trust, customer/purchase data to be used for ML/AI, etc. The future is not pure eCommerce (where GameStop is already at 20% of its sales, or over $1B a year), but omnichannel. The same way, the future of gaming is a combination of physical and digital.
Can GameStop challenge Amazon?
The Ryan Cohen's plan to have GameStop challenge Amazon is not as far-fetched as it appears. I have Amazon Prime and have been a customer for over 20 years, but lately I find myself shopping more and more elsewhere online. Amazon's web site is disorganized, the search results are haphazard, the paid promoted search and ads make it messy. When I searched for Nintendo Switch a few months ago, unlike GameStop, I had to sift through Amazon's search results and came away frustrated.
On top of that, there are concerns of counterfeit products, fake reviews and unreliable 3rd party sellers. So, for example, I go to RockAuto.com for auto parts, even though I have to pay shipping the way I wouldn't have to with Amazon. Ditto Home Depot for some of recent furniture purchases and manufacturer web sites for replacement parts. I buy power toothbrush heads at Costco.com due to concerns that Amazon might have been selling some fakes, as some reviews indicated.
GameStop can be a successful competitor to Amazon in a specific vertical. They have excellent search, intuitive web site designed specifically for gamers, with the specific set of products in mind. Ditto the mobile app. And they already are #1 in volume for many of the products they sell; in particular they mentioned Nintendo Switch on one of the calls. They are already out-competing Amazon in video gaming and Ryan Cohen wants to broaden that dominance to other areas.
Bottom Line
GameStop is in a unique position of serving both its customers and its vendors while benefiting everyone involved. It managed to solve the issue of vendors wanting to go digital by obtaining a fair share of value it provides to vendors and customers alike. From the simple perspective of TAM, LTV and CAC the digital revenue sharing makes sense for everyone involved. GameStop will not only receive a share of digital revenue; they will also likely get a disproportionate share of the consoles. The future looks bright for GameStop.
Disclosure: I am/we are long GME. I wrote this article myself, and it expresses my own opinions. I am not receiving compensation for it (other than from Seeking Alpha). I have no business relationship with any company whose stock is mentioned in this article.
Additional disclosure: All information contained herein is for general informational purposes only and does not constitute a solicitation or an offer to provide investment advisory services in any jurisdiction. The investment strategy discussed herein may not be suitable for everyone. Investors need to review an investment strategy for their own particular situation before making any investment decision. I believe the information obtained from any third-party resources to be reliable, but I do not guarantee its accuracy, timeliness or completeness. The opinions, estimates, projections, comments on financial market trends and other information contained herein constitute my judgment and are as of the date of the material, are subject to change without notice at any time in reaction to shifting market conditions and other factors and should not be construed as personalized investment advice. I have no obligation to provide any updates or changes to such information.