Galiano Gold (GAU) investors have sat through a rollercoaster ride the past few years as the stock was the second worst-performer coming off the 2016 highs with a 95% drop, but has since recouped one-fourth of its bear market losses. The catalyst for improved performance has been several quarters of improving operations. While Galiano reported record gold production in Q2, the stock has slid by more than 20%, given that it was extremely overbought heading into the report. Fortunately, this sharp correction has relieved the overbought condition and significantly improved the valuation, with Galiano now trading at just 6x FY2021 annual EPS estimates. Given that Galiano would begin to get oversold if this weakness continues, I would view any dips below $1.29 as low-risk buying opportunities. All figures are on a 100% basis related to the Asanko Gold Mine joint-venture between Galiano and Gold Fields (GFI).

(Source: Author's Chart)
It's been an exceptional start to the year for Galiano Gold as the stock reported record quarterly gold production of 69,026 ounces from its 45% owned Asanko Gold Mine JV. This translated to an 11% increase in production year-over-year, with a sharp increase due to record mill throughput of 1.64~ million tonnes and gold recovery rates of 94%. These solid operating results combined with a higher gold (GLD) price allowed the company to quadruple its all-in sustaining cost margin from $110/oz to $584/oz year-over-year. This is likely why the stock was outperforming its peers heading into August as Galiano saw outsized benefits from the gold price vs. its lower-cost peers. However, as noted in my most recent article, production was front-end loaded in FY2020, and H2 2020 would look nothing like H1 2020. Therefore, extrapolating these H1 results to attempt to conclude what the second half of the year might look like would be a big mistake.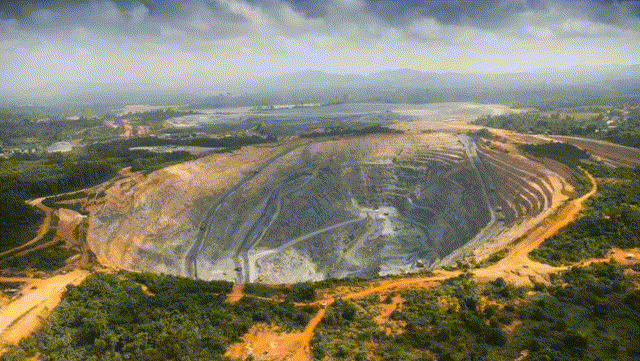 (Source: Company Presentation)
This is because the company was moving on from the higher-grade Nkran material it was feeding the mill in H1, and the company has higher capex planned in H2 related to higher stripping and the raise of the tailings storage facility. These items would not only contribute to lower production due to lower grades hitting the mill in H2, but costs should increase significantly in the second half due to the higher capex and fewer ounces sold. Given that the market is forward-looking and was heading into two quarters of higher costs and weaker production, the fact that the stock sold off should not be surprising.
Currently, Galiano's guidance for the Asanko Mine JV is 235,000 ounces, and H1 production was 135,300 ounces, so the good news is that the company has a large cushion to meet its outlook despite the weaker second half. The other piece of good news is that this 25% decline has left the stock quite reasonably valued, with one of the lowest forward earnings multiples in the sector. Therefore, for those that were willing to be patient and didn't rush in to chase the stock above $2.00, a buying opportunity might arise over the coming weeks. Let's take a look at the company's growth metrics below:

(Source: YCharts.com, Author's Chart)
As we can see in the chart above, Galiano Gold has seen minimal progress the past several years from an earnings trend standpoint, with annual earnings per share [EPS] hovering near zero since FY2017. However, FY2020 yearly EPS estimates are currently sitting at $0.25, which would translate to over a 2000% increase in annual EPS this year. This is the highest growth rate in the sector currently and well above the sector average of 30%, though it is worth noting that it is up against very easy year-over-year comps. This is because it's much easier to grow earnings at quadruple-digit levels when they're up against a penny per share in annual EPS the year prior. Regardless, this is a massive improvement from the previous earnings trend. The catalyst for this massive growth is a significantly higher gold price and lower costs across the board with FY2020 cost guidance of $1,050/oz vs. FY2019 costs of $1,112/oz.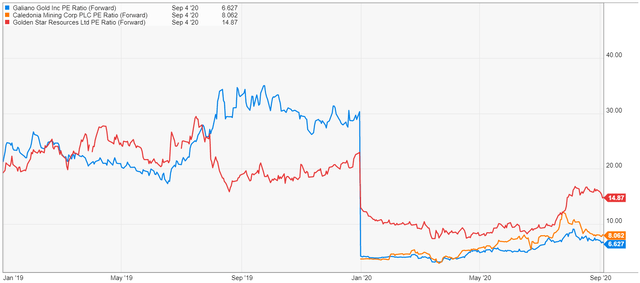 (Source: YCharts.com)
If we move over to the valuation, we can see that Galiano is currently trading at 6.63x forward earnings and is the most attractively valued African gold producer in its peer group. The company's two peers, who are single-asset companies in Africa, are Golden Star Resources (GSS) and Caledonia Mining (CMCL). Galiano Gold beats out Caledonia from a jurisdiction standpoint as Caledonia is in Zimbabwe, but both Golden Star and Caledonia beat out Galiano from a cost standpoint. After factoring Galiano's better jurisdiction vs. Caledonia but higher costs, I believe that Galiano should trade at closer to 8x forward earnings than the current multiple of 6.63. Therefore, at the current share price of $1.48, I would argue that there is at least 20% upside here.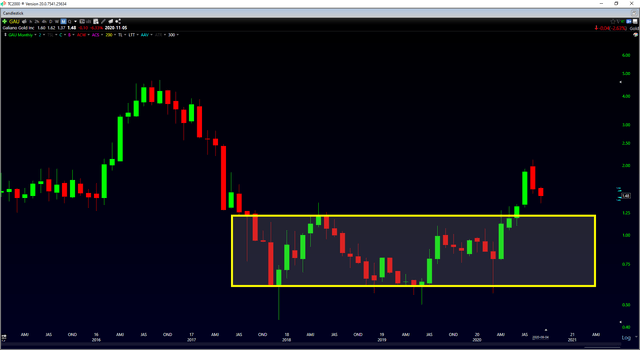 (Source: TC2000.com)
While the sharp pullback might have spooked some investors from buying in, it's worth noting that this 30% decline has done nothing to dent the technical picture. In fact, Galiano Gold has merely pulled back towards its 4-year breakout near $1.25 and remains above its key monthly moving averages. Generally, prior resistance levels will become new support areas, so there's a good chance that any pullbacks to the $1.25 level will find strong buying support. Given that the technical picture remains healthy and the valuation has improved considerably, I believe corrections to the $1.25 – $1.30 area would be low-risk buying opportunities.
However, I typically prefer a larger margin of safety for Tier-3 jurisdiction producers, especially as I see more than 20% upside or more in several other miners in safer jurisdictions with diversified profiles. As noted in previous work, I prefer to avoid single-asset producers in Tier-3 jurisdictions. Therefore, while Galiano Gold is reasonably valued at current levels, I see the better entry as closer to $1.30, where valuation would become even more attractive. There is no guarantee that the stock heads this low, but when diversified producers in Tier-1 jurisdictions are also on sale, I see no reason to stoop down and shop for Tier-3 producers with above-average costs. Personally, I prefer names like AngloGold Ashanti (AU) and Kirkland Lake Gold (KL) at current levels.
Disclosure: I am/we are long GLD, KL, AU. I wrote this article myself, and it expresses my own opinions. I am not receiving compensation for it (other than from Seeking Alpha). I have no business relationship with any company whose stock is mentioned in this article.
Additional disclosure: Disclaimer: Taylor Dart is not a Registered Investment Advisor or Financial Planner. This writing is for informational purposes only. It does not constitute an offer to sell, a solicitation to buy, or a recommendation regarding any securities transaction. The information contained in this writing should not be construed as financial or investment advice on any subject matter. Taylor Dart expressly disclaims all liability in respect to actions taken based on any or all of the information on this writing.