I've been doing some due diligence on REITs I could use as yield generating investments for my portfolio. I stumbled into Four Corners Property (NYSE:FCPT), and after a bit of digging, I think it could be an interesting addition to an income portfolio.
Just a brief background on the company, Four Corners Property is a REIT focused on the restaurant industry. The company was a REIT spin-off from Darden Restaurants (NYSE:DRI) and designed to be the investment vehicle for all their property. The company's business model is focused on net leases, meaning that tenants will pay ongoing costs for the properties, taxes, and maintenance. The company is spread out geographically with 733 properties in 46 states across the United States. The top 5 states the company operates in are Texas, Florida, Ohio, Georgia, and Michigan, which, in 2019, make up 12.5%, 10.8%, 6.9%, 6.3%, and 4.3% of rent collected, respectively. The company's leasing contracts also have an average annual rent escalation of 1.5%, which is higher than the US historical rate of inflation. Note the company also operates 6 Longhorn Steakhouse restaurants though this makes up only 1% of net income which is an immaterial amount.
As the company was originally spun off from Darden Restaurants, its operations are still deeply inter-twinned with its former parent. The company has made significant strides in trying to reduce its dependency on Darden. However, the bulk majority of its rental portfolio is still with Darden Restaurant brands. The largest rental exposure by brand is with Olive Garden which makes 52.4% of annual base rent. Longhorn steakhouse makes up 15% of leases and including other brands, the company's exposure to Darden is roughly 70% of annual base rent. Therefore, it is undeniable that the company's fate is tied to how Darden is performing (and indirectly to the foodservice industry) as it relies on the company for its revenues. I don't necessarily penalize management for this though as I believe they have done a decent job of slowly diversifying revenue (at the spin-off date in late 2015 Darden Restaurants exposure was 100%).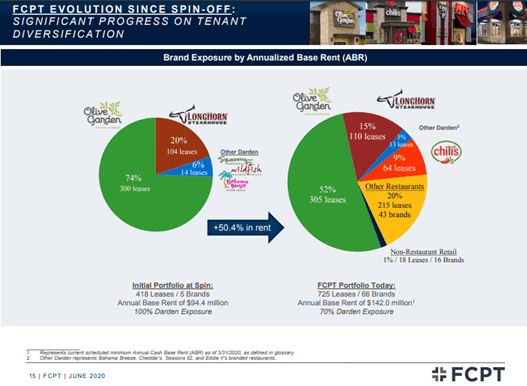 Prior to the coronavirus pandemic and subsequent lockdowns, Four Corners had a good portfolio of restaurant brands in its properties. Given its exposure to Olive Garden and other Darden Restaurant brands, most of its properties were focused primarily on casual dining options. Although casual dining options have been slowly declining in recent years, over-all eating out was still trending upward especially among millennials. Even if the casual dining industry would decline, Four Corners can re-model their properties to fit any style of restaurant from quick-serve to fast-casual. All of these considerations have drastically changed, though thanks to the coronavirus pandemic. In normal times, hypothetically, if Darden Restaurants had to close certain restaurants, then Four Corners Property would simply find another tenant for the space.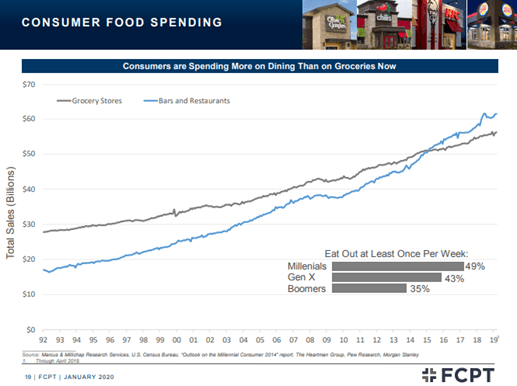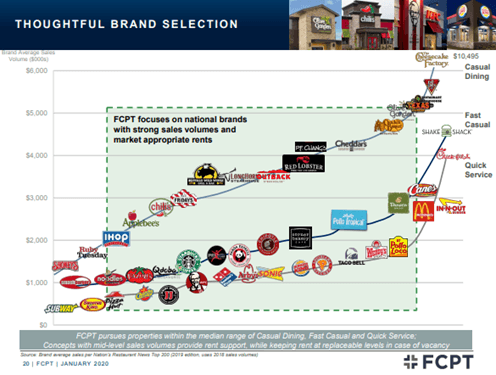 Given the good results of Q2 2020, the company has once again restarted its acquisition program. Four Corners Property acquired 11 properties in June (average yield of 6.3%), 5 properties in July (average yield of 6.5%), 9 properties with Seritage Growth (NYSE:SRG) as well as a few smaller acquisitions in August. The fact that the company has resumed acquisitions is a sign that they are confident in the state of their operations moving forward. As a landlord, Four Corners Property does not necessarily need restaurants like Darden to thrive but simply survive. Doing a quick analysis of Darden's future prospects and short-term liquidity, this scenario is highly likely.
Valuation
In terms of valuation, Four Corners Property has a dividend yield of 4.7%, and unlike a lot, REITs have not reduced dividends despite the difficult situation. As the company was a recent spin-off, it does not have a long dividend history that we can examine. However, management has been doing a good job of pursuing a "growth by acquisition" strategy as they have grown annualized base rent by CAGR of 10%.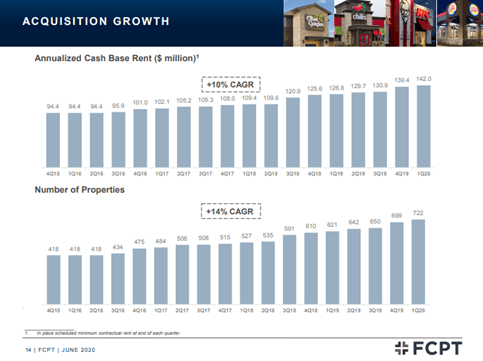 I also typically evaluate REITs by analyzing the financial ratios to ensure the company isn't over-levered and has sufficient liquidity. As income-focused vehicles, leverage and coverage measures are important for REITs as they are indicators of a company's ability to pay off its dividends. I analyze this by looking at the Total Liability/Total Assets, Fixed Charge Coverage, and Dividend to Funds from operation ratio. The company has Total Liabilities of $814 million against Total Assets of $1.51 billion implying a Total Liabilities/ Total Assets ratio of 54%. Based on the company's latest presentation, it has a net debt to EBITDA of 5.4x implying sufficient coverage. In the first six months of 2020, the company had an FFO of $0.74 per share (annualized to $1.48). Dividing the FFO by the annualized dividends per share of $1.22, we get a ratio of 82.4%. Putting these all these ratios together, along with the company's latest moves a story emerges. The company is a REIT that is currently focused on growth that has the balance sheet to make good acquisitions. Therefore, I am not necessarily worried about the high payout ratio. The company's yield is higher than my benchmark, the iShares Core U.S. REIT ETF (NYSEARCA:USRT), which currently has a yield of 3.5%. I believe the company would be a good addition to a long-term portfolio.
Key risk to the thesis
As mentioned above, 70% of the company's annual base rent comes from Darden Restaurants. While, in the short term, Darden has enough liquidity, we don't know what the long-term effects of the coronavirus pandemic are on casual dining restaurants. Mitigating this risk is the fact that Four Corners can re-lease Darden's space to a different restaurant. However, we are making the assumption that Four Corners' existing property can be retro-fitted for quick-serve/fast-casual restaurants, and that may not be true.
Disclosure: I/we have no positions in any stocks mentioned, but may initiate a long position in FCPT over the next 72 hours. I wrote this article myself, and it expresses my own opinions. I am not receiving compensation for it (other than from Seeking Alpha). I have no business relationship with any company whose stock is mentioned in this article.
Additional disclosure: Caveat emptor! (Buyer beware.) Please do your own proper due diligence on any stock directly or indirectly mentioned in this article. You probably should seek advice from a broker or financial adviser before making any investment decisions. I don't know you or your specific circumstances, therefore, your tolerance and suitability to take risk may differ. This article should be considered general information, and not relied on as a formal investment recommendation.