Fortinet, Inc. (FTNT) provides a broad offering of network and cyber-security products and services, including security-driven networking, infrastructure, and cloud security, and is one of my top digital transformation picks for the current market conditions. This company achieved revenue growth of 18% in Q2 2020 while boasting a huge free cash flow margin of 36%.
Fortinet has huge potential with its ASIC-based software-defined wide area network (SD-WAN) in a market that is expected to grow at a 30+% CAGR between 2018 and 2023. From the company's latest earnings call:
We recently announced the new FortiGate 80F, which expand our SD-WAN portfolio for branch offices and work-from-home. The FortiGate 80F is powered by the latest FortiSPU SoC4 can deliver Security Compute Rating as much as 25x higher than industry average appliance using generic CPUs.

According to Gartner, worldwide SD-WAN equipment market data for the first quarter of 2020, Fortinet has the highest revenue growth and was the top 3 for market share. We attribute this growth to our ability to deliver secure, high-performance SD-WAN anywhere from home to the branch to the cloud.
According to the company management, Fortinet has the only firewall capable of "securing hyperscale data center and 5G networks."
Powered by the NP7 network processor, the 4400F delivers the highest performance with Security Compute Rating of up to 13x higher than our competition. The release of several new appliance powered by our latest FortiASIC SPU, together with cloud and software-based virtual machine to deploy security anywhere, we are able for Fortinet to capitalize on this investment and put us in a strong position going forward."
Despite the strong performance during this poor economic environment, Mr. Market has not been kind as the stock price has since dropped due to perceived soft billings.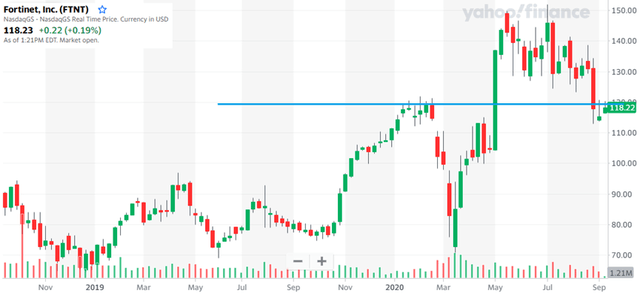 (Source: Yahoo Finance/MS Paint)
For the most recent quarter, billings came in at $711.5 million whereas the consensus estimate was $712 million. In my opinion, Fortinet essentially met the analysts' estimate but investors were expecting a beat. That didn't happen and the stock price suffered as a result. From my perspective, this company has a high level of exposure to SMB and the quarterly performance was quite good given the exposure.
Acquisition of OPAQ Networks
Fortinet has a security strategy called FortiSASE which is similar in nature to what Gartner considers the future of cyber-security, something it calls Secure Access Service Edge (SASE). Fortinet's acquisition of OPAQ Networks back in July will fortify FortiSASE by incorporating OPAQ's firewall-as-a-service and Zero Trust Network Access technologies. Fortinet hopes to attract more global enterprise customers with its FortiSASE product.
Share Buybacks
Fortinet is a cash cow, with a strong and rising free cash flow margin of 36%. Unlike most digital transformation companies that are constantly diluting shareholders, Fortinet is using some of its excess cash to buy back shares. In the most recent year, Fortinet has reduced its share count by more than 5% as shown in the YoY share dilution chart below.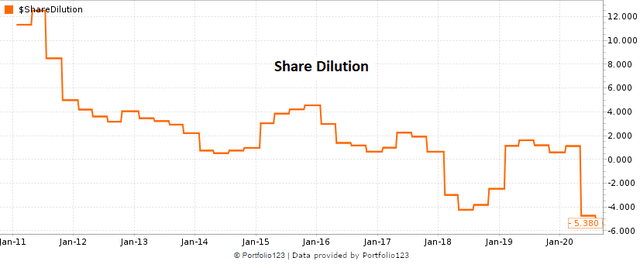 (Source: Portfolio123)
Strong Balance Sheet
With a strong balance sheet, Fortinet is in a particularly good position for surviving the pandemic and global recession. As of the last report period, Fortinet had $1.5 billion in cash and cash equivalents at its disposal, and less than $50 million in total debt. Given the company's strong balance sheet and exceptional free cash flow, I don't anticipate any problems for this company during the pandemic or an extended recession.
The Rule Of 40
I haven't had much opportunity to dig out this software industry metric lately, given the pandemic and all. The industry metric that is often used for software companies is the Rule of 40. It is an industry rule of thumb that attempts to help companies ascertain how to balance growth and profitability. For a further description of the rule and calculation, please refer to one of my previous articles.

(Source: Portfolio123/MS Paint)
In Fortinet's case:
Revenue Growth + FCF margin = 20% + 36% = 56%
Fortinet scores significantly above the 40% needed to fulfill the Rule of 40, suggesting that it has a healthy balance between growth and profitability.
Stock Valuation
The plot below illustrates how Fortinet stacks up against the other stocks on a relative basis based on forward EV/Sales versus forward revenue growth. Note: Please refer to a recent article for more information on the scatter plot relative valuation technique.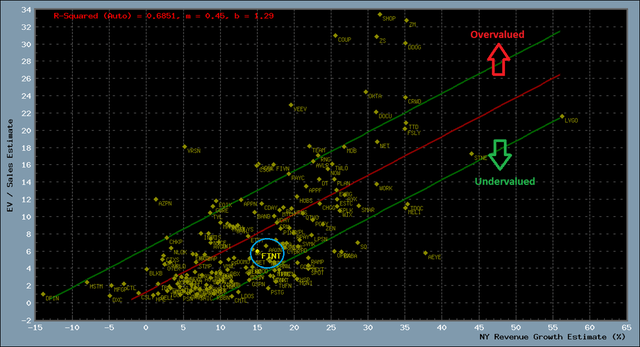 (Source: Portfolio123/private software)
Fortinet is sitting below the best-fit line on the scatter plot, suggesting that the stock is undervalued on a relative basis relative to its peers.
Investment Risks
Fortinet has significant exposure to small businesses which have suffered and will continue to do so as long as the pandemic and recession persist. It seems unlikely that we will see a vaccine until at least the spring of 2021 and that depends on everything going well in Phase 3 trials for vaccine candidates. In my opinion, it will be at least a year before we see a return to normalcy.
Fortinet's business model is highly dependent on third party channel partners/distributors. According to Fortinet's latest quarterly report:
Exclusive Networks Group ("Exclusive") and Ingram Micro, Inc. ("Ingram Micro") accounted for 31% and 11% of our total net accounts receivable as of June 30, 2020, respectively… In addition to other risks associated with the concentration of accounts receivable and revenue from these distributors, Exclusive is a private entity and we may not have sufficient information to assess its financial condition and, accordingly, if Exclusive were to experience financial difficulties, we might not have advance notice. Additionally, Exclusive may face liquidity risk as a private equity-backed company, which may harm our ability to collect on our accounts receivable."
Summary and Conclusions
Fortinet is a global leader in network security, providing a broad offering of cyber-security applications, including next generation firewalls, virtual private networks, SD-WAN, and its own version of SASE. The company had an outstanding quarter with revenue growth of 18% YoY and an exceptional free cash flow margin of 36%, resulting in a strong showing on the Rule of 40 software metric.
Fortinet did exhibit soft billings due to its exposure to SMB, and the stock price suffered as a result, losing more than 10% since the Q2 earnings call. I believe that this presents an investment opportunity. There is no doubt in my mind that billings and performance will pick up as the economy recovers. I expect that the company's ASIC-based SD-WAN appliances will outperform into the future, and the company's SASE strategy will also help grow sales.
In my opinion, the stock is undervalued relative to its peers, and share buybacks make this an even more attractive investment. For these reasons, I am giving Fortinet a long-term Buy rating. There are some risks to this investment, the major one being the high level of dependency on two distributors: Exclusive Networks Group and Ingram Micro, Inc.
Digital Transformation is a once-in-a-lifetime investment opportunity fueled by the need for businesses to convert to the new digital era or risk being left behind. And the pandemic has dramatically accelerated this paradigm shift. You can take advantage of this opportunity by subscribing to the Digital Transformation marketplace service. 

Disclosure: I/we have no positions in any stocks mentioned, and no plans to initiate any positions within the next 72 hours. I wrote this article myself, and it expresses my own opinions. I am not receiving compensation for it (other than from Seeking Alpha). I have no business relationship with any company whose stock is mentioned in this article.