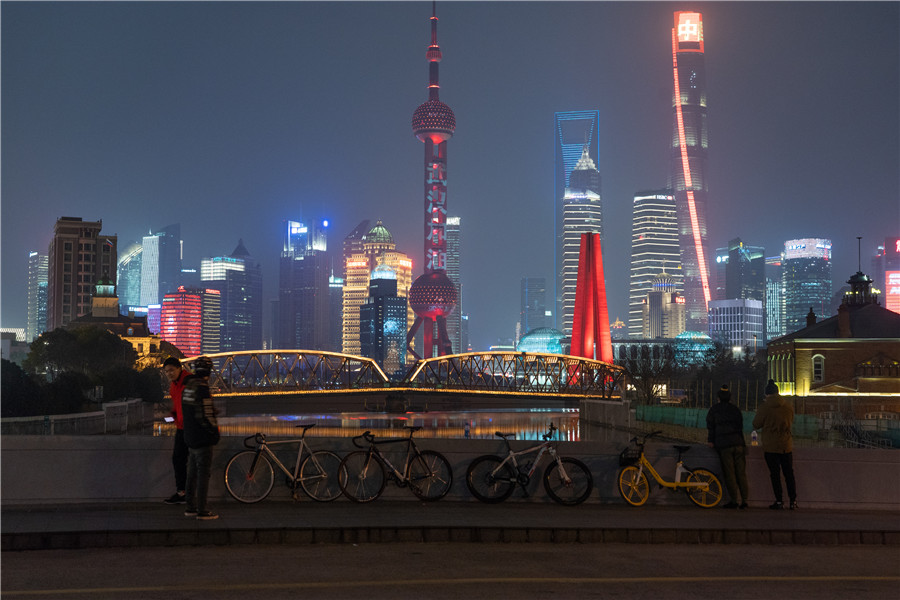 Municipality's measures help companies maintain growth, weather outbreak storm
Foreign companies in China have lauded the Shanghai government's efforts to help them mitigate the effects of the business disruption caused by the novel coronavirus outbreak.
Shanghai is home to the regional headquarters of 710 multinational companies, the highest in China, according to the Shanghai Municipal Commission of Commerce.
For the past few weeks, businesses in Shanghai, as elsewhere in China, have been affected by the epidemic. The majority of residents have been working from home to minimize their chances of becoming infected, and many places have been closed as part of measures to prevent the spread of the virus.
Having foreseen the challenges that the epidemic would create, the Shanghai municipal government announced on Feb 8 a 28-point circular containing measures to help companies maintain growth and weather the storm.
The measures include loan interest rate cuts of at least 0.25 percentage point off the benchmark prime rate for the duration of the outbreak, as well as extended repayment periods, rent reductions and deferment of tax payments to ameliorate potential capital shortages.
"We welcome and appreciate the support from governments of all levels during this difficult time," said John Wang, senior vice-president of Dutch lighting specialist Signify and president of its China operations.
Wang, whose company resumed operations on Feb 10, said such policies stand to benefit large corporations as well as small and medium-sized enterprises, "including many of our dealers and suppliers".
Paul Lindblad, president of Wacker Chemicals in China, also weighed in on the matter, saying the government has been providing much financial and legal support to even small and micro enterprises, which constitute part of the company's downstream customers.
"These measures are conducive to appeasing capital shortages and maintaining overall market stability," said Lindblad.
Arnaud Ribadeau Dumas, China president of French lens maker Essilor, said the adjustment of social security insurance has also been welcomed, as it "directly benefits our financial situation".
Francois Tardif, president of automotive supplier Faurecia China, said, "Even for large companies like us, the cash situation is very much challenged by the tremendous reduction in revenue."
Tardif also said government measures taken to extend social security payment to employees are currently "of great support".
Industrial conglomerate Honeywell said government support is crucial to bolstering business confidence. Eighteen of its 21 plants across the nation have resumed manufacturing operations.
Gao Guolei, managing partner of Zhanghe Capital, said certain policies have "far-reaching influences" and are poised to bring profound changes to science and technological advancement to the city and the nation as a whole.
Gao said one of the policies is aimed at providing special funding to foreign enterprises engaged in research and development and the production of products related to the diagnosis and treatment of novel coronavirus pneumonia. This will in turn encourage technology transfers for a multinational company, he added.
"Companies like Gilead, whose portfolio of medicines is being tested for the effectiveness in treating novel coronavirus pneumonia patients, stand to enjoy the benefits," he said.
"This is likely to usher in a benign cycle for introducing new technologies and further improving the business environment."
Although foreign companies conceded that the virus has dealt a blow to their China performance, they said they remain convinced that long-term growth will not be compromised, and they will remain committed to the world's second-largest economy.
"It is still too early to precisely assess the business impact," said Fabrice Megarbane, president and CEO of L'Oreal China. "But with the experiences we have had with similar situations in the past, such as SARS and H1N1, we are confident that the market will bounce back."
Wang, of Signify, said: "Where possible, we will source products and components at alternative suppliers outside the impacted area but still within China. We also have a global supply base that will help us to mitigate the effects of the current situation.
"We have confidence in the positive medium and long-term economic trends in China and will maintain our commitment to the China market," he added.
Dumas said his optimism about the Chinese market stems from the nation's improving healthcare infrastructure, responsiveness in dealing with the outbreak and decisiveness in issuing policies to support growth.
He also has managed to glean positive things from the crisis, saying the situation has helped the company to become more agile and adaptable.
"For example, we believe now is actually a good opportunity to accelerate digital and online platforms and enhance internal competence, such as in learning and training," he said.
Jiang Hao, global partner of consultancy Roland Berger, said it has not been just the policies that have been impressive, but also the speed with which they were introduced.
"The implementation of these policies was prompt and preemptive, and this reflects a mature and systematic governance model that the local authorities have always had," Jiang said.
Xu Bin, a professor at China Europe International Business School, said, "The string of policies should be seen as a natural extension of the constant pledges by the Shanghai government to continue its opening-up endeavors, stay transparent and be responsive to enterprises' needs."
Xu said many of the new policies are essentially in line with the broader goal of welcoming more foreign capital, introducing bigger incentives and streamlining services.
"The epidemic is no doubt a stress test for the government. But a good handling of the crisis will convince foreign businesses that there is no better place than China to do business in and thrive," he said.