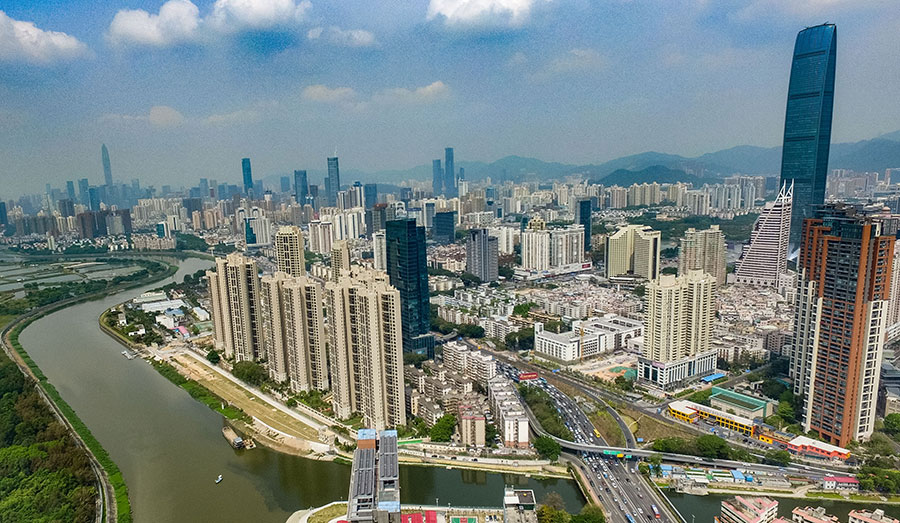 Major cities in China maintain strong global economic competitiveness despite economic downturn, said a report jointly issued by the Chinese Academy of Social Sciences and UN HABITAT.
According to Global City Competitiveness Report (2019-2020) released at the China Social Science Forum held in Ningbo, Zhejiang province, on Nov 12, Shenzhen's global economic competitiveness ranks fourth among 1,006 global major cities, and other four Chinese cities, namely Shanghai, Hong Kong, Beijing and Guangzhou, also rank among global top 20.
Economic competitiveness refers to the value a city creates and provides welfare for residents utilizing its own economic advantages, resources and operation efficiency, and the report evaluates global major cities' economic competitiveness every year based on a comprehensive urban economic ranking system.
The report finds that the average economic competitiveness level of global cities fell this year due to sluggish global economy. And warned that global cities' competitiveness and welfare will all be undermined if the trade war among major economies continued.
"The negative influence of trade war among major countries may further appear in the report next year when we access the economic data of 2019," said Ni Pengfei, co-writer of the report and director of the CASS Center for City and Competitiveness. "It is obvious that the impact of the trade war is not limited to major cities but is impacting the entire world."
But major Chinese cities' development pace hasn't slowed down and remain economically competitive globally. The number of Chinese cities that joined the top 100 in global economic competitiveness rose from 18 last year to 20 this year. Some second- and third-tier cities also performed well. For instance, the forum's host city Ningbo figures among global top 100 for the first time this year, rising 11 places in one year, the highest jump in China.
"China's economic development has an obvious characteristic, which is mentioned in the report, the rise of city clusters," said Pei Changhong, former director of the Institute of Economics at the Chinese Academy of Social Sciences.
"Globalization and regional integration, in particular the construction of Guangdong-Hong Kong-Macao Greater Bay Area, combine to provide conditions for Shenzhen to make use of global resources and occupy global market," said Ni Pengfei.
Shenzhen's robust economic competitiveness is also due to its successful economic transformation and upgrading. "Adaptation to new economic and environmental trends is a challenge for Asian municipalities,but also a source of potential innovation," said Roberto Herrera, the special representative of UN deputy secretary general and executive director of UN-HABITAT.
Another highlight of the report this year is that it monitors global major cities' progress in achieving United Nations' Sustainable Development Goals from the perspective of urban sustainable competitiveness for the first time, after the 2018-2019 report of Global Urban Competitiveness was released in the headquarters of United Nations.