Financial news
Firms, governments joining hands to resume production
By
|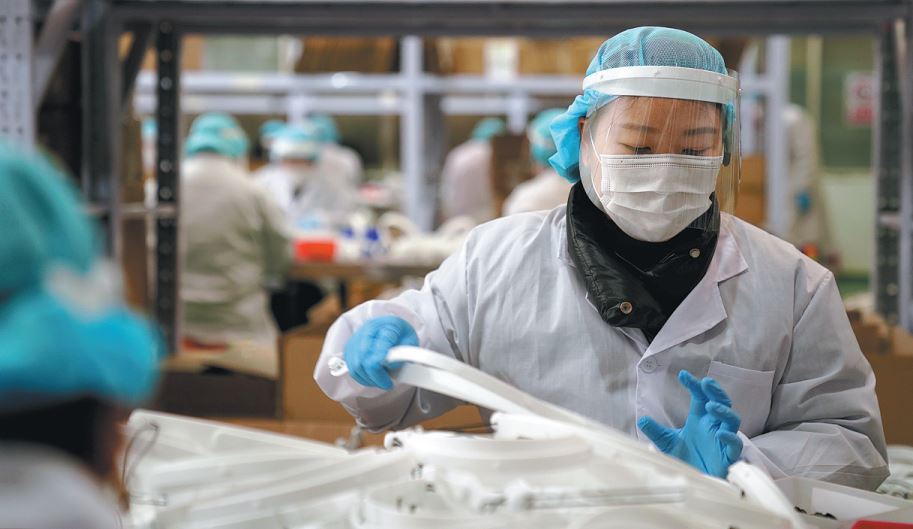 Factory lines across nation refitted to churn out more masks and shields
While medical staff battle the novel coronavirus on the front line, companies and governments are doing all they can to support the fight and resume normal operations with concrete actions.
Huanghua Promisee Dental Co Ltd, one of the major companies supplying protective face shields to medical staff in Wuhan, Hubei province, has increased its daily production volume by about 100 times to 30,000 pieces after overcoming a series of difficulties in the past month.
Based in Huanghua, Hebei province-about 200 kilometers southeast of Beijing-the company has produced 297,000 face shields, including 27,000 that were sent to Wuhan, the epicenter of the novel coronavirus outbreak, since Jan 27.
Medical staff on the front line wear the shields to protect themselves from splashed liquids and avoid possible transmission when treating patients infected with the contagion.
Jan 27 was the third day of the Chinese Lunar New Year this year during which time the holiday was being celebrated nationwide. But the company resumed production right away after learning that facial shields were in urgent demand.
"On that morning, the local government asked me if my company produced the shields. I said yes. They asked me to send them a picture of the shields, and they came to see my product lines right away," said He Qingxuan, chairman of the company.
He gathered a dozen staff that afternoon after picking them up one by one from their homes in rural villages near the company.
Although the staff were very willing to go back to work despite the ongoing holiday, He decided to raise monthly wages for each to five times the normal level of 3,000 yuan ($428).
"Everybody was very active when they knew what we produce can help protect medical staff. We all feel honored for making our own contribution to the country's joint fight against the virus," the chairman said.
However, there were some genuine problems for the company in resuming full-capacity operations.
The company, mainly a maker of dental instruments, produced face shields in small quantities before the outbreak in late December-primarily for use by dentists. Last year, the sales volume of shields accounted for less than 4 percent of its total of over 36 million yuan, He added.
Among its 140 employees, only 20 worked in the recent past making shields, with the daily volume only 300 units.
To better protect front-line medical staff, the shields needed to be upgraded in design and quality, meaning the company had to spend money on new equipment.
In addition, the company's suppliers of materials for making the shields hadn't yet resumed operations at the time, said Han Zhen, deputy head of the planning department of the Industry and Information Technology Department of Hebei province.
Han, together with several others from different government departments, was sent to the company the day after it resumed production, tasked with helping solve problems that might affect production.
To guarantee the supply of raw materials, Han-together with a coordination team-made contact with counterparts in Shandong province to urge a supplier in Zibo to resume production.
In terms of financing, local banks quickly provided Huanghua Promisee Dental loans of more than 13 million yuan at low interest rates, with which it bought needed equipment, Han said.
As for the labor force, all employees were assigned to make shields together. Even some of the employees' family members were recruited to join the team, which now totals 180, Han said.
"We are here to help the company tackle any difficulties concerning normal operations and make sure they make sufficient products," said Bi Kaichun, head of a support team sent to the company by the Ministry of Industry and Information Technology.
These kinds of services provided by governments to companies have covered various industries in Hebei in order to help them remove obstacles on their return to normal operations during the outbreak.
As of Sunday, more than 96 percent of industrial companies above a certain designated scale in the province have resumed operations, involving nearly 2 million workers, according to Hebei's Industry and Information Technology Department.
With newfound advantages in terms of speedy production qualification approvals and easier financing, Hebei Huikang, a daily necessities producer, has shifted its assembly and now makes 800,000 surgical masks daily, the department said.
Great Wall Motors, a leading automaker in Hebei, saw its supplies return to normal levels after the department dispatched work teams to help prompt 166 of its suppliers and related companies to resume production.
Local government agencies and banks in the province have set aside 50 billion yuan in financial aid to support the development of small and micro-sized companies and help them get through tough times amid the outbreak.