Back in late 2018, I made the argument that FedEx Corporation (NYSE:FDX) would continue to see upside over the longer term. At the time, the stock had seen a significant price drop due to concerns over lackluster earnings along with the threat of competition from Amazon (NASDAQ:AMZN).
In spite of a continued decline after that point, the stock has shot back up to nearly pre-2018 levels since March: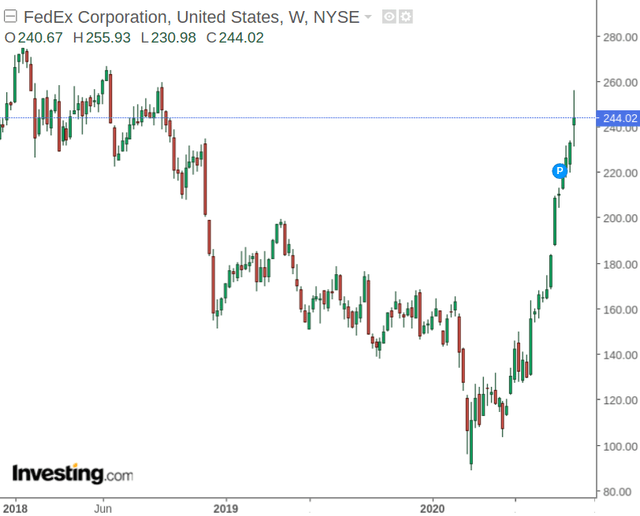 Source: Investing.com
Moreover, the company just released a strong set of results for Q1 2021, which included a 66% growth in diluted EPS on a GAAP basis as compared to the last fiscal year.

Source: FedEx Q1 FY21 Earnings Release Final
COVID-19 and associated lockdowns have resulted in a large surge in online shopping, and this has been reflected in strong volume growth for FedEx International Priority and U.S. domestic residential package services. While this was partially offset by costs of expanding delivery services, the company has seen significant earnings growth.
However, a strong caveat is that FedEx is reportedly not taking the integration expenses of TNT Express into account for fiscal 2021 and 2020, citing that "we generally would not incur such expenses as part of our continuing operations".
Moreover, when analysing the company's financial highlights in more detail, we can see that it has reported a 35% decrease in fuel costs from last year, which is in large part due to lower transportation demand as a result of COVID-19:

Source: FedEx Q1 FY21 Earnings Release Final
Additionally, we can see that most of the revenue growth (36%) for the company came from the Ground segment which specialises in the delivery of low-weight and low time-sensitive business-to-customer packages. On the other hand, the company's largest segment – FedEx Express – grew by 8%. Even with increased demand for remote delivery, growth for this segment remained in the single digits.
Notwithstanding the company's growth success throughout the pandemic, this could be a risk factor going forward. This segment accounts for a large portion of the overall operating expenses, and this is set to increase further with the integration of TNT Express.
When global lockdowns are inevitably eased at some point and global mobility starts to return to some form of normality, the question must be asked as to whether FedEx will start to see a decline from that point, as an upturn in mobility results in lower demand for delivery services. This is a legitimate concern when one considers that the stock had been trending lower in any case up until COVID-19 struck.
One concern among investors with the stock is the negative growth in free cash flow. For instance, we can see that since 2019 – in spite of the growth that FedEx has witnessed as a result of COVID-19 – growth in capital expenditures has still outpaced that of free cash flow.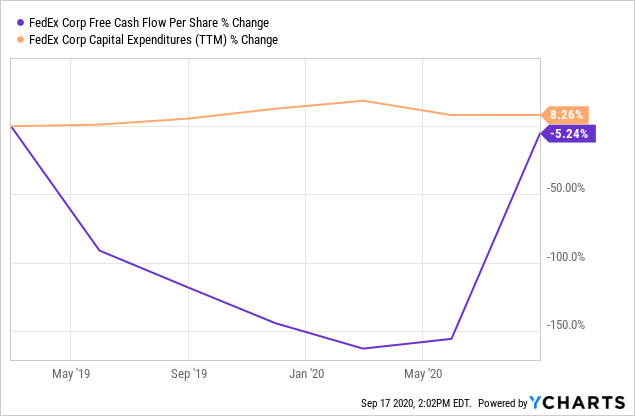 Source: YCharts
Additionally, while it is encouraging that the company has seen a reduction in its debt-to-equity ratio this year, it still remains quite higher than that of 2018, indicating that it is increasingly relying on debt to sustain operations.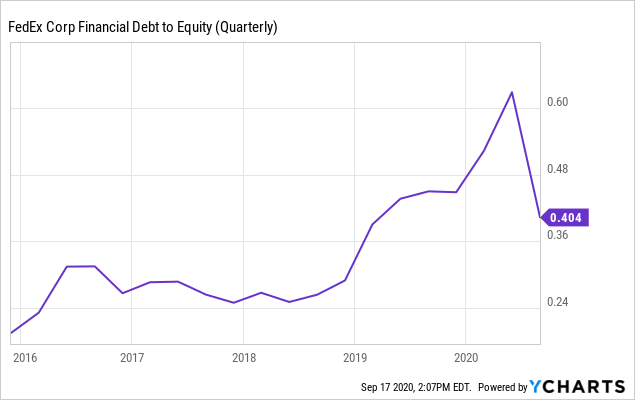 Source: YCharts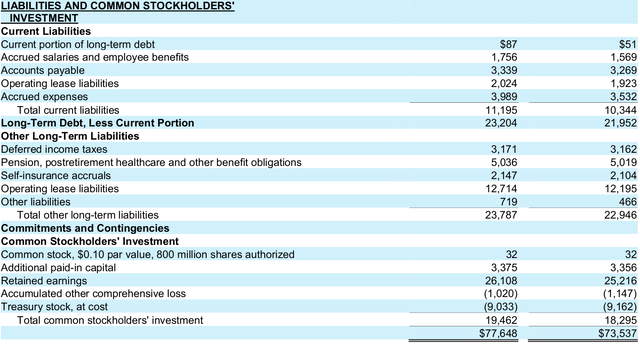 Source: FedEx Q1 FY21 Earnings Release Final
Additionally, we can see from the balance sheet that long-term debt less the current portion is up by 5.7% in the past quarter, while the current portion of long-term debt is up by 70%. To clarify, the current portion of long-term debt refers to the portion of long-term debt that must be paid off in the next 12 months.

Source: FedEx Q1 FY21 Earnings Release Final
Cash and cash equivalents are up by 42%, which is encouraging and indicates that FedEx is generating enough cash to cover the debt. That said, should we continue to see growth in long-term debt without a corresponding growth in cash, then this could be a cause for concern.
Let's take a look at the company's EV/EBITDA ratio.
On a one-year basis, we see that growth in EBITDA per share has comfortably outpaced that of the EV/EBITDA ratio.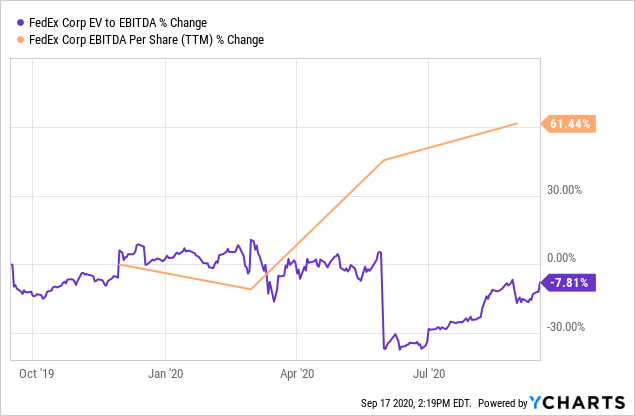 Source: YCharts
That said, let's now look on a 10-year basis.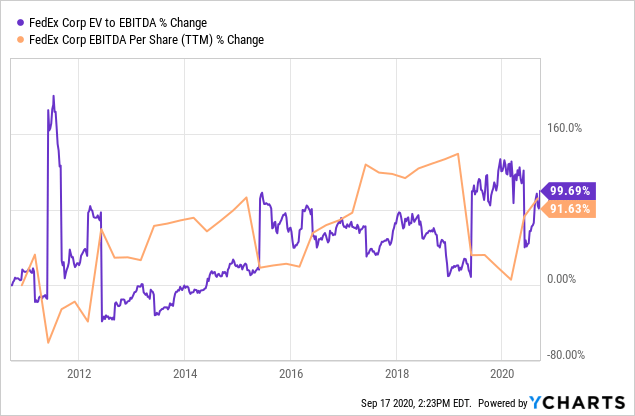 Source: YCharts
We now see that growth in EV/EBITDA has just slightly outpaced the growth in EBITDA per share. From a longer-term perspective, while the gains that the stock has shown since March are quite impressive, FedEx is in many respects simply making up for lost growth since 2018.
In the near term, I anticipate that the slowdown in global mobility from COVID-19 will continue to mean heightened demand for FedEx's services. With that being said, growth in the stock may start to peak towards the end of the year, and growing integration costs from TNT Express could put pressure on earnings going forward.
In conclusion, my view is that the stock could come under pressure going forward as costs associated with TNT Express start to rise and lockdowns gradually start to be lifted – even if we see a more restrictive winter ahead. Moreover, the company is seeing an increase in its long-term debt levels as part of sustaining its operations, and investors should note whether FDX is continuing to raise enough cash to fund such long-term debt. In light of the this, I take a neutral view on the stock at this point in time. If I were an investor, I wouldn't be inclined to sell the company. To its credit, FedEx has clearly shown buoyant growth in this pandemic. That said, should FedEx start to see a plateau in such growth, then there is risk of downside in the stock, which may lead to a more lukewarm reception on the part of investors when considering further upside.
Disclosure: I/we have no positions in any stocks mentioned, and no plans to initiate any positions within the next 72 hours. I wrote this article myself, and it expresses my own opinions. I am not receiving compensation for it (other than from Seeking Alpha). I have no business relationship with any company whose stock is mentioned in this article.
Additional disclosure: Additional disclosure: This article is written on an "as is" basis and without warranty. The content represents my opinion only and in no way constitutes professional investment advice. It is the responsibility of the reader to conduct their due diligence and seek investment advice from a licensed professional before making any investment decisions.