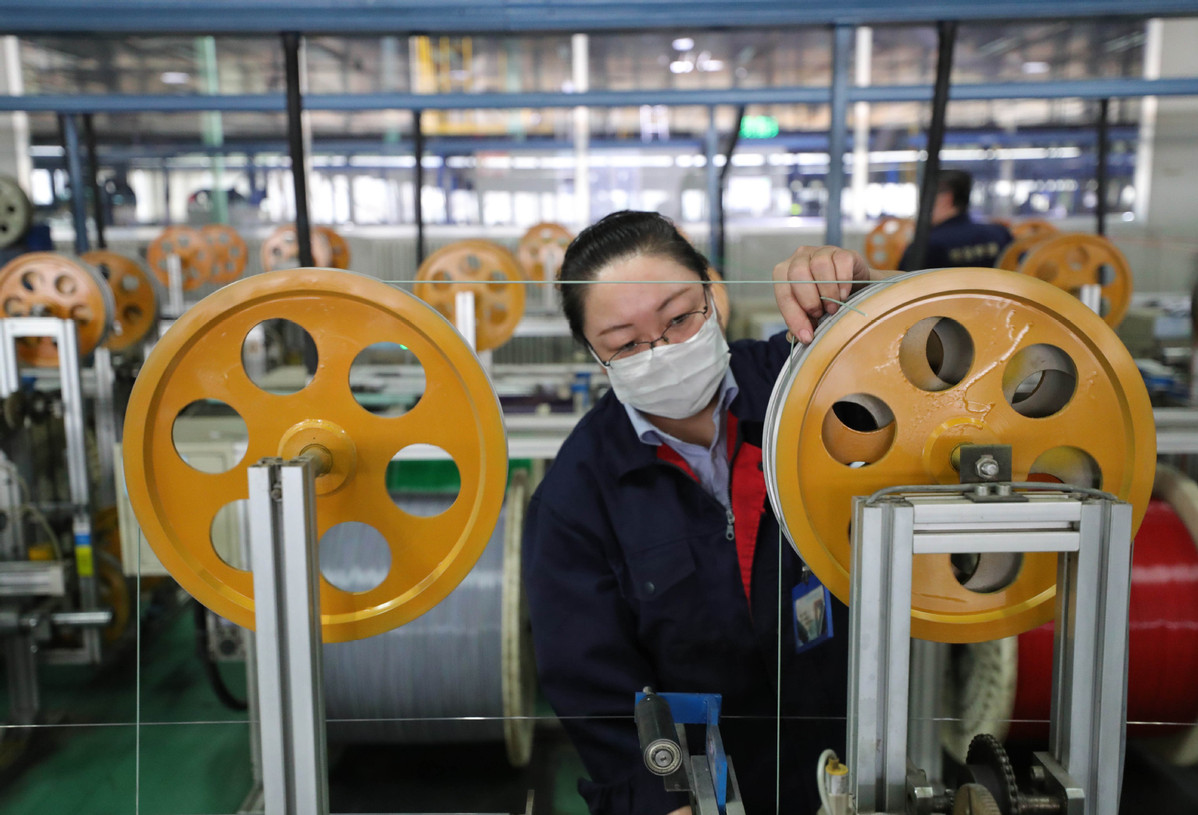 Chinese policy advisors expected the country's economic activities to start to recover and be back on track in March, to support an overall growth rate of higher than 5.5 percent this year, without a surge of inflation.
A rebound of economic activities is likely to start in March, as the novel coronavirus spread could be put under control by that time, in line with a rapid resumption of production and a boom of consumption, Zhang Yansheng, a senior researcher with the China Center for International Economic Exchanges (CCIEE), said at a news conference on Friday.
Usually the country's GDP growth target was set at the annual meeting of the National People's Congress, the top legislature, but this year the meeting was postponed because of the virus. Policymakers reaffirmed recently at many high-level meetings that the world's second-largest economy is able to maintain a growth rate within a reasonable range.
"We expect the growth rate can be higher than 5.5 or 5.6 percent this year," said Zhang. "It can be maintained within a reasonable range, if we exclude the worst-case scenario," he said. The government has not announced the time to reveal the country's annual economic goals.
The National Bureau of Statistics will release February's Purchasing Managers' Index on Saturday, and economists said it will be a significant indicator that can offer some clues about the economic impact of the epidemic.
"As the Chinese economy has been in pause mode since January 23, and the Lunar New Year holiday was extended by more than a week for most sectors, the upcoming PMI reading may show a plunge," Lu Ting, chief economist of Nomura Securities, said.
To some extent, how fast the economy can recover will depend on how many workers have returned to their work places, said Wei Jianguo, another policy advisor from the CCIEE, who is also a former vice-minister of commerce.
"Given the still low business resumption rate, the first quarter's growth may be hit hard."
"As the situation is getting better, the transportation and logistics will return to normal; meanwhile, we expect China's imports to rebound very fast after the epidemic, the supply of consumer goods, especially vegetables and fruits, will remain sufficient, so it is unlikely to see a sharp rise of inflation," said Wei, adding that short-term price fluctuations could be limited and still under control.
Policymakers also expected that China will continue to take measures to push forward economic restructuring reforms, including improving business environment, attracting more foreign investment and extending policies for free trade zones to other regions.
The epidemic will push the government to accelerate reforms and improve quality of public services, especially in areas of public health, education and information services, according to Zhang.