The internal European Union rift has widened and is threatening to turn into full diplomatic war as Poland and Hungary have remained resolute in blocking the new EU budget.
On Thursday Hungary's Prime Ministery Viktor Orbán announced that after Germany's failed attempt to "harmonize positions" over the proposed 1.8 trillion-euro ($2.1 trillion) budget, he signed a joint statement with his Polish ally pledging that neither will accept unless both do.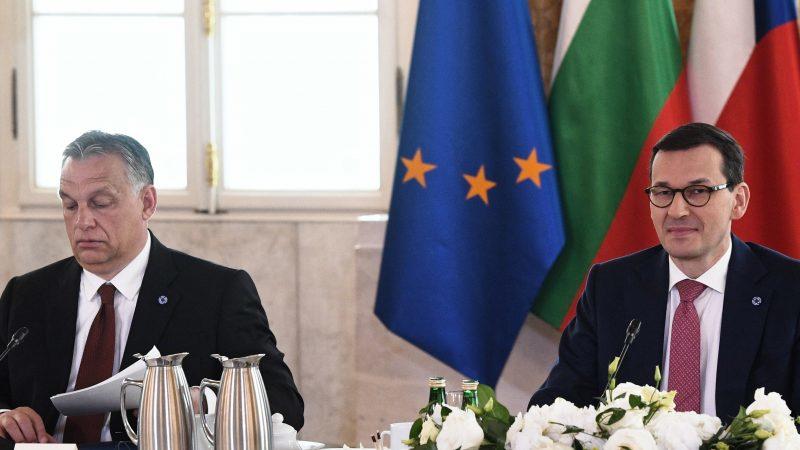 "Hungarian Prime Minister Viktor Orbán on Thursday said his country would have Poland's backing in the continued row over the European Union's insistence that its member states respect the rule of law or lose access to budget funds," Reuters reports.
Both are standing firm against linking 'Rule of Law' and the 'financial interests' of the Union, which remains the central issue they want to press in debate before the European Council, which appears a political ploy to undermine sovereignty of member states.
"Orban, standing alongside Poland's premier Mateusz Morawiecki, said in a press statement in Budapest that the current proposal on the EU's table was unacceptable to Budapest and Warsaw, who will form a tandem in the debate after a joint veto, which Orban called a legitimate tool in the dispute," Reuters continues.
This after mounting pressure in the past few days which saw the French and German Ambassadors to Warsaw demand that Hungary and Poland "show solidarity" during the COVID-19 pandemic.
What's turning into an EU game of chicken over the vital budget is fairly straightforward, which perhaps has made each side harden in their demands:
Hungary and Poland, with the backing of Slovenia, remain adamant in their refusal to approve the bloc's $2.1 trillion budget while rule-of-law conditions remain in place for countries to receive money from a separate $750 million coronavirus recovery fund. 

Brussels and western Europeans seem equally determined to leverage coronavirus relief money to force compliance with the standards they say are necessary to block democratic backsliding by Hungary and Poland.  
The EU has targeted both countries as part of an investigation related to the independence of courts and the media. 
Poland and Hungary are taking an aggressive stand against what many see as the European Union's attempt to "force foreign values upon member nations" – this after West European nations have frequently derided Polish President Andrzej Duda and Hungary's Orbán as "authoritarian regimes" – something also echoed widely in US and UK media.
The current budget and coronavirus relief proposal before the EU would block funds to member countries seen as not adhering to "democratic standards". This language was put in place from the start of November, thus Hungary and Poland see signing off on it as self-destructive, as it would be further detrimental to their own sovereignty. 
Previously Orbán told a state radio broadcaster that "Hungary can't be blackmailed," explaining further that: "The rule-of-law debate sounds like it's about the law but it's a political debate."