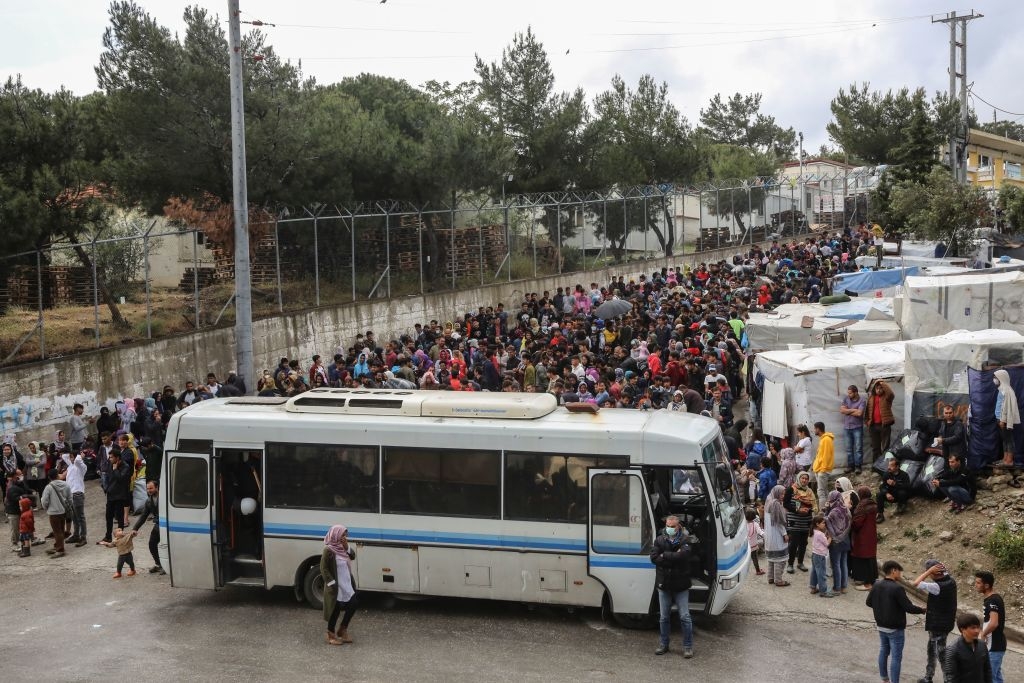 Beslutninger truffet for nylig af Europa-Kommissionen betyder, at migranter og flygtninges ret til at søge om asyl i EU ikke kan suspenderes – selv ikke under corona-pandemien. På billedet ses migranter i Moria, der venter på at blive transporteret fra øen Lesbos over til det græske fastland den 3. maj 2020. (Foto: Manolis Lagoutaris/AFP via Getty Images)
Den 16. marts anbefalede Europa-Kommissionen midlertidige restriktioner for ikkevæsentlige rejser fra tredielande ind i "EU+ området" i 30 dage. Den 8. april anbefalede Europa-Kommissionen, at de midlertidige restriktioner blev forlænget indtil den 15. maj. Europa-kommisionen skriver i en pressemeddelelse:
"Ifølge Kommissionens vurdering af den aktuelle situation kan vi forvente, at antallet af nye tilfælde og dødsfald fortsat stiger i EU, og at pandemien spreder sig uden for EU, også til lande, hvorfra der sædvanligvis er millioner af mennesker, der hvert år rejser til og fra EU. En forlængelse af rejserestriktionerne er derfor nødvendig for at reducere risikoen for, at sygdommen spredes yderligere."
Næstformand og kommissær med ansvar for at fremme vores europæiske levevis, Margaritis Schinas, udtalte:
"Selv om vi kan begynde at se de første opmuntrende resultater, er det nødvendigt at forlænge rejserestriktionerne for fortsat at reducere risikoen for at sprede sygdommen yderligere. Det er for tidligt at åbne døren, mens vi stadig arbejder på at sikre vores hus."
Ifølge et dokument fra Europa-Kommissionen fra den 30. marts 2020 med titlen "Guidance on the implementation of the temporary restriction on non-essential travel to the EU, on the facilitation of transit arrangements for the repatriation of EU citizens, and on the effects on visa policy" ("Vejledning om implementering af den midlertidige begrænsning af ikkevæsentlige rejser til EU, om facilitering af transitarrangementer for at repatriere EU-borgere og om konsekvenserne for visumpolitikken") er personer "med behov for international beskyttelse eller af andre humanitære årsager" imidlertid undtaget fra restriktionerne på ikkevæsentlige rejser fra tredielande. Det betyder, at folk, der anmoder om international beskyttelse, ikke kan afvises, og at migranter og flygtninges ret til at søge om asyl ikke kan suspenderes – selv ikke i tider med coronavirus.
Denne politik sås udfoldet under den nylige krise ved grænsen mellem Tyrkiet og Grækenland, hvor den tyrkiske præsident Recep Tayyip Erdogan brugte migranter – som Tyrkiet havde transporteret til grænsen til Grækenland – som politisk pressionsmiddel, idet han truede med at udløse en ny migrantkrise i Europa. Ifølge flere medier blev der bragt mindst 14.000 migranter til grænsen. Grækenland sagde på det tidspunkt, at de suspenderede alle asylansøgninger på grundlag af traktaten om Den Europæiske Unions funktionsmåde, artikel 78 (3), hvori der står:
"Hvis en eller flere medlemsstater står over for en nødsituation i form af en pludselig tilstrømning af tredjelandsstatsborgere, kan Rådet på forslag af Kommissionen vedtage midlertidige foranstaltninger til fordel for den eller de berørte medlemsstater. Det træffer afgørelse efter høring af Europa-Parlamentet."
Kommissionen bifaldt imidlertid ikke deres beslutning. Ylva Johansson, kommissær med ansvar for indre anliggender, forlangte, at Grækenland gav de migranter, som Erdogan transporterede til grænsen, lov til at søge om asyl.
"Personer i EU har ret til at søge om asyl. Det står i traktaten, det står i folkeretten. Det kan vi ikke suspendere", udtalte Johansson. Grækenland har efterfølgende indstillet sin suspendering, hvilket blev bifaldet af Johansson: "Det er vigtigt i denne tid at forsvare vores værdier og grundlæggende rettigheder", sagde hun.
Der er dog mange andre ting, der er blevet suspenderet på grund af COVID-19: Europæere har fået besked på at blive hjemme, skoler og børnehaver er lukket, folk har ikke kunnet tage på arbejde og mange har mistet deres arbejde. Alt er blevet gjort for at reducere spredningen af COVID-19. Indvandringen ser imidlertid ud til at være en ting, som EU ikke ønsker at indstille, uanset hvor alvorlig situationen er.
Herudover udgav Kommissionen den 16. april en henstilling, der advarede EU's medlemslande om, at registrering og behandling af asylansøgninger skal fortsætte, og medlemslandene skal overholde asyllovgivningen.
"Selv under en sundhedskrise", sagde Johansson, "skal vi garantere individets grundlæggende rettigheder. Ethvert tiltag inden for området asyl, indvandring og hjemsendelse skal også fuldt ud tage hensyn til medlemslandenes sundhedsbeskyttelsesforanstaltninger for at forhindre spredning af coronavirus."
Henstillingen siger blandt andet, at personlige interviews med asylansøgere under krisen skal foregå ved videokonference eller udelades om nødvendigt, og det understreges, at karantæne og isolationsforanstaltninger skal være passende og uden forskelsbehandling.
Schinas tilslutter sig med ordene:
"I dag hjælper vi medlemsstaterne ved at offentliggøre vejledning om, hvordan fleksibiliteten i EU-reglerne kan udnyttes til at sikre videst mulig kontinuitet i procedurerne, samtidig med at der sørges for fuld beskyttelse af menneskers sundhed og rettigheder. Selv om vores levevis har ændret sig drastisk i de seneste uger, må dette ikke rokke ved vores værdier og principper."
Vejledningen blev offentliggjort i midten af april, på samme tid som EU indledte de første omfordelinger af uledsagede mindreårige fra migrantlejre på de græske øer. Omfordelingerne inkluderer 1.600 uledsagede mindreårige fra Grækenland til ti EU-lande: Belgien, Bulgarien, Frankrig, Kroatien, Finland, Tyskland, Irland, Portugal, Luxemborg og Litauen, såvel som ikke-medlemslandet Schweiz.
Schinas siger om de seneste omfordelinger:
"Initiativet viser Europa, når vi er bedst. I tider, hvor coronavirus slider hårdt på hverdagslivet, er det prisværdigt at se medlemslande opfylde deres forpligtelser og arbejde sammen for at hjælpe sårbare migranter på de græske øer. Jeg er taknemlig for de medlemslande, der deltager i initiativet og håber, at fortsat flere vil tilslutte sig os."
Den verdensomspændende pandemi har tvunget flere lande til at gå meget langt i forhold til at begrænse deres egne borgeres frihed under bekæmpelsen af COVID-19. Under disse forhold skulle man mene, at det måtte være muligt for EU, uagtet unionens fortsatte forpligtelse til at følge folkeretten, midlertidigt kan ophæve tredielandes statsborgeres ret til at rejse ind i EU.
Judith Bergman, klummeskribent, jurist og politisk analytiker, Distinguished Senior Fellow ved Gatestone Institute.