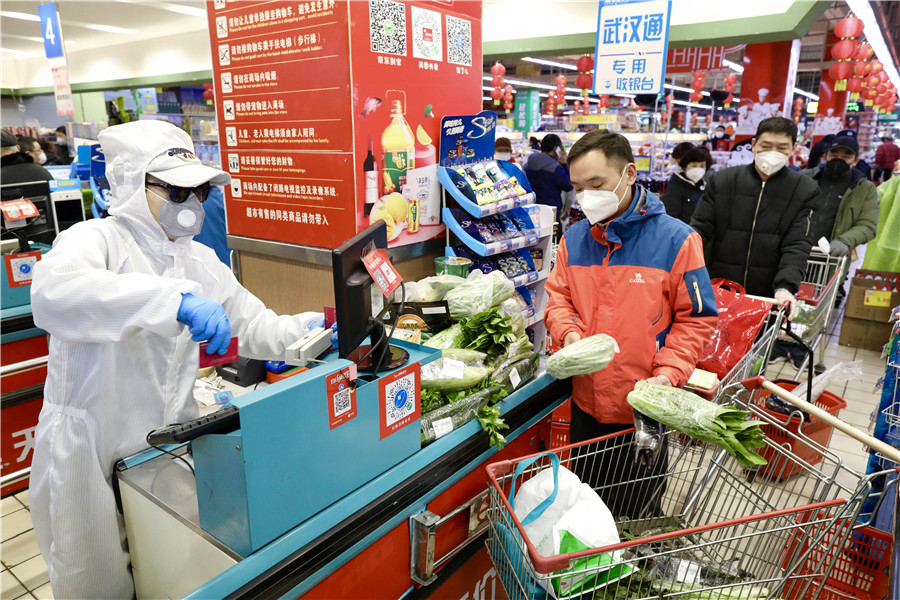 China is ramping up efforts to maintain supplies of daily necessities to Wuhan as well as their prices at a stable level, as part of the larger fight against the novel coronavirus pneumonia outbreak.
Wang Bin, deputy director of the department of market operations and consumption promotion at the Ministry of Commerce, said at a news conference earlier this month that the daily necessities markets in Hubei, the most affected province in China, are running smoothly.
The inventory is stable, and the prices of daily necessities have fallen further from the levels seen last month, he said.
Walmart is one among many retailers struggling to meet the rising demand for food and essential goods during this extraordinary period. It has taken a series of measures such as formulating emergency plans.
All of the 17 Walmart stores in Wuhan, capital of Hubei and the epicenter of the epidemic, remain open to offer daily necessities.
In the first 10 days of the coronavirus outbreak in Wuhan, Walmart's in-store shelf availability was maintained above 96 percent.
On the back of joint efforts across all of its departments, Walmart expanded the supply of vegetables and meats by 50 percent in Wuhan.
Walmart's country-wide data showed sales of nearly 1,000 metric tons of vegetables per day during the period from Jan 28 to 31.
In order to meet Wuhan residents' urgent needs for daily necessities, Chinese food delivery service giant Ele.me teamed up with many suppliers to set up fresh food pickup sites at local supermarkets. As of Jan 29, the first batch of 100 sites were fully open.
According to data from the Ministry of Commerce, on Feb 7, the vegetable trading volume at two major wholesale markets in Wuhan reached 3,000 tons, a substantial increase from the previous few days.
In addition, the meat supply in the three major supermarkets in Wuhan is adequate at any given point in time to meet the needs of consumers for up to 10 days.
The dynamic inventory system for vegetables there helps in maintaining sales for around three days. That is, the supply of vegetables continues even as sales continue, keeping the incoming and outgoing levels evenly matched.
The Wuhan municipal government is promoting the gradual restoration of operations at the local farmers' market. It is also organizing open-air street markets. By Feb 8, there were 14 street markets in operation, and more of them, and other markets as well, were gradually opening.
"From the later part of January, we have been able to secure the supply of necessities across the country, especially in key areas like Wuhan. And the prices are set to remain stable," said Chen Da, deputy director of the department of economy and trade at the National Development and Reform Commission.