Oil prices have come under pressure again but EOG Resources (EOG) can stand firm in this difficult period. The company is a low-cost operator that can generate free cash flows in a weak oil price environment. Although the Houston, Texas-based oil producer's earnings and cash flows will come under pressure if crude prices decline, it can withstand a tough period thanks to a rock-solid balance sheet.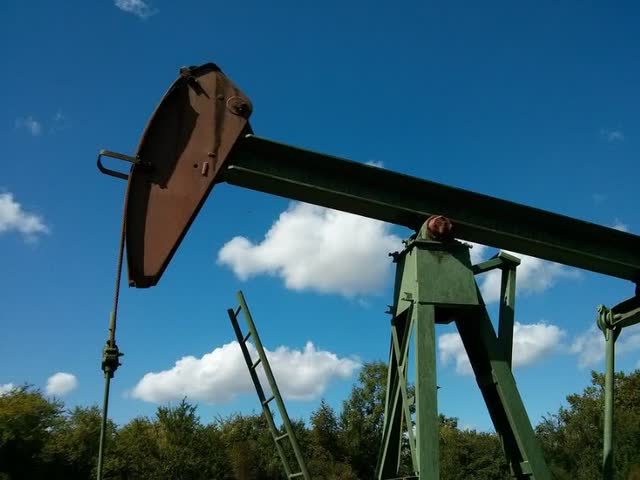 Image courtesy of Pixabay
The oil prices have come under pressure recently as markets worry about signs of weak demand. The US benchmark WTI crude, which has been hovering in the low-$40s a barrel range since early-January, fell to $37-$39 range after Saudi Aramco, the key OPEC supplier, slashed its prices for shipments to the US and Asia, with the price of its Arab Light grade for Asia coming in below-expectations, signaling low fuel demand from this key market. The fuel demand will also witness a seasonal decline in the US following the end of the summer driving season and the beginning of the refinery maintenance period.
Meanwhile, the coronavirus pandemic continues to ravage several countries around the world, including India, one of the world's top oil consumers, which has been reporting record growth in daily new cases. Some reports indicate the pandemic could be staging a comeback in parts of Europe. Although the US is witnessing a decline in infection rates, the virus continues to weigh on oil prices as many countries around the world are struggling to control the situation.
Low-Cost Operator
The oil prices may remain under pressure in the short term, which could weigh on the performance of US oil producers. EOG Resources, however, is a low-cost oil producer that can withstand weak oil prices. This was evident from the company's second quarter performance, which was one of the most challenging periods ever for the US oil producers who sold their output at average prices of $20s a barrel or even lower. EOG Resources realized oil prices of just $20.40 per barrel in 2Q20, down from almost $47 in 1Q20.
The company, like a vast majority of its peers, pulled back activity and curtailed an average of 73,000 bpd of oil production in the period. Its total production fell by 29% from 1Q20 to 623,400 boe per day in 2Q20, led by a 31% decrease in oil production to 331,000 bpd. The low prices and double-digit drop in production pushed EOG Resources to an adjusted loss of $0.23 per share from a profit of $0.55 in the previous quarter. But by curtailing activity and cutting costs, EOG Resources successfully preserved cash flows and ended 2Q20 with free cash flows of $194 million.
EOG Resources benefits from having a vast inventory of low-cost drilling locations that can generate decent returns in a weak oil price environment. The company owns approximately 10,500 untapped 'premium' drilling locations, or those wells that can generate at least 30% after-tax rate of returns in a commodity price environment of $40 oil and $2.50 natural gas. The size of this inventory is enough to power the company's production for more than 20 years at the current drilling pace under which the company brings 500 wells online in a year. The inventory also includes more than 4,500 locations that can yield more than 30% returns at $30 oil. A drop in oil prices hurts all E&P companies but EOG Resources, with its premium wells, is in a better position to face the downturn.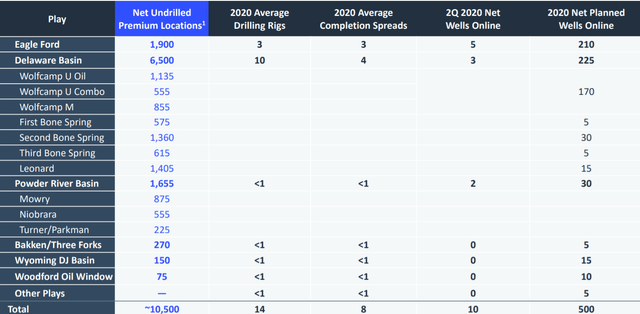 EOG Resources Premium Drilling Inventory. Image: EOG Investor Presentation 2Q 2020 [link provided earlier]
I think EOG Resources has also done a great job of reducing its costs which has bolstered its ability to face weak oil prices. The company is on track to cut its well costs by 12% this year, exceeding its original 8% cost reduction target. Its well costs at Delaware Basin and Eagle Ford, two of the company's primary shale oil-producing assets, have already fallen substantially since last year and with support from efficiency gains and service cost deflation, could decline further by the end of the year. At Delaware Basin's Wolfcamp U play, for instance, EOG Resources has brought its well costs down to $6.4 million from $7 million at YE-2019 and expects to cut them to $6 million by the end of the year.
Its cost structure, measured in terms of cash operating costs on a per unit basis, is also getting better. The company reported cash operating costs of $12.36 per boe for 1Q20 and $13.40 per boe for 2Q20. The increase in unit costs from 1Q20 to 2Q20 is understandable, considering the decrease in production, but I think the fact that EOG Resources has been successful in keeping operating costs below last year's average of $13.66 per boe in 2Q20 is commendable.
Free Cash Flows Ahead
As a reminder, EOG Resources has substantially reduced this year's capital budget by more than 45% from its original estimate to around $3.5 billion and reduced drilling activity as it prepared for a low oil price environment. With low CapEx and cost-cutting efforts, the company is in a position to generate free cash flows in a sub-$40 a barrel oil price environment. At $40 oil, the company has said that it can generate enough free cash flows to fully fund its dividends.
Therefore, I think that even if oil prices fail to improve meaningfully and continue to hover in the high-$30s to low-$40s a barrel range, EOG Resources will be in a position to raise enough cash flow from operations to fully fund all of its capital expenditures and a vast majority, if not all, of its dividends. Moreover, as EOG Resources further cuts down its well costs and the per unit cash operating costs by the end of this year, it could bring its cash flow break-even point lower. I believe that with the successful cost-cutting efforts, the company will get to a point where it can cover both its capital expenditures and dividends with mid-to-high-$30s a barrel oil prices under the current drilling plan.
Key Risks
For these reasons, I think EOG Resources can generate ample cash flows in a weak oil price environment. That being said, it is important to remember that the company's earnings and cash flows will come under pressure if the global oil market's fundamentals deteriorate and prices fall to the low-$30s a barrel or into the $20s a barrel range. At low-$20s a barrel, EOG Resources may not turn a profit, as evident from its second quarter results. Also, EOG Resources has monetized its crude oil hedges and its cash flows are highly exposed to oil price weakness. In a low-$30s a barrel oil price environment, the company likely won't generate any free cash flows.
But in my opinion, EOG Resources is also in great financial health and can withstand another possible crash in oil prices. The company might face a cash flow deficit if oil prices plunge but with low levels of debt and robust liquidity, I believe EOG Resources' balance sheet can easily absorb the cash flow shortfall. The company carried $5.72 billion of debt at the end of the second quarter which translates into a debt-to-equity ratio of 28%, which I believe is one of the lowest among all mid-to-large-cap oil producers. It also has $4.4 billion of liquidity, which includes $2.4 billion of cash reserves and $2 billion available under the revolving credit facility. I think this liquidity is enough to meet any short-term funding requirements.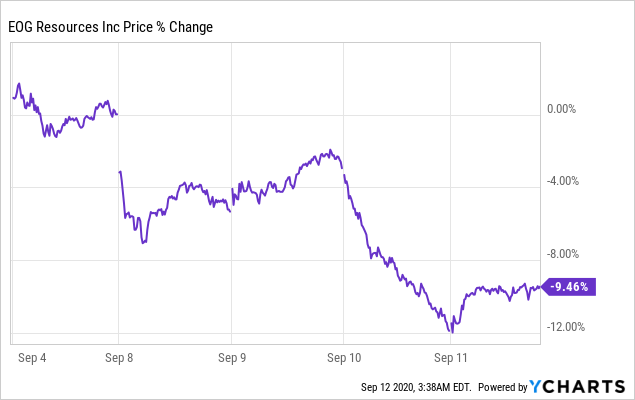 In my view, EOG Resources is a well-managed and a high-quality oil producer that can deliver a decent performance in the downturn, as evident from its second quarter results, and thrive when oil prices recover. EOG Resources is one of the highest-quality oil stocks around that typically trades at a premium over peers. The company, with its low-cost asset base, should deliver a superior performance than its peers in a weak oil price environment and its earnings and cash flows will surge as oil prices recover.
The company's shares have fallen by 9.5% in the last five days due to the weakness in oil prices and are currently trading at 6x in terms of an EV/EBITDA (forward) multiple, substantially below the sector median of 7.5x, as per data from Seeking Alpha Essential. I think long-term-oriented investors should consider buying EOG Resources stock.
Disclosure: I/we have no positions in any stocks mentioned, and no plans to initiate any positions within the next 72 hours. I wrote this article myself, and it expresses my own opinions. I am not receiving compensation for it (other than from Seeking Alpha). I have no business relationship with any company whose stock is mentioned in this article.