EOG Resources (NYSE: EOG) has an impressive portfolio of assets as a leading American oil company. The company is focused on increasingly high margins with its impressive portfolio of assets. The company plans to turn that strong financial rewards. That continued performance makes EOG Resource a quality investment.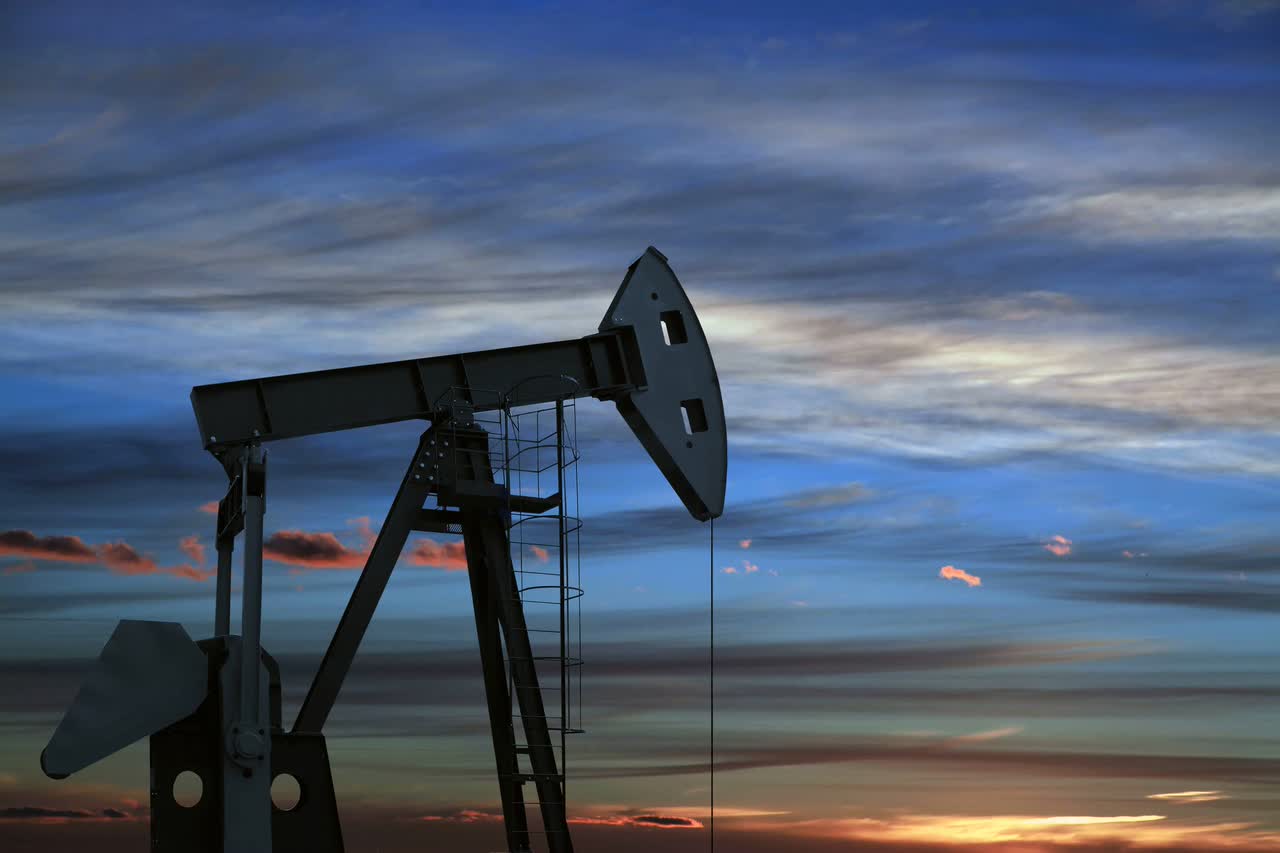 EOG Resources – The Motley Fool
EOG Resources Premium Asset Profile
EOG Resources has a premium asset portfolio that supports the company's continued cash flow generation.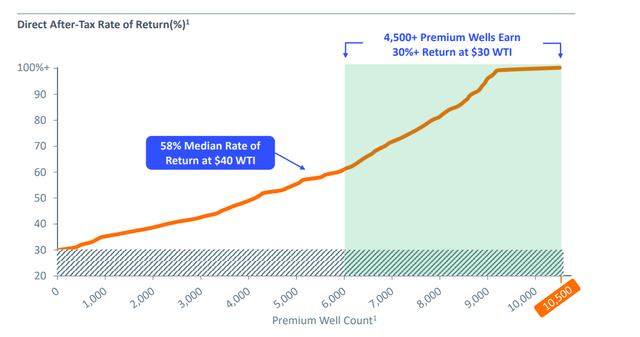 EOG Resources Wells – EOG Resources Investor Presentation
EOG resources has a massive portfolio of premium wells with 10500 premium wells. The company has 4500+ premium wells with a 30%+ return at $30 WTI. Overall, the company has a 58% median rate of return at $40 WTI as it continues to drill these wells. With WTI back over $40, the company's entire portfolio has the potential for exciting returns.
The company has reduced its finding and development costs to less than $8 / barrel and improved its capital efficiency to $30 thousand / barrel per day added. That implies a 3-year payoff for new production. The company's capital spending has declined significantly and the company is well positioned to generate strong shareholder returns.
EOG Resources Premium Financial Results
These strong assets point towards the ability to provide premium financial results.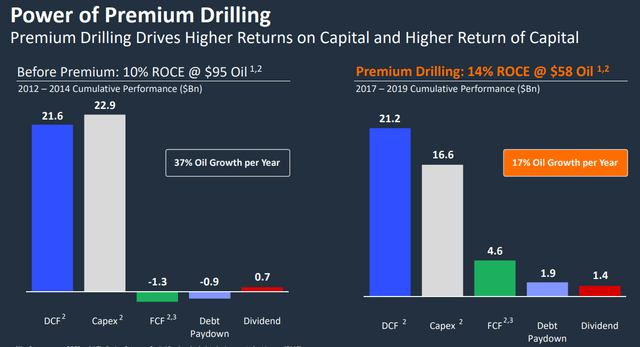 EOG Premium Drilling – EOG Investor Presentation
The improvements in the company's portfolio is clearly visible above. The company went from 37% annual growth from 2012-2014 to 17% growth per year from 2017-2019. However, in exchange, the company managed to earn $4.6 billion in FCF paying off $1.9 billion in debt and $1.4 billion in dividends. That's a near 3.5% annualized dividend.
The company earns a 14% ROCE at $58 oil, with continued growth in its business. The company has cut its capital spending significantly and should be able to continue performing well. The company's maintenance capital is $3.4 billion and the company had $200 million in FCF in 2Q 2020. Continued FCF means continued shareholder returns through a downturn.
EOG Resources 2020 Results and Outlook
EOG Resources has more than 10 billion barrels of resource potential that it is continuing to derive value from.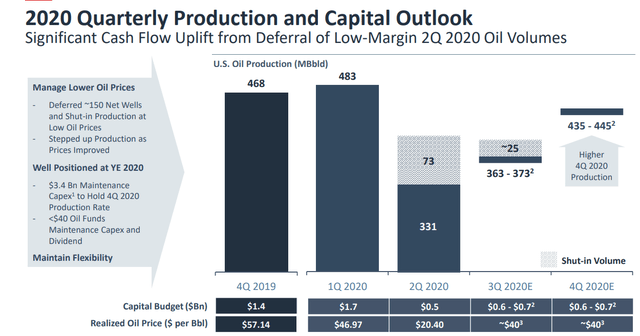 EOG Resources Quarterly Production and Outlook – EOG Resources Investor Presentation
EOG Resources had 1Q 2020 production at more than 480 thousand barrels / day, where shut-in volume pushed it to 330 thousand barrels / day in 2Q 2020. The company plans to move back towards 440 thousand barrels / day by 4Q 2020. Going forward into 2021, with the company's $0.85 billion / quarter in sustaining capital, production should remain constant.
The strength of the company's business is that at <$40 WTI will support maintenance capital spending and its 3.5% dividend. That's below current oil prices. Past that, each $1 / barrel means another $40 million in FCF quarterly. With a $25 billion market capitalization, a $10 / barrel improvement means $1.6 billion in annual FCF at $50 WTI post dividend.
That means that at $50 WTI the company can provide double-digit shareholder rewards. Past that, going into prices such as 4Q 2019, the company provide much higher shareholder rewards.
EOG Resources Potential
Long-term, EOG Resources has significant potential to reward shareholders.
had $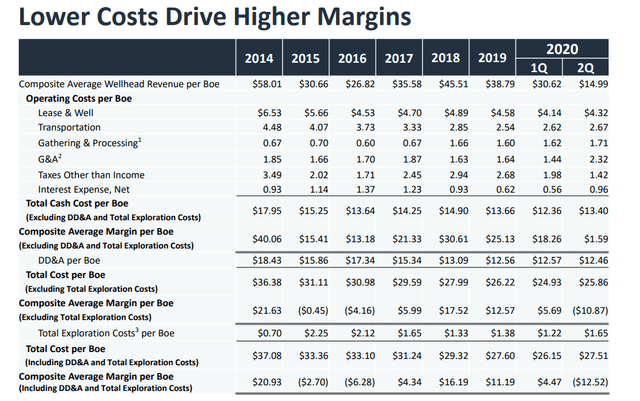 EOG Resources Margins – EOG Resources Investor Presentation
The company had $11.19 in composite average margins per barrel in 2019. For U.S. production that means $1.8 billion at current prices but the 2Q 2020 production run-rate. Switching to 2018 levels, that means $2.7 billion at those realized prices. That's a double-digit realized yield, which is the ability to generate strong returns for shareholders.
The company has strong ability to generate rewards from shareholders through this. That helps support long-term shareholder rewards. EOG Resources has $5.7 billion in long-term debt, an incredibly manageable level for the company. From 2017-2019 the company averaged $1.6 billion in annual FCF.
As it cuts capital spending from its $5.6 billion annually to $3.4 billion that's a $2.2 billion in annual FCF increase. Fifty thousand less high cost barrels means $750 million less. The company will be able to earn $3 billion in annual FCF and generate double-digit shareholder rewards for those that who take the opportunity to invest today.
EGO Resources Risk
EOG Resource's risks continue to be the same risks that all major oil companies face. The company's risk is the risk of longer term oil price declines if COVID-19 re-surges. So far, that's appearing not to be a risk, especially with continued work on a vaccine, potentially by the end of the year. However, it could always come back.
Conclusion
EOG Resources has an impressive portfolio of assets. The company has a massive portfolio of impressive assets with more than 10 billion barrels of assets and >4500 wells with a 30+% return at $30 WTI. The company plans to reduce sustaining capital to $3.4 billion with a roughly 10% decline in production.
Going forward, we expect the company to generate significant FCF. After removing high cost production, the company has the ability to earn $3 billion in FCF assuming prices return to the old 2017-2019 average. That's a double-digit FCF yield at normal prices and it highlights th strength of the company's overall portfolio.
The Energy Forum can help you generate high-yield income from a portfolio of quality energy companies. Worldwide energy demand is growing and you can be a part of this exciting trend. 
Also read about our newly launched "Income Portfolio", a non sector specific income portfolio.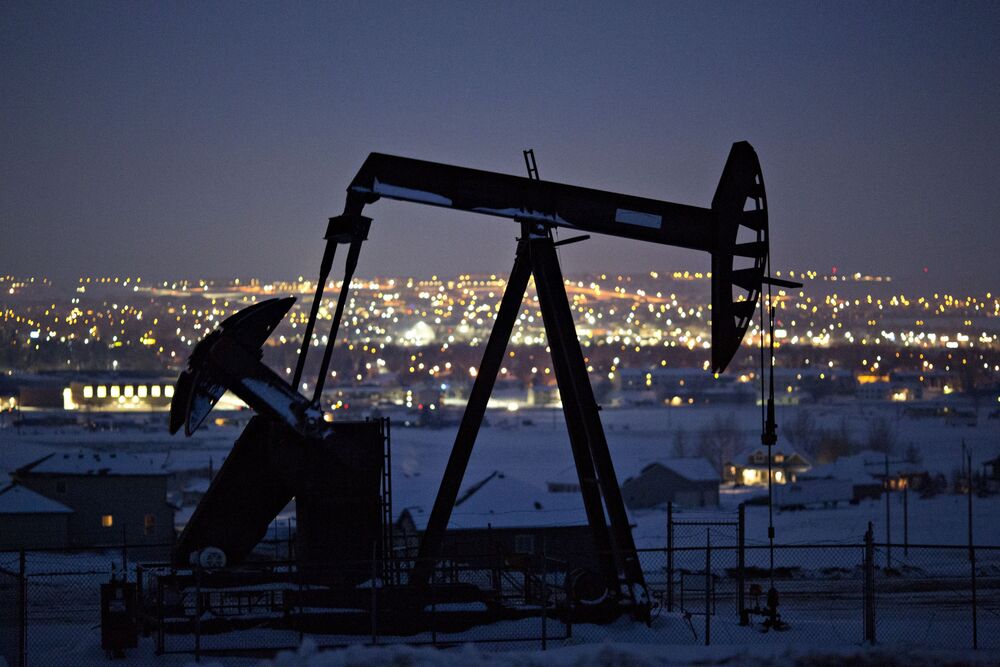 The Energy Forum provides:
Managed model portfolios to generate high-yield returns.
Deep-dive research reports about quality investment opportunities.
Macroeconomic market overviews. 
Click for a 2-week free trial, with an unconditional money back guarantee and 47% off of our popular annual plan! There's nothing to lose and everything to gain!
Disclosure: I am/we are long EOG. I wrote this article myself, and it expresses my own opinions. I am not receiving compensation for it (other than from Seeking Alpha). I have no business relationship with any company whose stock is mentioned in this article.