Most of my readers know that I cover several eCommerce companies like Blue Apron (APRN), HelloFresh (OTCPK:HLFFF), and B2W Digital (OTCPK:BTOOY). E-Commerce companies like the ones just mentioned require me to be up to date on new trends, and while I was studying these recent trends, I came across Emerging Markets Internet & eCommerce ETF (EMQQ). Year-to-date, EMQQ is up 43.82%, while the NASDAQ and QQQ are only up by 23.9% and 28.1%, respectively. What enabled EMQQ to outperform the market, and is it possible it will continue to do so in the future?
EMQQ is focused on emerging markets that typically offer faster growth rates but are riskier than developed markets. EMQQ has exposure to over ten different currencies, and less than 1% of that exposure is USD. Almost 60% of EMQQ's portfolio is made of Chinese companies, and these companies may suffer from the U.S. and China trade war.
Important Market Trends For EMQQ
To be included in EMQQ, a company must derive more than half of its revenue via the internet or from eCommerce sales, and this revenue must come from emerging or frontier markets. Another requirement to be a part of the EMQQ index is a minimum size requirement where a company's market cap must be at least $300 million, and its stock must have an average daily trading volume of 1,000. The product of these requirements should be an index of emerging market eCommerce focused companies that have a decent track record.
Figure 1 – Market Exposure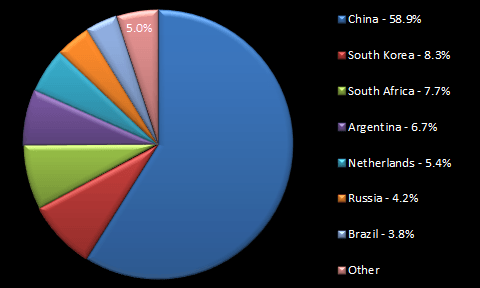 Source: EMQQ ETF Report
EMQQ gives its investors exposure to internet and eCommerce companies in twelve different countries. It also offers investors exposure to twelve foreign currencies. As seen in Figure 1, Chinese companies have a weight of almost 60% in the index. As a total, EMQQ has a total exposure to Asia of 69%. If you can accurately predict what will occur in Asia, then you should be able to estimate the future performance of EMQQ.
Figure 2 – Chinese Internet Usage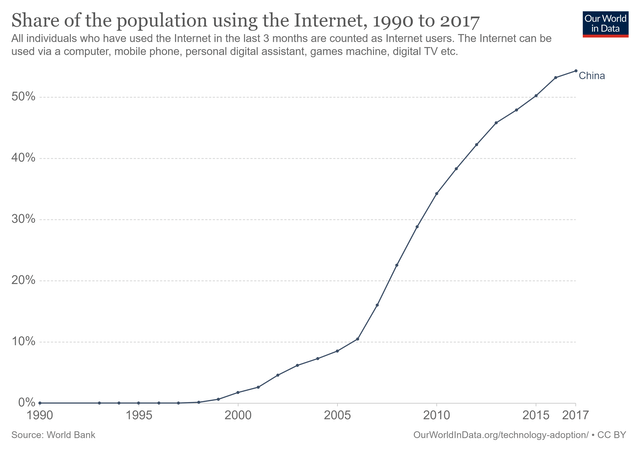 Source: Our World In Data
As seen in Figure 2, in 2006, the number of Chinese using the internet began to increase at an alarming rate. From 2016 to 2017, it seems as if the share of the population using the internet is leveling off, but I believe it is not. I found estimates that China's internet usage has increased by 500bps over the past two years. These numbers are estimates based on sample data from the population, so it isn't 100% accurate, but it should lead us in the right direction.
Figure 3 – Internet Users In China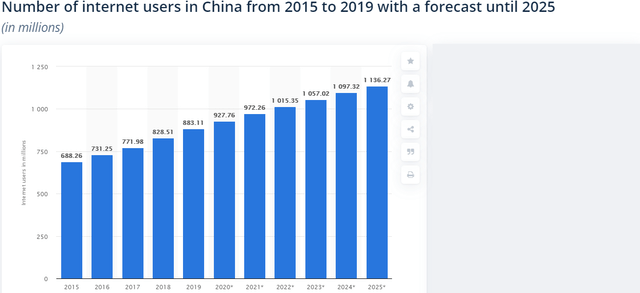 Source: Statista
As seen in Figures 2 and 3, Chinese internet usage has been consistently growing since 2000. From 2015 to 2019, the number of internet users in China grew at a CAGR of 6.4%. As seen in Figure 3, internet users are still expected to increase but at a slightly slower CAGR of 4.3% (2019 – 2025).
Cybersecurity Ventures believes that by 2030 90% of the world's population will be internet users. Currently, a little over 50% of the world's population is connected to the internet. As the percentage of the people that use the internet increases, it is logical to expect eCommerce sales to increase too.
Figure 4 – Global eCommerce Revenue Growth

Source: Statista
According to the information in Figure 4, global eCommerce sales are expected to grow by 11.4% (CAGR 2019-2024). From 2017 to 2019, the CAGR of eCommerce sales was 18.1%. During the same period, EMQQ's price increased by 22.3% ("CAGR").
EMQQ Appears To Be Overvalued In Short-Term
The coronavirus caused governments around the world to put their citizens on lockdown. During this time, the market set its sights on eCommerce companies with the belief that some level of consumption must continue, and eCommerce was the only way for that to happen. Companies like Blue Apron, whose stock price has done nothing but decline since its IPO, went from $2.50 to $10.00 in a matter of days while the rest of the market declined.
What occurred with Blue Apron also occurred with stocks in EMQQ's portfolio. I am building a Price to Earnings model for EMQQ, and during this process, I noticed that several companies' stock price increased while the market expects their EPS to decrease in 2020. For example, Pinduoduo , Inc. (PDD) stock price increased by 124% while its EPS is expected to reduce by 10%. I estimate that around 40% of the index is trading above their average P/E multiple ranges.
I have gathered the information on the top twenty (80% of the index's weight) companies in EMQQ's portfolio, and I estimate that EPS should grow by 2% compared to 2019.
Conclusion
Global eCommerce sales should continue to grow at low double-digit rates fueled by the increase in population and the percentage of people using the internet. Emerging Market eCommerce and Internet companies should reap the rewards of this growth rate in the long-term. In the short-term, I believe EMQQ is overvalued based on the following idea. Global eCommerce sales are expected to increase by 25.5% in 2020 (y-o-y), while 40% of the companies in the index have TTM P/E ratios that are less than their Fwd P/E ratios. I take this to mean that analysts are trading on future growth beyond 2020. Future growth beyond the year 2020 is expected to be 11.4%, yet EMQQ price increased by over 40% this year, leading me to believe the ETF is overvalued in the short-term.
If you like what you read, please "Follow" me via Seeking Alpha. I typically only cover the Brazilian markets, the Robotics Industry, and the Food Industry.
Disclosure: I/we have no positions in any stocks mentioned, and no plans to initiate any positions within the next 72 hours. I wrote this article myself, and it expresses my own opinions. I am not receiving compensation for it (other than from Seeking Alpha). I have no business relationship with any company whose stock is mentioned in this article.