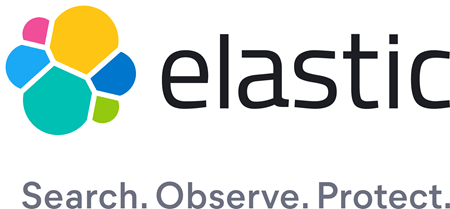 Source: Elastic
Elastic N.V. (NYSE: ESTC) is a "Buy," in my opinion. It operates in some of the industry's hottest areas: Search, Observability, and Security (particularly SIEM and Endpoint Protection). Elastic is special in the way it works as an organization, with a distributed workforce and a developer-first philosophy for its products pushing bottom-up adoption. The company's strengths lie in exploiting network effects effectively rather than the technical prowess of any singular offering. This might just be what the market is missing, leading to a valuation discount compared to other businesses with similar growth metrics.
In this article, I highlight the product ecosystem, organizational structure, and competitive landscape. My key gripes for the company are regarding competition, but the other positive factors and valuation tilt my thesis towards a bullish view. Analysts are already forecasting significant deceleration and I think there's a chance the company will surprise investors.
Elastic's Growing Product Ecosystem
At the moment, Elastic's product ecosystem offers a collection of products and services that span a few emerging software sub-industries. Elastic's roots, however, are grounded in Search. In essence, Elastic helps enterprises with search tools that they can use for their workplaces, apps, websites across both internal and external use cases. All data, structured or unstructured, and all files, logs, metrics, across different enterprise architectures resting on different hosts can be searched. Given the complexity and decentralization of the modern enterprise with its collection of digital transformation tools across hybrid and multi-cloud architectures, with rapidly expanding data sets, one can sense how Search can be incredibly powerful. Search is difficult to implement, get right, and scale seamlessly. This is where Elastic has come in and thrived by offering leading solutions. Further information on how Elasticsearch works can be found here.

Source: Q1 FY2021 Earnings Presentation
The company has expanded beyond its core competencies in Search and offers solutions for Observability and Security. Considering the sheer amount of data Elasticsearch touches, Observability seems like a natural evolution for the company to provide a birds-eye view of all information. The Observability ecosystem covers Log Monitoring, Infrastructure Monitoring, and Application Performance Monitoring (APM). With observability across all information, processes, and infrastructure, one might say it becomes easier to detect anomalies. This is where Elastic's security products enter. The company offers Security Information and Event Management (SIEM) and Endpoint Protection.
While these terms may seem like disparate sub-industries in the complex IT world, it is important to note how and why Elastic offers the solutions it does. After what started as a tool that just searched all the data in an enterprise, the company seems to have asked what more it could do with all the data it touched and then proceeded to build solutions horizontally that integrate and unify these disparate factions of IT. To me, that's innovative and provides network effects that hold strong for businesses that adopt Elastic by providing up-sell opportunities and stickiness due to cross-product integrations. While there are businesses that tackle a singular product/tool and expand within defined verticals, it is rare for a high-growth company to spread across multiple industries very quickly and show results. This speaks highly of the management's approach to risk-taking/expansion and is something I look for in potential investments.
Organizational Setup & Working Culture
Elastic's original products were built around open-source and scaled organically by viral adoption from developer communities. The company is a great example of bottom-up adoption that eventually made its way to medium and larger enterprises. Its organic growth can be attributed to a particularly unique management structure that is grounded in a dev-first philosophy and runs a geographically distributed network of employees. Management has perpetuated a culture of work-life balance, curiosity and experimentation, and embracing diversity.
Our products are distributed by design, our company is distributed by intention. With many languages, perspectives, and cultures, it's easy to lose something in translation. Over email and chat, doubly so. Until we get a perpetual empathy machine, don't assume malice.

A distributed Elastic makes for a diverse Elastic, which makes for a better Elastic.
Elastic is one of the most respected companies in the open-source community and going by Glassdoor reviews, many employees enjoy the distributed work culture. The CEO, Shay Banon, has one of the highest approval ratings in the industry according to Comparably. Index Ventures, one of Elastic's major VC backers has a particularly interesting article on Elastic's work environment here. I believe Elastic's viral adoption stems from some of these factors, particularly developer appeal. This should be viewed as a key competitive strength and a differentiator when several other software businesses have a more pre-packaged and less transparent approach to their products/services.
That said, I am a bit sceptical on the effectiveness of Elastic's organizational structure to take on the product areas it is tackling with focus. Overly segmented workforces may lead to disparate products that don't cohesively solve problems and may lead to disadvantages in selling to potentially larger enterprise customers. While it is apparent that the network effects of Elastic's product ecosystem are strong advantages, focused product suites that are technologically superior may present challenges from a competition standpoint.
Competitive Landscape
I arranged a few competitors that came up repeatedly in my research into the Venn diagrams below. G2 Crowd and Gartner provided clarity on the businesses that operate in one or more sub-industries. Note that the diagrams are not meant to be entirely accurate and were constructed to give only a rough idea on the competitive landscape. Only notable leading players in each space have been acknowledged.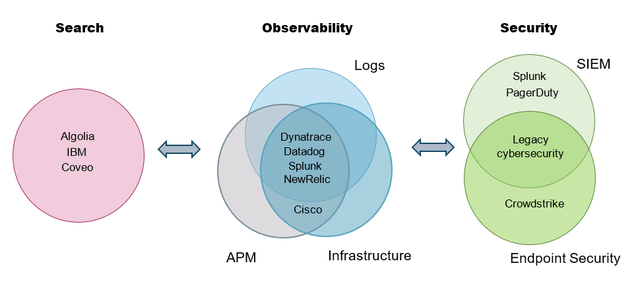 Source: Author
Splunk (NASDAQ: SPLK) appears to be the most direct big-enterprise level competitor offering full Observability solutions and an industry-leading SIEM platform. Within observability, Dynatrace (NYSE: DT) is widely considered as a leader. It first began in APM and is now attempting to conquer total observability. The hyper-growth Datadog (NASDAQ: DDOG) also began as a cloud infrastructure monitoring tool and is attempting the same. Observability is uniting, and any individual players without a major tech or network advantage might see a difficult road ahead. It is clear that while opportunities are abundant in Observability and Security (SIEM and Endpoint), Elastic has been relatively late to these crowded markets and is likely hoping for up-sell and network effects to sustain peripheral growth outside Search. As for Search itself, there are a few notable players.
Within Search, Elastic's core competence, Algolia offers some real competition.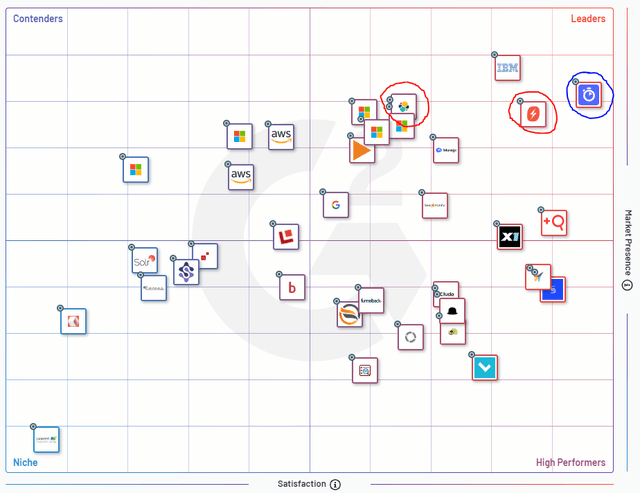 Source: G2 Crowd, G2 Grid for Enterprise Search Software (Live)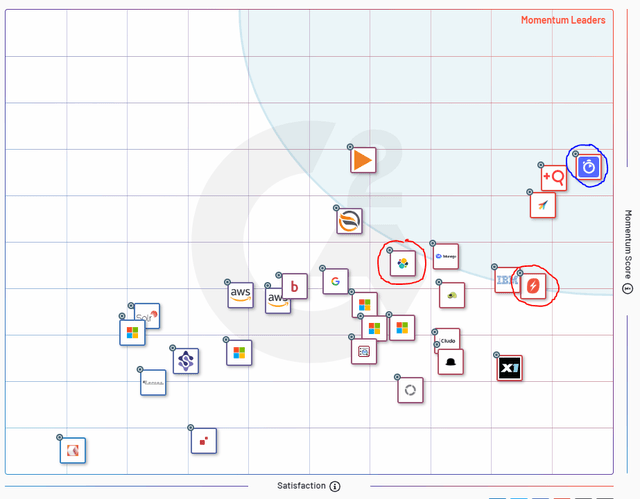 Source: G2 Crowd, G2 Grid for Enterprise Search Software (Trending)
Elastic recently bought over Swiftype, another search company that caters to e-commerce. Elasticsearch and Swiftype are represented as separate solutions in the above grids and are circled in red. Algolia is circled in blue. The G2 grids should be taken with a grain of salt as they're sourced from community reviews and there may be several variables that account for differences. Algolia had higher satisfaction, market presence, and momentum, with a significantly higher presence among small businesses in particular.
Algolia boasts customers like Salesforce (NYSE:CRM), Adobe (NASDAQ:ADBE), and Twitch against Elastic's customers such as Facebook (NASDAQ:FB), eBay (NASDAQ:EBAY), Uber (NYSE:UBER), and MercadoLibre (NASDAQ:MELI). It also claims to be 200x faster than Elasticsearch in certain use cases and generally better for relevance. Some customer reviews have stated that Algolia's autocomplete results in search are often "instant." The impressive technology can be attributed to engineers developing the search engine from the ground up instead of layering upon an existing open-source solution. Here's a multi-part blog that explains it in considerable detail. In late 2019, Algolia raised over $110m in a Series C from Accel and Salesforce's venture arm. My limited understanding of the tech tells me it should be taken seriously as a future competitor.
The takeaway here is that Elastic is a challenger at best in Observability and Security, and a leader in Search with notable competition on the horizon. From a tech standpoint, Algolia looks strong and is gaining traction. Neutral sources such as G2 and TrustRadius point towards Algolia as an excellent product with stellar customer reviews. Elastic might be subject to pricing pressure in a domain in which it once enjoyed clear leadership. While I like how spread out the product ecosystem is and the company's philosophy, there's some risk that it transforms into a jack-of-all-trades and will have difficulty grabbing market share in the future. Elastic seems to benefit more from its network effects and dev-appeal, rather than its core technical capabilities.
Growth Metrics & Financial Performance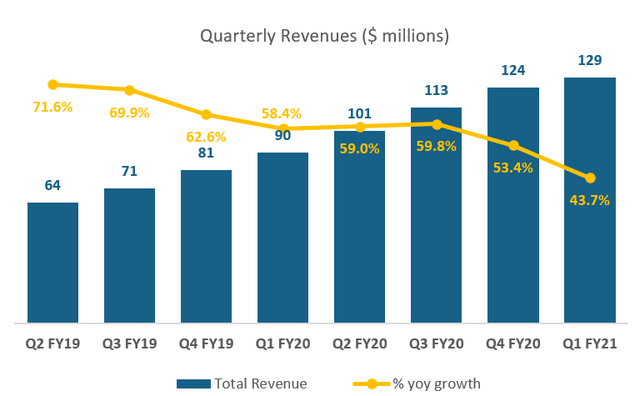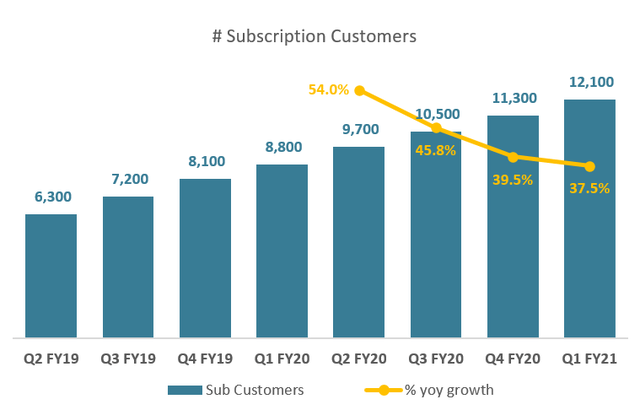 Source: Author, Data from Quarterly Results & SEC Filings
Q4 FY2020 includes the month of April for Elastic and therefore experienced a large impact from the pandemic. Management noted longer sales cycles and impacted industry verticals in the last quarter. Large-contract customers with an ACV of >$100k saw more pronounced deceleration in growth compared to the total customer base. The net result was still a respectable +43.7% yoy sales growth for the last quarter ending late July. Before the last two fiscal quarters, revenue growth was slightly accelerating with Q3 FY2020 recording +59.8% yoy which was a fantastic sign of elevated adoption.
Roughly 95% of total revenues are generated from subscription services, most of which are adopted on a self-managed basis. It is important to note that Elastic offers both on-premise and cloud offerings and only 25% of its total revenue as of last quarter came from a pure SaaS model. Pricing scales roughly with how much Elastic is used rather than being set in stone and is reflected in quarterly earnings. Throughout the past several quarters, the dollar-based net expansion rate has been over 130%, amongst the highest across all software stocks.
Overall, the company is posting strong numbers and while the pandemic has led to some slowdown in growth, longer-term adoption should be stable with tailwinds to support it. C-19 has accelerated digital transformation and Elastic is operating in some of the hottest sectors that stand to benefit. For the last quarter, the company guided +36% yoy growth and scored +44% yoy. For the upcoming quarter, guidance stands at +30%, taking the high-end of $131m of its revenue range. I'll be surprised if it doesn't comfortably outperform again since it has had a long history of under-promising and over-delivering on guidance even pre-pandemic.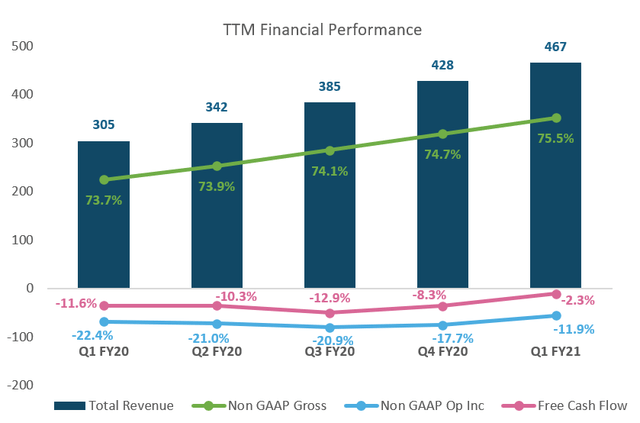 Source: Author, Data from Quarterly Results & SEC Filings
The above chart presents financial performance on a TTM basis to smoothen the effects of seasonality and identify general trends for a long-term outlook.
Elastic spends liberally on R&D compared to its peers, which isn't surprising how quickly the company is growing its product offerings and tackling new industries. This factor also bakes into the net expansion rate which has remained over 130% despite the pandemic headwinds, likely due to up-sell. Non-GAAP Operating margins are negative and FCF is near breakeven. I'd like to emphasize that this isn't the result of a poorly run company but instead a representation of continued investment in new products and sales. The ability to take profits is present but the long-term durability of any software company lies in growth and ecosystems of products instead of a single mature service. That's what differentiates a perpetual innovator from an acquisition target. The addressable markets for Elastic's products are fairly open to capture globally. With a TTM growth rate of 53.2% yoy and an FCF margin of -2%, the balance between growth and profitability is fair in my opinion.
Valuation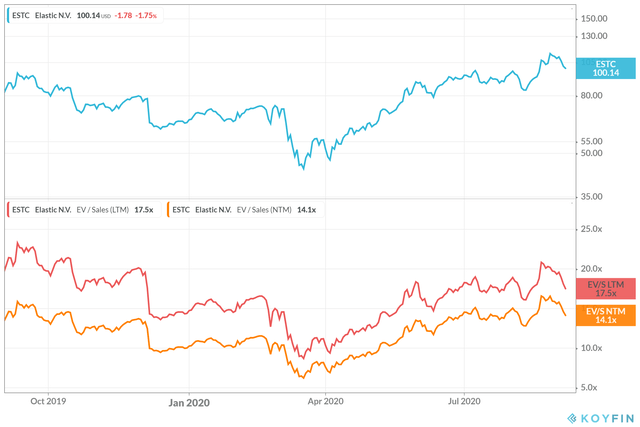 Source: Koyfin
I was first drawn to Elastic after glancing at the growth metrics, financials, and valuation. Going just by the numbers, Elastic would be undervalued on a relative basis compared to other hyper-growth software stocks with large TAMs. This can be partially attributed to the company's position in the competitive landscape. Elastic's Search dominance going forward isn't certain, and the company is just a challenger within Observability and Security. On the other hand, the dev-first philosophy and the way the product ecosystem works together differentiate the company. In my experience, these network-effects and ecosystem advantages often go overlooked by investors as a source of sustainable value creation. With new products and enough up-sell, growth can remain high as well as sticky. The 130% expansion rate is evidence that this approach has been working so far. Elastic is still young with a long-product roadmap to execute on within each of tts target markets.
At an NTM EV/S of 14.1x, there's compelling upside given the secular tailwinds at play and still strong growth rates. It isn't far-fetched to say that Elastic can theoretically double its top-line in 2.5 years with only minor contraction in multiples if it continues releasing and selling new products. Analysts forecast an FY2023 EV/S of 10.2x and a yoy growth rate of 18.6%, according to Koyfin. In my opinion, the forecasts are conservative for forward-sales estimates given the company's track record of expanding its TAM by new products and entering different industries. All in all, I think it's worth an investment despite the competition.
Risks
Competition: Elastic's network effects may not hold against superior tech solutions, which could lead to faster-than-anticipated deceleration in sales or churn.
Systemic Risks: As a high growth stock, ESTC is subject to volatile price action and large drawdowns. This may be caused by the markets turning risk-off or through a general rotation out of tech stocks given current valuations.
Economic Risks: Customers may reduce spending or tighten IT budgets that could lead to lower adoption of Elastic's products.
Financials: The company is still burning cash and operating margins are negative; a particularly challenging macro outlook could add financial pressure.
FX Risks: A sizeable portion of Elastic's sales come from outside the US.
Conclusion
Elastic has a meaningful moat in my opinion and its strength lies in its ecosystem and approach to building developer-friendly products that keep appealing to end users. This factor might be overlooked if viewed through a lens of direct product-to-product comparisons on technical strength and market leadership. The 130% expansion rate and growth rates offer evidence of its unique strategy working in the past. Elastic is a company that is proficient in utilizing network effects that keep adding to its TAM and sales. That said, it's worth keeping a close eye on competition and signs for deceleration in sales growth. At the current valuation, ESTC is a "Buy" in my opinion.
Disclosure: I am/we are long DT, ESTC. I wrote this article myself, and it expresses my own opinions. I am not receiving compensation for it (other than from Seeking Alpha). I have no business relationship with any company whose stock is mentioned in this article.