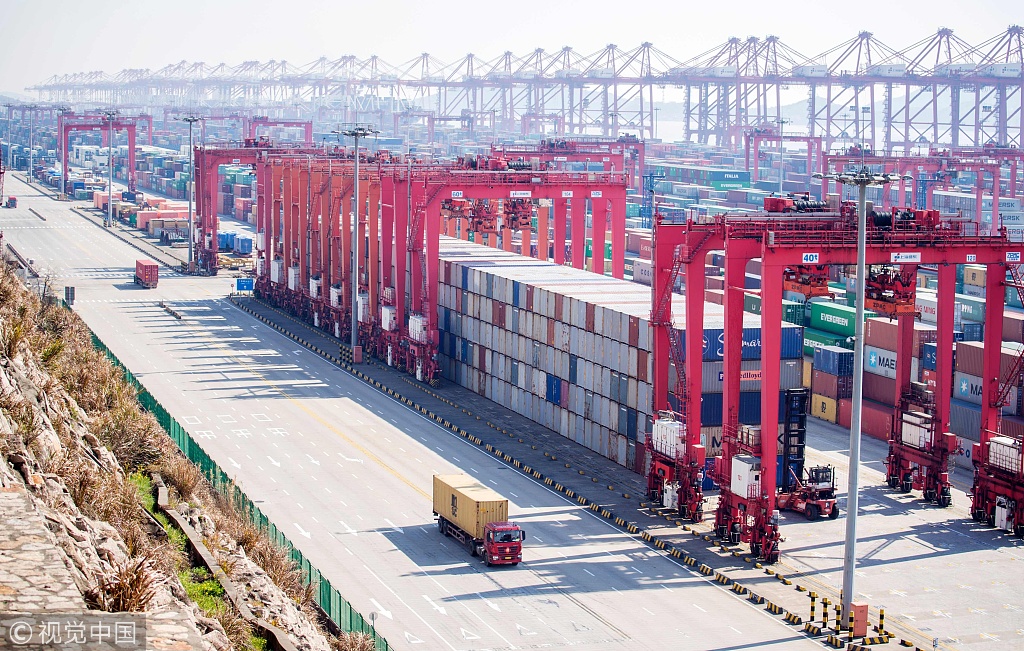 Asian political figures and economic experts have expressed common concerns over the intensifying trade dispute between China and the United States and are calling for integrated efforts to address global challenges like unilateralism and protectionism.
"We are all facing an upcoming economic crisis," warned Chen Deming, former minister of commerce.
Chen made the remark at a two-day gathering in Tokyo last week at which political, economic and academic leaders from the Asia-Pacific region shared concerns on the region's future.
Chen said that Asian countries should unite to build a fair and transparent new international economic order and turn crises into opportunities.
Cambodian Prime Minister Samdech Techo Hun Sen said that Asia is facing complex and complicated challenges, especially from "protectionism, trade wars and geopolitical crises".
Chen said that Asian nations have participated in and upgraded global value chains, leading to improved regional economic integration and deeper involvement in the global economy. "Asia, has gradually become the most promising region for growth and an important constructive force for global economic governance."
He urged Asian countries, especially China and Japan, to cooperate in a mutually beneficial way to plan for the long-term prosperity and stability of the region and the world.
Chen said the economic structures of China and Japan are highly complementary as Japan is an international leader in fields such as high-end manufacturing, artificial intelligence, hydrogen fuel cells and ecological conservation, while China has over 400 million middle-income citizens which means "enormous consumption potential".
"It is only a matter of time before China becomes the world's largest market for consumer goods," Chen said. "In the coming 15 years, it is estimated that China will import over $30 trillion in goods and $10 trillion in services."
To promote regional integration in Asia, Chen said it is imperative to reach consensus in the Regional Comprehensive Economic Partnership and China-Japan-South Korea Free Trade Agreement negotiations as soon as possible.
"I believe that the conclusion of market access negotiations between China and Japan will send a positive signal to all negotiating parties and contribute to the objective of reaching an agreement within this year."
Fearing an escalated China-US trade dispute could undermine countries like Cambodia, Hun Sen said Asia's achievements are mostly derived from promoting free trade and multilateralism.
"Globalization is a trend that has spurred significant economic growth and created unprecedented conditions for poverty reduction," he said, adding that unilateral decisions only "destabilize state-to-state relationships and raise tensions in the international community".
Malaysian Prime Minister Mahathir Mohamad urged the US and China to make concessions in their disputes, and also referenced US moves against Chinese tech giant Huawei.
"While the US has long had a strong research and development capability, they must accept that this capability can also be found in the East."
Concerning the current stance the US has taken toward China, Heng Swee Keat, Singapore's deputy prime minister and finance minister, said, "The US has to accept that it has no better option but to work with China because trying to contain it will result in worse outcomes."