EDAP (EDAP) is surviving the drought of hospitals buying new stuff as a result of the pandemic being quite a bit better than many would have thought, which is why their share price has recovered nicely after encouraging Q2 results:

We wrote in October last year that the company was at an inflection point and indeed, the company was well on the way to promising financial results when the pandemic interfered: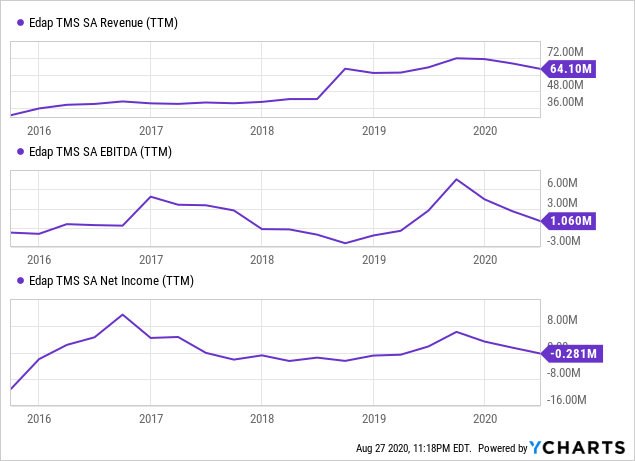 The company sells the Focal One, which is a device for treating prostate cancer with ultrasound, so-called HIFU (High Intensity Focused Ultrasound) therapy. The Focal One is a more sophisticated follow-up of their older Ablatherm, which got FDA approval in 2015.
The company teamed up with Exact Imaging in May this year to jointly market the Focal One and Exact Imaging's ExactVu, the only micro-ultrasound-based imaging tool demonstrating prostate cancer diagnostic capabilities similar to MRI.
The whole is more than the sum of the parts, the combination of the ExactVu and Focal One offer a complete solution from diagnosis to treatment for the focal management of prostate cancer. We actually bought the shares for our old portfolio at $2.36 a couple of weeks before that.
Why buy?
There are a number of reasons to be optimistic:
The Focal One is effective (see earlier article).
It is already selling even with the pandemic and with reimbursement still to be sorted out.
It produces a stream of consumables which grow with the installed base.
HIFU can be applied to additional situations. The company is embarking on a stage 2 trial using the Focal One for rectal endometriosis scheduled to begin next month (for additional therapies, again see the linked earlier article).
It has an existing business (ESWL or extracorporeal shock wave lithotripsy) which is cash flow positive but the company is shifting away from this as HIFU offers a much bigger opportunity.
The company is close to break-even, despite the pandemic headwind.
The shares aren't expensive.
Focal One
In a follow-up article, we argued that there are already some 20-25 Focal One devices in operation in US hospitals and abroad. The company sold two Focal Ones in Q2 (to Edouard Herriot University Hospital in Lyon, France, and Ochsner Medical Center in New Orleans, Louisiana), both sales included the ExactVu.
However, early in the third quarter (PR):
the company completed another bundled sale to Mount Sinai Health System in New York, a world-renowned cancer center and influential reference site for the company. Also, in the early days of the third quarter, EDAP sold a Focal One system to Keck Medical Center of University of Southern California (USC). Keck Medicine of USC was the first institution to adopt EDAP's first generation high intensity focused ultrasound (HIFU) system, Ablatherm, when the technology was approved by the FDA in 2015, and has decided to upgrade to the latest generation HIFU by acquiring Focal One.
So their hook-up with Exact Imaging seems to be paying off already, even if we haven't heard of new sales since that PR (which was from July 15).
There is still reimbursement to be sorted out. A new Category 1 CPT code will be in place by January 1 next year and on August 12, the CMS released the proposed rules for hospital outpatient payments or HOPPS and physician's fee for 2021.
While still subject to change, this rule gives a fair indication for payments next year. Then there is (Q2CC):
On the hospital payment side, CMS proposes to maintain the HIFU procedure in the level 5 urology APC in 2021. This translates into a payment for a hospital performing a HIFU procedure on a Medicare patient of around $4500 as a national average, as this could locally paid on the wage index. This represents an increase of $256 or 6% from the payment hospitals get today from Medicare for a HIFU procedure.
Similarly, the proposed CMS rule for the physician fee schedule for performing HIFU amounts to 17.73 units or an average payment of $940 while a comparable therapy for prostate cancer achieves 13.6 units ($730). From the Q2CC:
In summary, according to this proposed rule, a physician performing a HIFU procedure after January 1, 2021, will obtain reimbursement that is slightly lower relative to radical surgery, but around 30% higher than when performing prior therapy.
In the table from the 6-K below, you can see that the company gets EUR2.3M from the sales of consumables, although the large majority is still from their ESWL division, where they have a bigger installed base.
But even with the small base of Focal One (and the previous version, the Ablatherm), consumables are already producing half the revenues of product sales.
Q2 results
From the 6-K: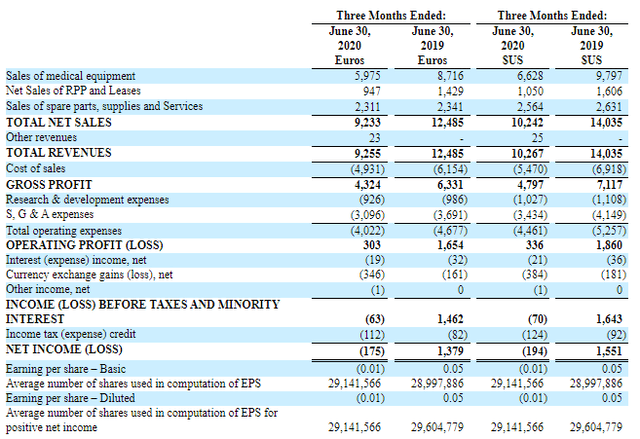 Revenue came in $4.8M better than expected at $10.9M (EUR9.3M) still 21% below last year's quarter.
Net loss was $0.2M
EPS was a loss of ($0.01), $0.06 better than expected.
Because their installed base was partly out of commission due to the pandemic, they sold less consumables.
In the table below (for the first 6 months), there is a new segmentation into three segments. From the 6-K:

The distribution division, including the sale of complementary products like lasers and mirco-ultrasound systems and products from third parties is actually the largest segment. Note that the figures are in euros.
Margins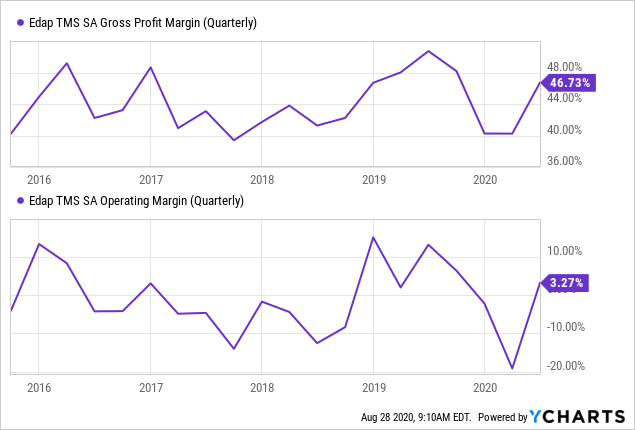 Gross profit declined a bit versus last year's record 50.7% to 46.7% due to the lower volume of sales.
Cash
Cash and cash equivalents was $17.7M (EUR15.7M) and the company also received small US (EUR200K) and Japanese (EUR400K) Covid-related government loans. This compares to the end of Q1, when the company had EUR18.45M in cash so there was a decrease in the quarter,
After the quarter closed, the company received two French government Covid loans totalling $4M putting their cash balance at EUR19.7M; given the present exchange rate that is some $23M+.
There are only annual cash flow figures, but they moved positive last year so it isn't likely the company is bleeding much cash and unless the sales drop dramatically, the company should have plenty of cash.
In addition, management said during the Q2CC that they were building inventory so they could deliver fast when new orders materialize, and this is having a negative effect on cash flow (explaining the decline in cash from Q1 to Q2) which will sort itself out when these devices get sold.
Valuation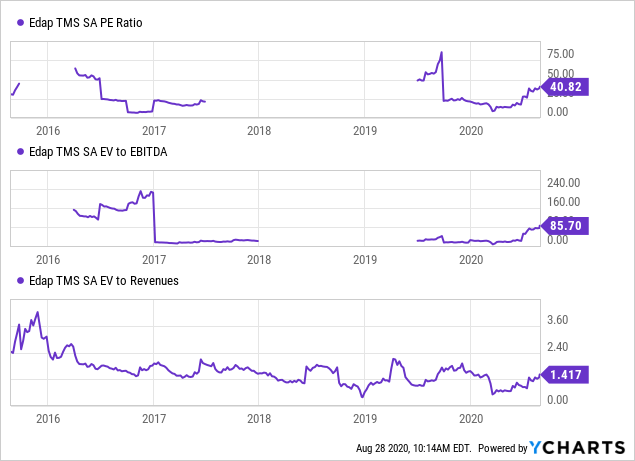 The company hasn't yet scaled sufficiently for the operational metrics to be particularly useful but the EV/S multiple is pretty low and one could argue the shares are cheap on a sales basis.
Conclusion
Even with the pandemic headwinds and the reimbursement still to be sorted, the company managed to sell Focal One's and remain roughly at break-even point, not bleeding significant amounts of cash.
Increasing the installed base will automatically increase the order supply for consumables, which was muted as many treatment facilities were closed or partly closed during the quarter.

If you are interested in similar small, high-growth potential stocks, you could join us at our marketplace service SHU Growth Portfolio, where we maintain a portfolio and a wachtlist of similar stocks.
We add real-time buy and sell signals on these, as well as other trading opportunities which we provide in our active chat community. We look at companies with a defensible competitive advantage and the opportunity and/or business models which have the potential to generate considerable operational leverage.
Disclosure: I am/we are long EDAP. I wrote this article myself, and it expresses my own opinions. I am not receiving compensation for it (other than from Seeking Alpha). I have no business relationship with any company whose stock is mentioned in this article.