It seems the financial media and enough investors have gotten lost in the nuances of the reporting of economic data, and also in hope for a fast fix to COVID-19, to drive a divide between the economic reality of today and the value of stocks. As a result, I believe many investors are missing the forest for the trees and overestimating the value of the market. If my expectations for a reconciliation of the divide between stocks and the economy come to pass, then investors positioned for such a reckoning will outperform the broader market. For institutional investors, who are required to remain fully invested, overweighting defensive stocks that pay out reliable dividends should serve such outperformance. For individual investors, the dividend contribution to returns might make waiting out economic normalization bearable. One ETF that holds the stocks of leading defensive companies is the Consumer Staples Select Sector SPDR ETF (XLP). Holding the ETF will effectively dilute stock specific risk while still allowing for a pure play on the macroeconomic thesis outlined herein. Meanwhile, we are not making such a polarizing bearish bet to significantly risk performance on the possibility of a bullish swing.
An Economic Reality Check
Economic datapoints are reported with a focus on sequential changes, whether they be month-to-month or quarter-to-quarter in the case of GDP. The result of this is that, as we have come out of the depths of the shutdown of much of the country's business, the reported sequential comparisons versus near zero activity during the shutdown have resembled how data might look through a period of boomtime growth or even better. For example, at my latest check, CNBC's moving-target of economists' forecasts for GDP was showing expected annualized growth of around 33% for the third quarter ended in September. However, that is because of the dramatically low basis set by a crippled Q2, which was down 31.4% annualized from Q1 2020. Q3 is basically making up some of the lost ground from Q2.
The reality of the situation is that absolute economic activity is crippled today, which is understandable when considering the fact that human beings the world over are either being restricted by governments in their actions or are constraining themselves out of fear of contracting the lethal virus. This is hurting businesses and, as a result, the labor market. Unemployment in the United States is still horribly high on an absolute basis, reported at 7.9% in September. That is not a level of employment that is conducive to expansive consumer spending.
While many Americans have rejoined the workforce since the shutdown, weekly jobless claims data for new unemployment filings (so people who are just now losing their jobs) are far worse than data indicative of a healthy economy. Under ongoing stress, far too many businesses are facing consolidation or even bankruptcy in the months ahead. In my view, economic activity is still subpar on an absolute basis, and especially after reconciling for temporary inventory adjustments, fiscal stimulus effects and the impact of pent-up demand.
I expect the outlook for normalized economic activity under current global market conditions is not very promising, and others on Wall Street agree. It may still be difficult to see this in near-term GDP data, but I expect that as we get beyond Q3, to Q4 and into 2021, this will be better understood. Even when comparing my estimation for the level of Q3 2020 GDP ($18,475.44 billion) to that of Q3 2019 ($19,141.7 billion), where I simply use a 30% annualized Q3 sequential growth estimate to get there, we can see that the level of GDP in Q3 should be approximately 3.5% below the prior year level. It is that year-over-year comparison that the market, with the help of misguidance from financial media, seems to be missing. Furthermore, that qualifying notation is missing in the reporting of all economic data points that today seem to be reflecting recovery. And can we expect the holiday shopping season of Q4 to be stellar this year, or better than that of 2019? I think not. In 2021, I think we could again see recessionary figures in the absence of organic growth and given some anchoring of economic and labor market malaise. Yet, the stock market set a new all-time high recently, and remains today just fractionally off that same high mark.
Now the recovery in stocks has been led by a short list of market leading names like Amazon (AMZN) and Facebook (FB), along with support from COVID-19 beneficiaries like vaccine makers. Still, it is not as if Consumer Defensive shares have not partaken in this year's recovery rally, because they have. And the shares of cyclical financials have certainly lagged the market. You can see that in the chart of the Financial Select Sector SPDR (XLF).
Still, we cannot really say that investors have been broadly betting on a quick economic recovery because of the absence of some participation. Rather, it may be more accurate to say that investors have been speculatively allocating capital resources to where they believed they were most likely to see appreciation given the circumstances, which I suppose is always the case. But given my outlook, I think more of the same can be expected. However, I anticipate that many of the market leaders year-to-date (like Amazon, Facebook, Google) will face a tax burden (or threat thereof) from global authorities looking to shift away some of their costs of recent fiscal stimulus and hiked sovereign debt levels.
Besides the market leadership issue, I think there is clearly a disconnect between the broader market and the real economy, and that is simply a situation that cannot last. Either the economy must quickly make great strides forward on an absolute basis, as we have been told is possible by our beloved Fed Chairman, or the broader market must better reflect the reality of extremely hampered absolute economic activity. I expect the latter to prove true, and in exaggerated fashion if the future brings forth a significant second wave of illness this fall and winter and/or ineffective vaccines, or some other black swan surfaces. As for that second wave, it appears to be appearing. I am watching geopolitical tensions closely too, and post-election uncertainty in the U.S. threatens stability as well.
And many economists and strategists are starting to voice the same view, with expectations for a "double-dip" recession rising. Such a scenario would surprisingly be a surprise to investors, given the level of stocks. Relative concerns recently refreshed volatility in stocks in this historically volatile late summer/early fall season, and this year's period also includes that important election in the U.S.
There is risk to my pessimistic perspective, if for instance the post-election transition goes smoothly, and fresh and targeted new government stimulus is enacted. Add to that the possibility of a perfect resolution to the health crisis. However, I anticipate that the positive impact of such events would still have to prove out in real economic execution. I am not sure that we will get that result quickly even in the positive scenario. Thus, I would use any strong market rise into the close of the year, on the perfectly positive scenario playing out, as opportunity to prepare the same pessimistic game-plan, but just a little later down the timeline. The outcome I expect is far less than perfectly positive.
Assuming a second more targeted stimulus package is passed sometime soon, the government has done about all it can really to bridge the economic gap between the COVID-19 driven economic shutdown and its restart, with the hopes of a fast healthcare fix for the disease bringing about a fast and full recovery of the economy. But the reality, as I see it, is that irreparable or at least extremely significant harm has already been done to too many businesses and individual purses. And recent concerns about the efficacy and safety of developing vaccines have also put a damper on the turnaround potential of the healthcare crisis.
Fiscal stimulus has helped a great deal and is a popular war-cry in this hot political season, but U.S. government debt has increased from worrisome levels prior to COVID-19 to an undeniably excessive point. Thus, in my opinion, there is also risk that at some point new stimulus speculation could be perceived as a negative for U.S. investors, as it raises the probability of default on debt obligations. There is a limit to the amount of fiscal stimulus governments can afford and/or manage, at least as far as using new debt to finance it is concerned.
So Overweight Consumer Defensives
Given my sobering perspective on the economy, and the market's recent lofty estimation of it, I am still favoring defensive shares. If you agree with me that a significant enough probability exists for a less than savory scenario to play out over the next 1 to 12 months, then take a look at the group of securities I favor now – I will be outlining a few individual names immediately after publishing this report. Investors can start by overweighting a broad group of defensive stocks.
One way to overweight your defensive exposure is via investment in the Consumer Staples Select Sector SPDR. Consumer Defensive stocks, also known as consumer staples, represent the companies that make the products that consumers tend to need, rather than want. So, we are not talking about discretionary spending, like that for holiday travel or luxury and leisure. The companies included in this group make and sell things like toilet paper, soap, detergent, razor blades and cigarettes (trust me, smokers swear they need these). The top 10 holdings of the Consumer Staples Select Sector SPDR are found in the table here, and many of these names are more than adequate individual holdings. However, by holding the portfolio via the ETF, you reduce your company specific risk while hedging against the macroeconomic concerns that I have outlined.
| | |
| --- | --- |
| Company | Percent of Portfolio |
| Procter & Gamble (PG) | 17.7% |
| Walmart (WMT) | 9.9% |
| PepsiCo (PEP) | 9.8% |
| Coca-Cola (KO) | 9.8% |
| Costco (COST) | 4.7% |
| Mondelez Int'l (MDLZ) | 4.7% |
| Philip Morris (PM) | 4.2% |
| Altria Group (MO) | 4.1% |
| Colgate-Palmolive (CL) | 3.8% |
| Kimberly-Clark (KMB) | 2.9% |
Now a recent chart of the XLP security matched against the SPDR S&P 500 (SPY) highlights the fact that when event risk strikes beta goes to 1.0, and investors go to cash at the cost of every other asset class, save illiquid investments. Still, you will note that in the chart here, the XLP security fell less than the broader S&P 500 ETF; and it fared better during the most fearful period of the crisis.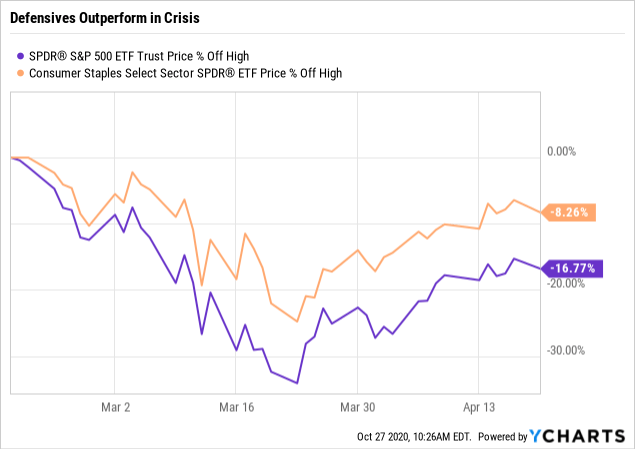 Furthermore, we have evidence of clear defensive characteristics in the XLP's beta coefficient. The beta for the XLP over the last three years was 0.61; it was 0.56 over the last five years and 0.53 over the last ten years. A beta measure of 1.0 indicates a security that is likely to match the performance of the market. Anything greater than 1.0 indicates a history of exaggerated performance versus the market, while a beta of zero indicates no statistical relationship between the market and the security. A beta of negative 1.0 indicates perfect negative correlation to the market, or a security that can be expected to exactly counter market performance. Thus, the XLP's beta of +0.61 tells us that its relationship to the market is somewhat detached. Thus, the security provides some insulation to downside market risk.
So, by overweighting the XLP in your portfolio, you are hedging against market risk to a degree. In a scenario where investors face longer lasting economic strife than is currently reflected in broad market prices, an XLP heavy portfolio should outperform the S&P 500. Thus, institutional portfolio managers whose performance is measured against the market benchmark would post better than market performance. Though, in a worst-case economic scenario, that price performance could still be negative. But there is another positive aspect to this defensive security.
Another good thing about the Consumer Staples Select Sector SPDR is that it holds securities of strong dividend paying companies. So, while all ships dip in the low tide of a market correction, these ships still produce fish in their dividend yield. The yield of the XLP security is currently 2.55%. This helps in two ways. First, it serves the total return of the security, and of your portfolio. This is debatable, as some will correctly state that the security price adjusts to the payout. However, in times of market shock, when the dividend distribution will be unaffected but stock prices dip anyway, I argue that the trade-off between payout and price impact is significantly diluted. In other words, the appeal of this security is enhanced. Secondly, I argue that the dividend yield provides a sort of cushion for the security. What I mean is that as the stocks held by the ETF dip in price, their dividend yields rise in level and in appeal to future potential investors. Those future investors become more likely to buy these stocks as their dividend yields fatten, and this serves as price protection to the underlying securities and to the XLP ETF.
Thus, in a downturn or a longer lasting economic slowdown, I think we can expect the Consumer Staples Select Sector SPDR ETF to outperform the broader market; to serve outperformance of portfolios versus the market; and to possibly manage a positive total return inclusive of its dividend yield over a less than short-term time frame. Thus, given my pessimistic expectations for the reconciliation of the broader securities' markets to a disappointing economic reality, I view the Consumer Select Sector SPDR ETF as appropriate for purchase. Now, I have one qualification over the very short term: the election result and post-election transition should drive volatility; and it could drive very short-term market upside if there is an elimination of uncertainty, and given likely promises from the elected winner. It could also bring sharp market downturn if the opposite scenario plays out and uncertainty remains post-election day. My view holds for a holding period of 1 to 12 months, because at some near future point investors will have to face a burdensome economic reality, despite any post-election volatility on the upside or downside.
Disclosure: I/we have no positions in any stocks mentioned, and no plans to initiate any positions within the next 72 hours. I wrote this article myself, and it expresses my own opinions. I am not receiving compensation for it (other than from Seeking Alpha). I have no business relationship with any company whose stock is mentioned in this article.