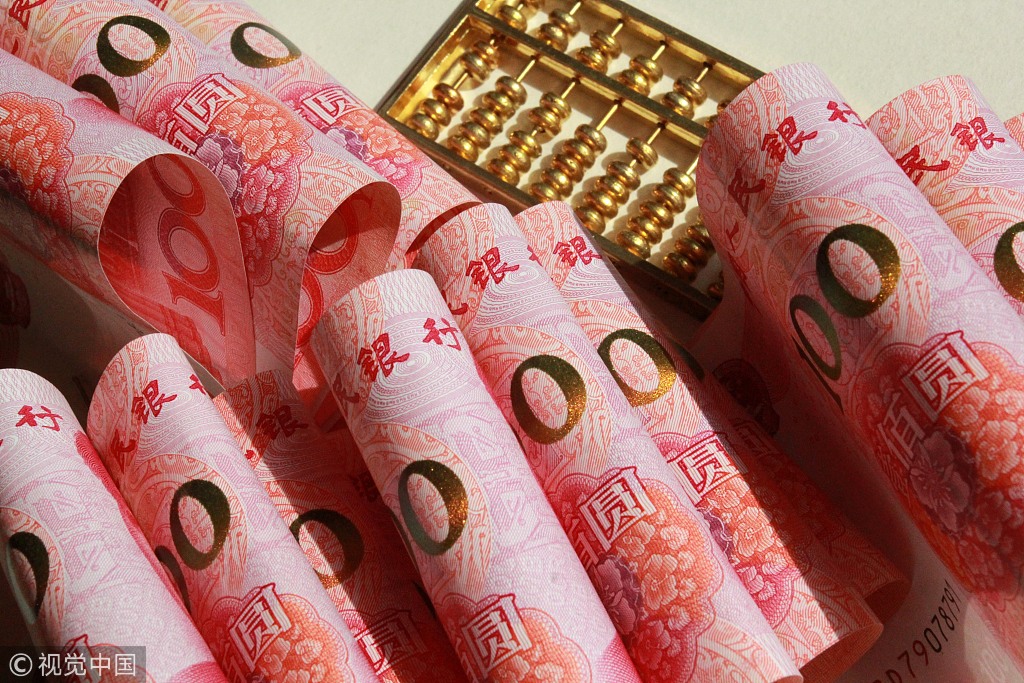 China's consumer inflation level is expected to remain mild, accompanied by steady annual economic growth, as supply-side disruptions brought by the novel coronavirus outbreak should be short-lived, officials and economists said on Monday.
They commented after the year-on-year growth in Consumer Price Index, a main gauge of inflation, rose to an eight-year high of 5.4 percent in January, up from 4.5 percent a month earlier.
"The Lunar New Year holiday and the novel coronavirus pneumonia have driven up the CPI," Dong Lijuan, a senior statistician at the National Bureau of Statistics, said on Monday.
The comparison with a lower rate last year also magnified the holiday CPI, as the Lunar New Year fell in January, a month earlier than last year, resulting in the season of greater food consumption coming a month earlier, Dong said.
Food prices rose by 20.6 percent year-on-year last month, up 3.2 percentage points from a month earlier, the NBS said. Pork prices soared by 116 percent and contributed more than half of the CPI growth, as hog production remained tight.
Economists said the novel coronavirus outbreak had modestly pushed up the CPI, with residents buying and storing more food than usual and transportation controls and store closures delaying restocking of shelves.
"But we are not fretting about the possibility that food prices will register a continuous, higher-than-expected rise," said Li Chao, chief macroeconomic analyst at Hua¬tai Securities.
CPI growth may gradually slow after peaking in January, partly as a result of authorities at different levels taking measures to resume normal logistics operations and sufficient supply of daily necessities, Li said.
About 92 percent of the more than 7,000 supermarkets in 34 large and medium-sized cities have reopened with the end of the extended Lunar New Year holiday, Ministry of Commerce officials said on Monday.
The ministry will also assist foreign companies in resuming production and improve services for major projects invested by global firms. This will protect their interests and help cut losses caused by the epidemic in the country, according to a ministry circular released on Monday.
The government will prioritize the resumption of production by foreign enterprises that produce protective goods and equipment such as medical protective clothing, face masks and goggles, the circular said, adding that foreign businesses will receive help in purchasing necessary protective materials.
The circular directed local authorities to ramp up services for large foreign-invested projects underway, including optimizing online government services and coordinating government branches to ensure timely supply of land, labor, water and power.
The ministry also will closely track the progress of large foreign investment projects under discussion.
"With production resuming nationwide and the number of new confirmed cases of infection slowing, the economic impacts of the epidemic are set to gradually wane," said Niu Li, a senior researcher at the State Information Center. "Yet when economic activities will see a real rebound is still reliant on when the epidemic can be contained," Niu said.
Growth in core CPI, which excludes food and energy prices, edged up by 0.1 percentage point from a month earlier to 1.5 percent year-on-year in January, indicating a modest improvement in domestic demand, officials said.
Cheng Shi, chief economist at ICBC International, said the epidemic should not have a major impact on inflation, while small businesses should receive the most attention.
With timely measures to support growth, especially for small businesses, China is expected to maintain relatively stable economic growth of no lower than 5.6 percent this year, Cheng said.
The Ministry of Finance vowed on Monday to continue implementing tax and fee cut policies this year and research new measures to ease the tax burden of enterprises affected by the novel coronavirus outbreak.
Tax and fee cuts in 2019 exceeded 2.3 trillion yuan ($328.9 billion), which accounted for more than 2 percent of the country's total GDP, the ministry said on Monday.
In 2019, the nation's total fiscal income increased by 3.8 percent from a year earlier to 19.04 trillion yuan, and year-on-year tax income growth slowed to 1 percent, compared with 8.3 percent in 2018, the ministry said.
Ouyang Shijia contributed to this story.
Contact the writers at zhoulanxv@chinadaily.com.cn