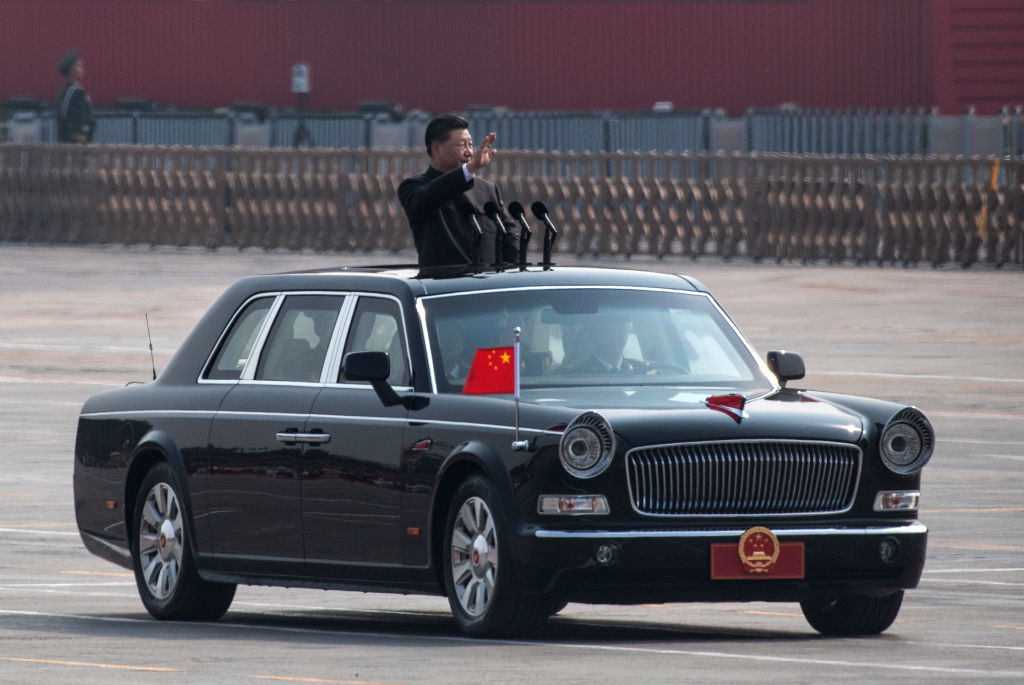 Kinas præsident Xi Jinping har, med hensynsløs beslutsomhed, lukket det kinesiske marked for udlændinge med bl.a. stærkt diskriminerende retshåndhævelse og iværksættelse af skadelige love og regler. Xis Kina er fortsat med på kriminel vis at tilegne sig amerikansk intellektuel ejendom til en værdi af flere hundrede milliarder dollars om året. (Foto ved Kevin Frayer/Getty Images)
"Dette vil ikke revolutionere det amerikansk-kinesiske forhold eller handelsbetingelserne mellem os, men det viser, at de to lande kan samarbejde om et vigtigt emne," sagde Clete Willems fra Akin Gump til Bloomberg, idet han refererede til præsident Trumps "fase ét-aftale", som blev bekendtgjort den 11. oktober. "At lære at gøre dette er vigtigt for at undgå en bred svækkelse inden for alle aspekter af vores relation, hvilket ikke er i nogens længerevarende interesse."
På trods af Willems udtalelse er det nu i USA's længerevarende interesse at trække sig ud af handelsmæssige aftaler med Den Kinesiske Folkerepublik.
Hvorfor? Af fire Grunde: For det første har det kommunistiske Kina aldrig accepteret forestillingen om komparative fordele, som underbygger hele det globale handelssystem. Jovist, de merkantilt indstillede kinesere synes, at vi skal købe deres produkter, men disse mestre i fravær af toldbarrierer og andre forebyggelser har arbejdet hårdt for at holde udenlandske produkter ude af deres marked. Hvordan kan Amerika drive handel med en stat, som ikke tror på goderne ved handel?
For det andet har det kommunistiske Kina faktisk aldrig respekteret en handelsaftale med USA. Beijing har gennem flere årtier systematisk overtrådt både sine forpligtelser i henhold til World Trade Organization og sine forpligtelser over for Amerika i diverse bilaterale aftaler.
For det tredje er Kinas økonomiske system uforeneligt med Amerikas. Xi Jinping, den kinesiske regent, har gennem de seneste år med magt kørt landet baglæns i den "store regression", som det nu bliver kaldt.
Han har med skånselsløs beslutsomhed lukket det kinesiske marked for udlændinge med bl.a. stærkt diskriminerende retshåndhævelse og iværksættelse af skadelige love og regler. Han har samtidig på ny knyttet allerede store statsforetagender til formelle monopoler og således vendt den gennem tidligere år delvise privatisering ved at øge statens ejerskab til statslige foretagender, lade staten overtage kontrollen med private firmaer, skovle flere statstilskud ud til foretrukne deltagere i det statsstyrede marked og søge udvikling via forskellige former for tvivlsom industripolitik, så som hans skændige Made in China 2025-initiativ til at dominere 11 afgørende teknologiske sektorer.
Som man siger i Kina i dag, er den statslige sektor i hurtig "fremgang", og både de private og de udenlandske sektorer er i "tilbagegang." Det skyldes, at Xi ønsker at lade Kina vende tilbage til en moderne form for maoisme.
For det fjerde er det specielt vanskeligt at handle med en tyv, især når tyven opfatter kommerciel kontakt som en mulighed for at stjæle endnu mere. Xis Kina er fortsat med på kriminel vis at tilegne sig amerikansk intellektuel ejendom til en værdi af flere hundrede milliarder dollars om året. Denne forbrydelse er vigtig for gennemførelsen af det overordentlig ambitiøse Made in China 2025-initiativ.
Som om alt dette ikke var skidt nok, så er Xis fremtidsplaner særligt farlige. Han er f.eks. lige nu på vej til at anvende sin Cybersecurity Law fra 2016 til at forbyde brugen af virtuelle, private netværk og kryptering, så han kan tilegne sig alle typer af data og kommunikation hos udenlandske firmaer, som opererer i Kina. Kinesiske embedsmænd vil helt sikkert videregive de oplysninger, som de opnår, til Kinas egne firmaer, således at disse vil komme til at vide alt om deres udenlandske konkurrenter. Kina har allerede anvendt stjålne data og teknologi til at hæmme udenlandske firmaer og sende nogle af disse, så som Nortel Networks, ud af markedet.
Desuden ser Xi Jinping ud til at ville være endnu mere modig med hensyn til at kræve, at amerikanske firmaer, som opererer i Kina, sværger lydighed over for Beijing, at fremme kommunistpartiets positioner og at implementere dets politik, overalt hvor de opererer. Det fremgår trods alt af den forkastelige adfærd hos National Basketball Association, Apple og ESPN, som alle indordnede sig under de kinesiske trusler i denne måned.
Men uanset hvor dårligt disse amerikanske forretningsforetagender tager sig ud — ingen af dem stod fast for at forsvare amerikanske værdier — så skal de ikke forventes at kunne undgå den magtfulde kommunistiske stats stormløb. Amerikanerne bliver derfor nødt til at træffe et valg: at tage imod kinesiske penge eller at bevare ideernes frie markedsplads.
En adskillelse af de to økonomier er selvfølgelig beklagelig, men den er nødvendig, fordi Kina presser amerikanerne og ikke giver dem noget valg, hvis de ønsker at forsvare frihedsrettigheder og suverænitet.
Alt dette fører os tilbage til den aktuelle handelsdiskussion. Da det stod klart, at der ville komme en handelsaftale af en eller anden art i stand, begyndte de meget store detailfirmaer at indsende ordrer for den kommende sæson hos kinesiske producenter. Havde det set ud, som om der ikke kom nogen aftale, ville mange af ordrerne være blevet sendt til fabrikker andre steder.
Den 11. oktober høstede Beijing endnu en stor gevinst. Trump indvilligede i at udskyde en toldopgradering, som var planlagt til at finde sted den følgende tirsdag.
Da Kina havde fået, hvad det ønskede, begyndte det at smide fløjlshandskerne. Den 17. oktober benægtede Beijing, at man havde forpligtet sig til at købe amerikanske landbrugsprodukter for mellem 40 og 50 milliarder dollars. Præsident Trump sagde, efter sit møde i det Ovale Værelse med Liu He, Kinas handelsmæssige chefforhandler, at Beijing havde afgivet sådan et løfte som en del af handelsaftalen med USA.
Hvis Beijing ikke havde indvilliget i dette yderligere køb, ville tidspunktet til at sige dette have været, da Liu stod ved siden af Trump, mens denne talte om det pågældende landbrugskøb. Med sin tavshed lod Liu Trump tro, at han havde fået en aftale, mens han i virkeligheden ikke havde fået det. Så Trump tilbød en reel indrømmelse — toldudskydelse — til gengæld for et løfte, som ikke var noget løfte.
Endnu et brudt handelsløfte er endnu en grund for amerikanerne til at være enige med Arthur Waldron fra University of Pennsylvania, som hævder, at "engagementet" i Kina er Washingtons "største udenrigspolitiske fejltagelse." Amerikas politiske beslutningstagere vedrørende handel med Kina spåede, at Beijings handelsmæssige — og øvrige — adfærd ville blive bedre med tiden, men det modsatte er sket.
Engagementet har, ved at undlade at pålægge omkostninger for Beijings røveriske tiltag og af andre grunde, bidraget til den åbenlyse forværring af den kinesiske adfærd. Trump er begyndt at bryde med den forfejlede tilnærmelse, som har domineret amerikansk politik, lige siden Nixon rejste til den kinesiske hovedstad i 1972 for at mødes med Mao.
Set i bakspejlet var rejsen til Beijing en fejltagelse. Og Clete Willems tager også fejl. At dømme ud fra Beijings brud på endnu en handelsaftale i de seneste dage står det klart, at det kommunistiske regime i Kina ikke er i stand til at samarbejde med USA — eller noget andet land for den sags skyld.
Så lad os ikke dyrke handel med et Kina, som lyver, snyder og stjæler.
Gordon G. Chang er forfatter til The Coming Collapse of China og Distinguished Senior Fellow ved Gatestone Institute.