Interest rates are now at previously unimaginably low levels and likely to stay there for some time. This poses a challenge to investors who have hitherto relied on bonds or CDs for income, particularly those of us in retirement. In my previous articles, about the SCHED dividend ETF and several stocks I considered well valued dividend payers, I surveyed what is currently available to the investor who wishes to buy dividend stocks right now to replace lost bond and CD income without paying too much. But as I researched this topic, I discovered that almost all dividend stocks right now have been bid up to unsustainably high valuations or else are the stocks of companies that face serious headwinds that make it possible that they are value traps, not value stocks.
Don't Lose Money Chasing Dividends
I come to investing in dividend stocks as someone who has usually concentrated on share price growth when making stock investments, since I was content to draw income from the higher yielding CDs I was able to find over the last decade. So I find myself uncomfortable with the idea of buying a stock solely for its dividend. I had foolishly let myself be swayed by enthusiastic dividend-centric investors into buying AT&T (T) several years ago, only to see the loss in share price grow to where it will take many years for the dividends paid to make up for what I have lost in share price. I certainly did not want to repeat that experience.
DARPA Stocks Protect Your Investment
So it struck me that what I should be looking for is stocks that pay dividends but offer the potential for reasonable price growth, too. I assigned this class of stocks the catchy acronym "DARPA"–Dividends and Reasonable Price Appreciation.
I decided to focus on the following when hunting for this kind of stock, knowing that there would be very few right now that would meet my criteria, but also keeping in mind that there would be opportunities over the next year, when prices declined, to pick up some other stocks that when their prices dropped, would fit in with the DARPA portfolio. I then, using FastGraphs, screened all the stocks in the Large Cap S&P 500 and the Mid Cap S&P 400, looking for stocks that fit the following parameters:
Credit rating of A or higher
Dividend of 2% or higher or the potential for reaching that level with modest prices decreases
A history of paying dividends, ideally over 10 years
A long history of steady share price appreciation with minimal cyclic fluctuations
No REITS as I am looking for qualified dividends
No tobacco stocks. Tobacco killed or severely injured some people I loved
Screening Potential DARPA Stocks for Overvaluation
Having found stocks that met these parameters, I then looked at their current P/E and compared it to their average P/E over the past 5 years, using this as a crude estimation of valuation and selected those that were not more than 5% overvalued by this metric. Needless to say, given the quality of the companies I was looking at, quite a few of companies that met my other criteria had long term average P/Es that were quite elevated. When looking at the dividend history, I did not screen out companies that had at one time or other frozen their dividends, though I did not include companies that have periodically eliminated them. A company that continued to grow its share price after freezing its dividend and then began raising it again looked to me like a well run company.
Stocks that Currently Meet DARPA Standards
The first chart you will see below lists the companies that met these criteria. As you can see, there weren't many of them, and they concentrated in several sectors: healthcare/pharma, asset management, and defense, which are currently out of favor for reasons that are often debated hotly in comments here on Seeking Alpha. Several also have three figure share prices, ranging as high as the mid $500 range, which probably has discouraged many retail investors from buying into them. Now, however, with some brokerages offering the ability to buy fractional shares, this may be less of an issue going forward.
It is worth noting that all the stocks that fit my screens are members of the S&P 500 index. Though I screened the entire S&P 400 index, too, the majority of dividend-paying Mid Cap stocks that had good track records for share price growth either paid no dividends, very small dividends, or had very poor credit ratings.
These are the stocks that met my criteria as of Sept 10, 2020. A negative % undervalued represents a stock overvalued by that percentage:DARPA PORTFOLIO STOCKS TO CONSIDER NOW

Of these stocks, I already own Cisco Systems Inc (CSCO) and Kimberley Clark (KMB). I am going to be buying T Rowe Price Group, Inc (TROW) the next time I invest if it stays near its current valuation. 3M (MMM) and Blackrock (BLK) look good to me too. I might wait for a better price point for Amgen (AMGN) as it is overvalued. If I bought defense stocks, I would also consider buying General Dynamics (GD) and Lockheed Martin Corp (LMT). But I don't.
I would be less inclined to buy the more seriously undervalued stocks in this list, Amerisource Bergen (ABC), Ameriprise Financial (AMP) and Bristol Myers Squibb (BMY) without doing a lot more research into their businesses as undervaluation that extreme suggest that there may be problems with those businesses that explain their stocks' pricing.
Stocks that Could Become DARPA Portfolio Candidates on a Pullback
The next chart displays four additional stocks that are currently too highly valued to appeal to me but which would be on my shopping list come a market pullback:
DARPA STOCKS TO BUY ON A PULLBACK

Of these, I would most wish to own Home Depot (NYSE:HD), but I already own Lowes (LOW) which is the hardware big box retailer I prefer shopping at, and which has rewarded me mightily so there is no need to rush into buying its competitor. Hershey (HSY) is a great investment, which I owned in the past and would be happy to own again. Clorox (CL) has seen its price explode, thanks to the need for disinfectant products caused by the pandemic. I will have to wait and see how well it holds up over time if the threat of infection fades (as I very much hope it will.) I don't invest in Johnson & Johnson because of the numerous incidents where their management knew of product defects that caused severe harm to people who used them but kept these defects secret and continued to sell the products.
Do't Rush to Buy Overvalued DARPA Stocks that Come into Value
When considering buying overvalued stocks on a pullback, it might be wise to remember that they often see a period of under performance no matter what their earnings after they have been overvalued, which makes me hesitate to buy them right away when they come into value. It might be wise to wait until their prices decline a bit further.
That said, with very high quality companies like these, you still make money over time no matter what happens to their valuation. I took profits in HSY years ago but would have done better to hold it.
The FastGraph below demonstrates a very good example of what the graph of a real DARPA stock should look like over time. Note the undulation from overvaluation to undervaluation that is typical of these stocks as they come in and out of favor though their earnings and dividends continue to grow.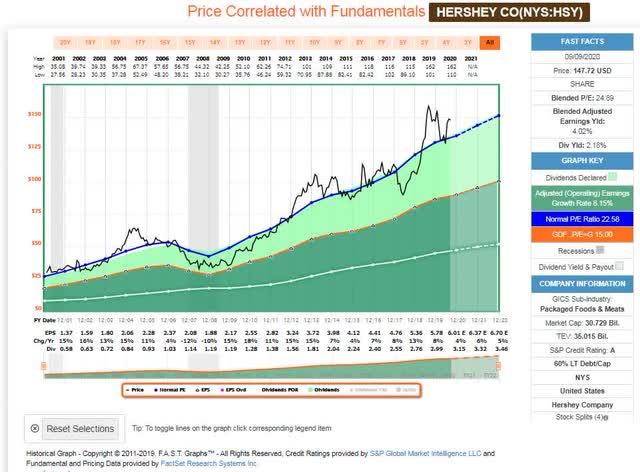 Conclusion: DARPA Stocks Provide the Best of Both Worlds for Investors
Debates rage on investment discussion boards about whether it is foolish to concentrate on dividend income at the expense of capital gains, but the stocks I present here demonstrate that it is not impossible to find high quality companies whose shares provide both.
I will be tracking this DARPA portfolio over the following year to see how it evolves and how useful a screen this is for those of us looking for both dividend income and stock price appreciation.
Disclosure: I am/we are long CSCO kMB. I wrote this article myself, and it expresses my own opinions. I am not receiving compensation for it (other than from Seeking Alpha). I have no business relationship with any company whose stock is mentioned in this article.
Additional disclosure: I may open positions in any of the stocks that make up this portfolio over the next couple of months as I look for very high quality income paying companies that are likely to grow their share prices through the next decade.