DISH Network Corporation (DISH) is a massive $18 billion connectivity company employing 16,000 individuals. As a legacy media giant, the company is best known for its satellite TV offerings, and in more recent years, its Sling TV streaming services.
DISH Network is now also looking to enter the wireless market, announcing its intention to establish a wide reaching 5G network in the United States, built from the ground up. A recent $900 million bid on radio frequencies required to establish its 5G grid indicate DISH is serious about making an impact in this space. This new venture for DISH may offer the legacy company another pivot, further shedding its identity as simply a satellite TV company, however, significant competitive and environmental challenges in the coming months and years will still need to be overcome.
DISH is up over 80% from its March low earlier this year, outperforming the Nasdaq's own impressive 65% rise during the same period. Q2 ended with a reported revenue of $3.2 billion, virtually unchanged from the same period in 2019. The quarter end also brought in a reported $452 million net income, an increase of nearly 30% compared to the same period in 2019. DISH Networks financials proved remarkably resilient in the face of crippling lockdowns that have plagued the 2020 global economy.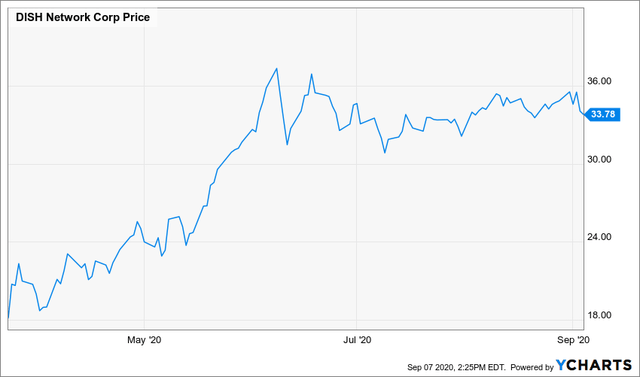 Taking a closer look at subscriptions, however, we continue to see challenges the company will continue to face. With a dizzying array of alternative media options now available, and continuing to emerge seemingly monthly, DISH Network continues to face hurdles maintaining its historical market share.
DISH TV continued to bleed subscribers into 2020, albeit at a slower rate compared to the previous year. It's flagship DISH TV service ended the second quarter with 9.02 million subscriptions, a nearly 6% reduction over the previous twelve months. It's Sling TV subscriptions saw an even sharper relative drop, ending with 2.26 million subscriptions, close to 9% less than it had one year prior. All-in, Total Pay-TV subscriptions were down 11.3 million, or 6.3% year over year.
When you think of the DISH Network, you likely envision their customers residing in residential areas; homes, apartments, and the like, watching satellite television from the comfort of their couches. And while this is certainly true, the DISH Network also enjoys a large commercial client base.
Unsurprising to most by now, COVID-19 has caused massive disruptions in the restaurant, hospitality, and airline industries. These industries happen to represent a significant source of revenue for DISH Network.
A large portion of businesses that use DISH Network services were suddenly unable to maintain payments on their subscription services earlier this year. As a result, DISH began offering relief, and temporarily froze services, to roughly 250,000 commercial accounts.
Around 20% of these accounts resumed regular service in Q2, a small, but positive indication of recovery. If lockdowns do begin to soften in the near future, this will certainly benefit the struggling leisure and hospitality sector, benefiting DISH Network.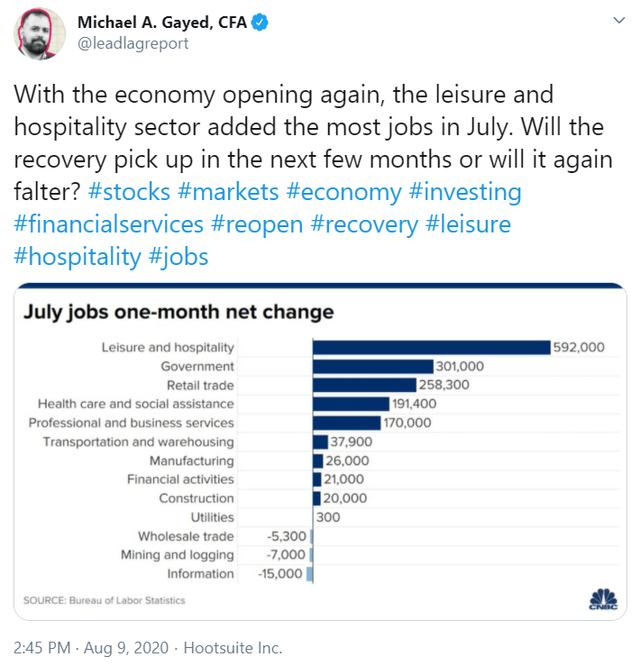 DISH Network's exciting foray into 5G may breathe new light into this established company. However, given it's rapid rise in share price in recent months, coupled with continued, troubling subscription metrics, and increasingly attractive options from competitors, I continue to view DISH Network Corporation with a neutral lens, despite this potentially promising new venture into the wireless space.
*Like this article? Don't forget to hit the Follow button above!
Disclosure: I/we have no positions in any stocks mentioned, and no plans to initiate any positions within the next 72 hours. I wrote this article myself, and it expresses my own opinions. I am not receiving compensation for it (other than from Seeking Alpha). I have no business relationship with any company whose stock is mentioned in this article.
Additional disclosure: This writing is for informational purposes only and Lead-Lag Publishing, LLC undertakes no obligation to update this article even if the opinions expressed change. It does not constitute an offer to sell, a solicitation to buy, or a recommendation regarding any securities transaction. It also does not offer to provide advisory or other services in any jurisdiction. The information contained in this writing should not be construed as financial or investment advice on any subject matter. Lead-Lag Publishing, LLC expressly disclaims all liability in respect to actions taken based on any or all of the information on this writing.