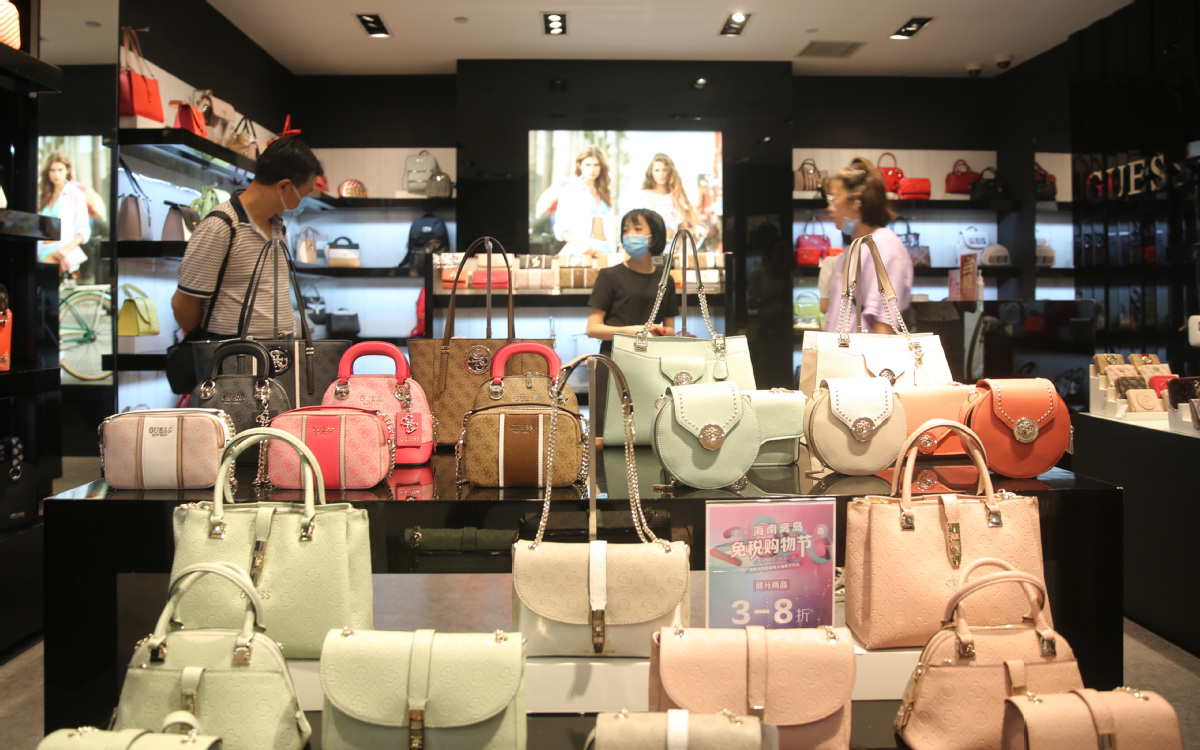 The development of Hainan Free Trade Port is drawing a much desired blueprint for locals, tourists and business people as a whole.
Xiao Wang, a 30-year-old taxi driver in Haikou, capital of Hainan province, has great expectations for a happier life on Hainan Island following the release of the master plan on the Hainan Free Trade Port, which entered its 100th day of implementation on Tuesday.
"I will work hard to try to afford for my three-month-old son to attend the newly opened Harrow Haikou school and maybe later earn a foreign university degree without going abroad," he said.
The young father has kept close watch for any information and changes brought by the master plan, including new business opportunities for himself and better schooling opportunities for his child, as the Hainan FTP strives to turn the island into a premier destination for international education projects.
Hainan has become one of the hottest tourist destinations, as the COVID-19 epidemic is now mostly subdued domestically and travel restrictions were lifted in large parts of the country.
More than 90 percent of the rooms were fully occupied in the Yanglong Bay and Haitang Bay for most of July and August in two clusters of five-star international brand hotels, according to Deng Yongbo, secretary-general of the Sanya Tourism Federation.
Hainan"s unique tropical tourism resources were seen as a factor that has fueled the robust travel boom, when the epidemic had blocked people from international travel. But the real bargain was the newly upgraded offshore duty-free shopping policy incentives granted by the central government to promote development of the Hainan FTP.
From July 1, Hainan has increased its annual tax-free shopping quota from 30,000 yuan ($4,392) to 100,000 yuan per person. The number of duty-free goods categories has also expanded from 38 to 45, with products such as mobile phones, laptops and wine products added to the list.
"Business in August, the summer vacation period, was even more brisk than the traditional spring festival period. The highest daily passenger flow reached 40,000," said Zhao Jing, assistant director of the marketing department of Sanya Duty-free Shopping Complex. It is the world's largest single duty-free shop, with a total area of 120,000 square meters and showcasing more than 350 international luxury brands.
"I thought the upgraded 100,000 yuan quota was a big sum. But it was used up so quickly and I'm looking forward to enjoying my quota for next year," said Liu Yue, a tourist from Chengdu, Sichuan province. She appreciates the new policy that allows for greater choices of luxuries.
Data from Haikou Customs showed that Hainan's duty-free sales exceeded 5.58 billion yuan from July 1 to Aug 31, up 221.9 percent on a yearly basis.
Officials with the Hainan provincial commerce authority said the new policy is expected to play a role in winning back consumers who used to buy high-end products overseas.
Hainan currently has four offshore duty-free shops. Two are in Haikou, one in Qionghai and the other one is in the popular resort city of Sanya, where the island province plans to build more duty-free shops.
Xie Xiangxiang, an associate professor of tourism at Hainan University, said the new policy is unlocking the consumption power of high-end Chinese consumers.
"Building of more duty-free shops in Hainan FTP will encourage competition, which will in turn create better shopping experiences for customers, bringing in richer varieties of brand goods, lower prices through promotions, and better services," said Xie.
He said Hainan residents have more to expect from the positive list of duty-free goods, which will be released later this year."It will make it possible for local residents to buy goods of international brands and improve the quality of daily life".
Policies boosting the development of the Boao Lecheng International Medical Tourism Pilot Zone have also generated much needed help to people with serious illnesses in and outside Hainan Island.
The pilot zone, established in 2013 to explore the country's development of international medical tourism-related businesses and services such as licensed medical treatment, cancer prevention and treatment, has imported more than 100 kinds of innovative drugs and medical devices that are not yet marketed in other areas in China.
The drugs cover mainly cardiovascular medicines, ophthalmology, dermatology, plastic surgery, oncology and infectious diseases, according to the pilot zone administration.
The zone, among its many pioneering efforts, has introduced the country's only "global franchise licensed drug insurance", an innovative medical insurance which makes it possible for people to access advanced foreign medicine and devices without going abroad and at a much lower cost.
The insurance covers 70 anti-cancer drugs worldwide for 35 common cancers, including 49 that have not been approved for sale in the Chinese market.
The annual premium for Hainan residents is only 29 yuan per person, and the insurance proceeds could be one million yuan. More than 600,000 islanders have bought the insurance policy since its launch on Aug 2.
"Yet, the big pie of favorable policies in Hainan FTP has just started to unfold. The 15 percent ceilings for both personal income tax and corporate tax, and the huge opportunities for business and career development in Hainan, is certain to overflow in unprecedented profits and benefits for people in Hainan and those who have come from afar," said Xie, adding that "the jobs thereby created will benefit locals a great deal".