Introduction
It's never easy to fully understand banks, and it's even more difficult to try to figure out large systemic banks with a large position in derivatives. Deutsche Bank (DB) has been an eternal underperformer ever since the Global Financial Crisis as the bank has been trying to reinvent itself by reducing risk and improving its balance sheet. The bank still isn't out of the woods yet, and after checking the half-year report, I remain on the sidelines.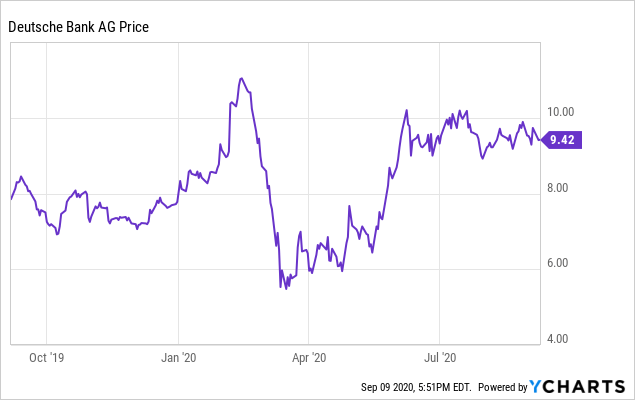 Although Deutsche Bank has a liquid US listing, the bank reports its results in EUR and I will use that currency as base currency throughout this article. Where applicable, I will also refer to its European listing and share price.
A pre-tax income in H1 2020 bodes well
The headline of the half-year update was focusing on Deutsche Bank's pre-tax income of 158M EUR in the second quarter, in line with the pre-tax income in the first quarter.
Looking at the income statement, it's clear Deutsche Bank is getting hit hard by the lower net interest income: although the interest expenses decreased by almost 1.8B EUR in Q2, the interest income decreased by almost 2.4B EUR, resulting in a 600M EUR decrease in the net interest income to 3.1B EUR.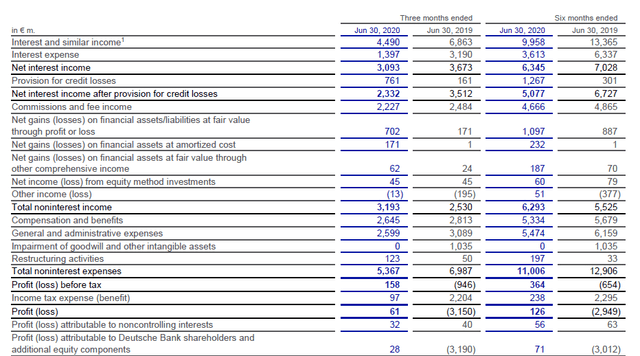 Source: financial statements
That's still a decent result but considering the bank's total non-interest expense is roughly 2.2B EUR, there's really only 0.9B EUR available to absorb loan loss provisions, and Deutsche Bank had to use almost the entire amount as it recorded 761M EUR as a credit loss provision in the second quarter. This wasn't unexpected as the Q1 credit loss provision of just over 500M EUR was a bit light for a bank with a loan book of almost half a trillion EUR.
The higher loan loss provision in Q2 pushed the H1 provisions to 1.27B EUR, up from just 301M EUR in H1 2019. Deutsche Bank clearly isn't ignoring the potential credit losses, but the relatively low provisions in H1 (just 0.25% of the total loan book) indicate Deutsche Bank is either fully confident in the strength of its loan book, or it is planning to spread out its credit losses over time in an attempt to not upset the market and generate some confidence and credibility by remaining profitable during these unprecedented times.
However, looking at the Q2 presentation provided by Deutsche Bank, we notice something interesting:

Source: company presentation
According to Deutsche Bank, the impact of COVID-19 on the provision for credit losses was about 670M EUR. That's fine, but that also means the non-COVID related credit loss provisions were roughly 600M EUR, which is still twice as high as the 301M EUR in provisions in H1 2019. So although the credit loss provisions increased in both Q1 and Q2 compared to the corresponding quarters last year, this isn't entirely due to the pandemic as Deutsche Bank seems to indicate the normalized loan book provisions increased as well.
This doesn't mean DB is out of the woods yet
For now, everything seems to be manageable for Deutsche Bank. The company is accelerating its loan loss provisions to ensure its recorded provisions are in line with the expectations as the COVID-19 pandemic will leave some victims in its wake.
Source: company presentation
The gradual approach may actually be the best approach for Deutsche Bank and it was very interesting to see in the H1 update the German bank expects to keep its credit loss provisions low this year, at 35 to 45 points of the loan book. With a loan book size of 437B EUR, this indicates a loan loss provision of 1.53B-1.96B EUR. Considering the loan book has a large position in mortgages (34%) I estimate the risk on the mortgage portfolio to be relatively low, but the credit risk on other positions in the loan book is a bit of a 'black box'.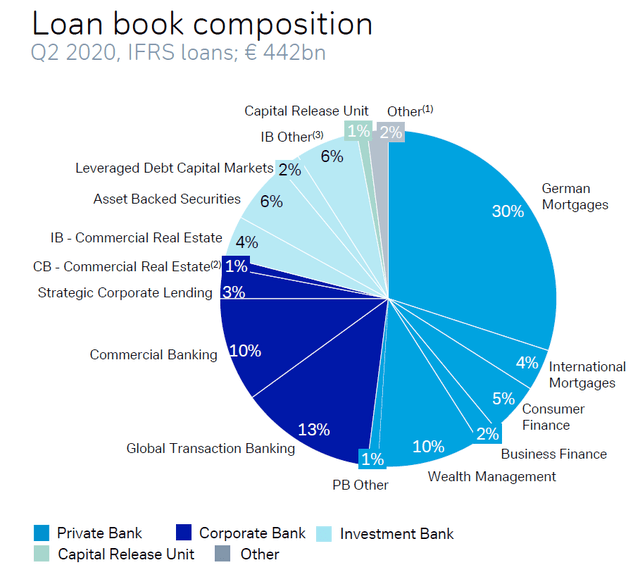 Source: company presentation
Even if we would use the higher end of this guidance, this seems to hint at much lower loan loss provisions in the current half year as Deutsche Bank would only need to record 700M EUR in additional provisions to meet the upper end of its implied guidance. And with a provision rate of 350M EUR per quarter, the bank should remain profitable in Q3 and Q4 although we can and should expect a bit more pressure on the net interest margin.
An additional benefit of the reasonable loan loss provisions is the marginal impact on the bank's CET1 ratio. As of the end of June, Deutsche Bank had 43.9B EUR in qualifying CET1 capital and based on the 331B EUR in risk-weighted assets, this represented a CET1 ratio of almost 13.3%. That's relatively high and comfortably meets the 11.59% minimum CET1 ratio. This means Deutsche Bank's current capital position has approximately 5.6B EUR in 'excess' capital to meet its capital requirements. And if the bank is correct about its estimate to record loan loss provisions of 0.35-0.45% of the loan book this year, the CET1 ratio will remain above 13% this year while Deutsche Bank continues to strengthen its balance sheet.
Investment thesis
Although Deutsche Bank is trading at an impressive 65% discount to its tangible book value (based on the June financial results), I remain on the sidelines for a bit longer. I am positively surprised Deutsche Bank seems to be getting its act together but I don't feel comfortable enough to initiate a long position yet.
But credit where credit is due. Without the specific COVID-19 credit loss provisions in H1 2020, the bank's net income would have been approximately 600-650M EUR for an EPS exceeding 30 cents per share. I'm cautiously optimistic as Deutsche Bank is going in the right direction but I'd like to see the company confirm its performance in the next few quarters.
Consider joining European Small-Cap Ideas to gain exclusive access to actionable research on appealing Europe-focused investment opportunities, and to the real-time chat function to discuss ideas with similar-minded investors!
NEW at ESCI: A dedicated EUROPEAN REIT PORTFOLIO!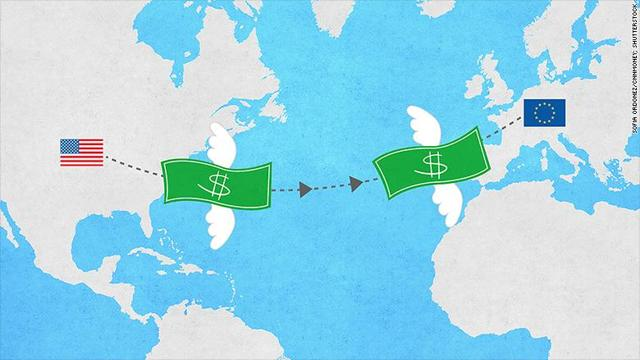 Disclosure: I/we have no positions in any stocks mentioned, and no plans to initiate any positions within the next 72 hours. I wrote this article myself, and it expresses my own opinions. I am not receiving compensation for it (other than from Seeking Alpha). I have no business relationship with any company whose stock is mentioned in this article.