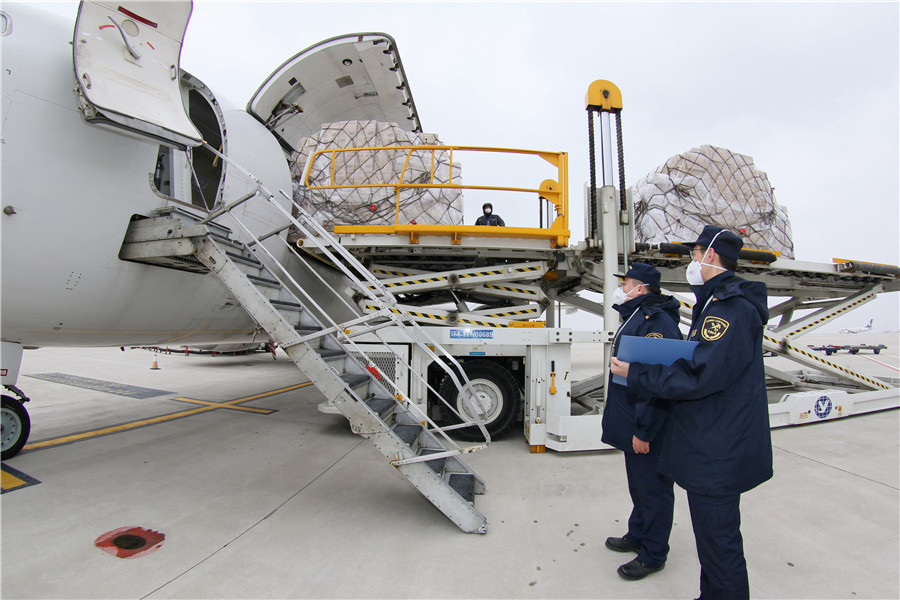 The General Administration of Customs has opened special channels at all clearance sites across the country to fast-track clearance services for imported supplies related to epidemic prevention.
To surmount the challenges of the outbreak, the GAC said overseas donations for anti-epidemic purposes can be released upon registration before appropriate formalities are completed.
Imported medicines and medical devices can be picked up on their arrival to ensure there is no delay in their clearance.
Since Jan 30, the value of China's daily imported supplies for the epidemic prevention has averaged above 150 million yuan ($21.43 million), Jin Hai, general director of the GAC's department of general operations, said at a news briefing.
According to him, customs offices nationwide have offered fast-track services to overseas donations and ensured "zero delays" in customs clearance for imported drugs and medical devices.
In a notice that the GAC issued in late January, all customs districts are required to devote themselves fully to fast clearance of medical supplies for preventing and controlling the novel coronavirus-related contagion.
On Feb 4, overseas donations worth about 13 million yuan arrived at an airport in epidemic epicenter Wuhan, capital of Hubei province. Local customs provided guidance throughout the process, cleared the supplies as soon as possible and helped deliver them to the front lines of epidemic prevention.
By Feb 8, donations from 21 countries and one international organization were delivered to China, including 7.03 million surgical masks and 299,500 protective suits, Wang Bin, deputy general director of market operations department with the Ministry of Commerce, said at a news conference.
Beijing Customs also opened green lanes for fast clearance of imports at Capital International Airport, Daxing International Airport, Beijing Post Office and other ports of entry.
The customs department also provides a 24/7 clearance service, and acquired-cargo information. It has handled customs formalities before their arrival, so that such supplies can be cleared without delay.
On Jan 30, when 20 tons of anti-epidemic supplies from abroad arrived by air in Beijing, customs officers, who had been waiting near the landing field, immediately cleared them without delay. It only took 45 minutes from the airplane landing till the cargo release.
According to the GAC, between Jan 24 and Feb 2, China imported 94,000 batches or 240 million pieces of anti-epidemic supplies, valued at 810 million yuan.
Among them, protective articles accounted for nearly 75 percent of the total batches, valued at 610 million yuan. These included 230 million pieces like masks, protective suits and safety goggles.