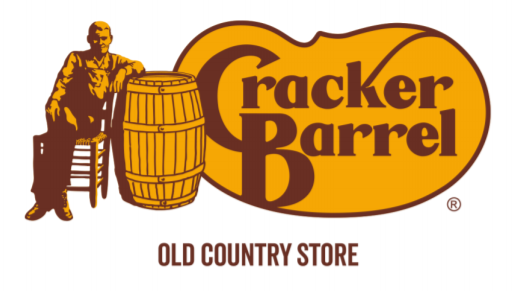 Restaurant stocks have been through quite a roller-coaster ride in 2020. The initial shock of shutdowns for COVID-19 saw shares of restaurant chains decimated, only to see a hugely impressive rally after investors realized things perhaps weren't as bad as they seemed. One such stock that has rebounded nicely, although not back to its pre-COVID highs, is Cracker Barrel (NASDAQ:CBRL).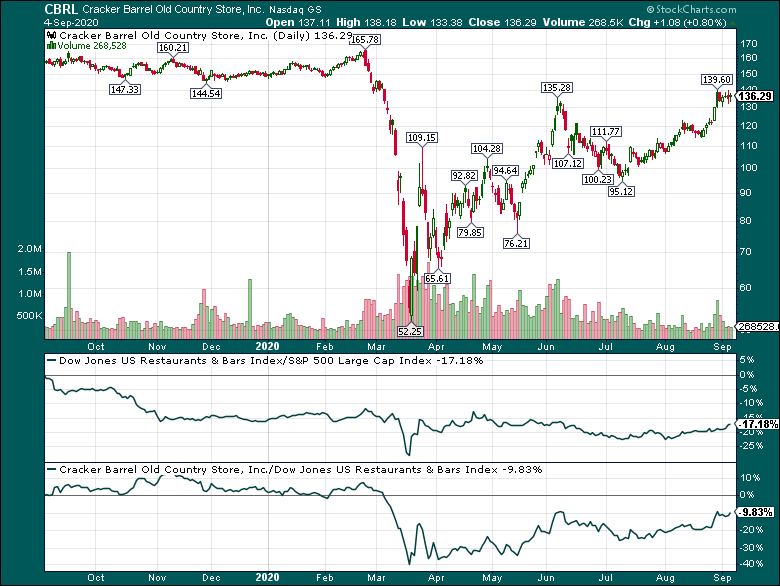 Cracker Barrel has rallied back to a new relative high ahead of its earnings report that is due out in a just over a week, and I'm cautious. The restaurant sector has traded roughly even with the S&P 500 this year, although it has underperformed a bit of late as the broader index has rallied hard. Cracker Barrel has outperformed its peer group since the bottom in March, but over time, Cracker Barrel has been weak against its peer group.
From a relative strength perspective, we have a broader market that has sold off hard from the top, a sector that is struggling to keep up, and a stock that is struggling to keep up to the peer group. This is certainly less than ideal, and given the valuation, I think Cracker Barrel should be avoided ahead of earnings.
Revenue and margin growth don't support the valuation
I've been bullish on Cracker Barrel at times in the past because the stock has sported juicy yields at times, and because Cracker Barrel has carved a nice niche out for itself in a crowded restaurant space. However, growth has slowed to a trickle in recent years, and with the outlook for 2020 and 2021 murky at best, I'm cautious.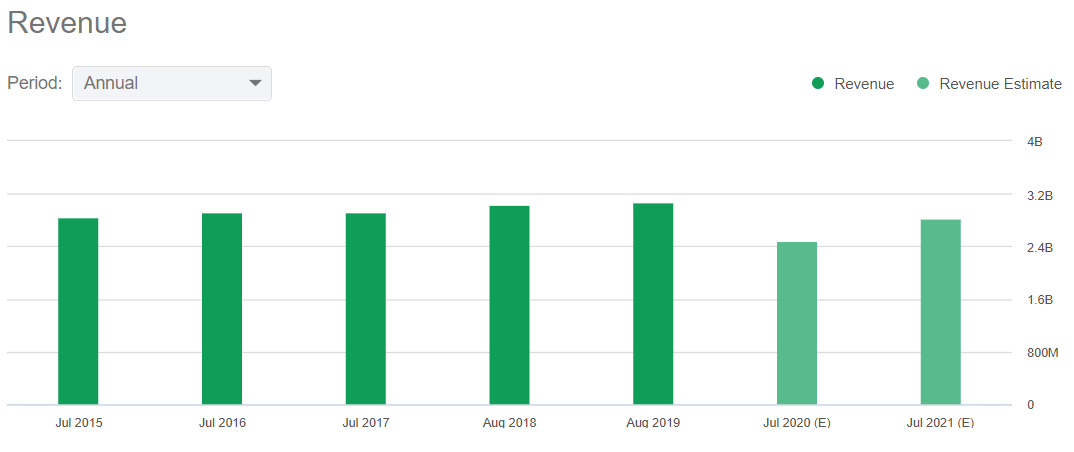 Source: Seeking Alpha
Revenue has moved higher in the past few years, but only just, and with COVID's impact, it may be a long time before we see Cracker Barrel hit its previous high in terms of revenue. The company's store base is mature at this point, so we won't see top-line growth from footprint growth necessarily, meaning the top line is all down to comparable sales.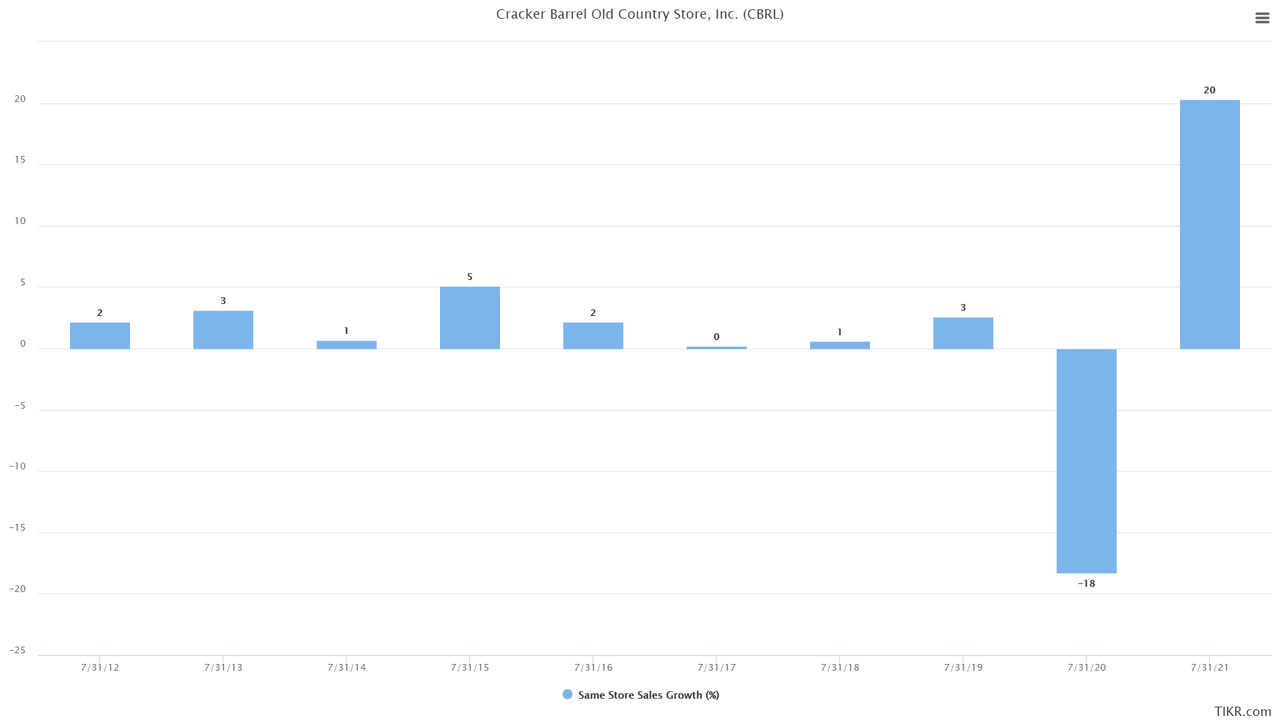 Source: TIKR.com
Unfortunately for Cracker Barrel, that hasn't been a reliable source of growth, either. This long-term view shows that comparable sales have been positive each year, but the magnitude of the gains has been lacking. With shutdowns causing comparable sales to plummet this year, we'll see a strong rebound into next year. However, the rebound is simply going to retrace losses incurred this year. This is in line with other restaurants and in line with historical growth rates for Cracker Barrel, but I don't think it helps the bull case at all.
The other problem is that Cracker Barrel's margins have suffered in recent years. Below, we have gross margin, SG&A costs, and resulting EBIT margin for the past five years.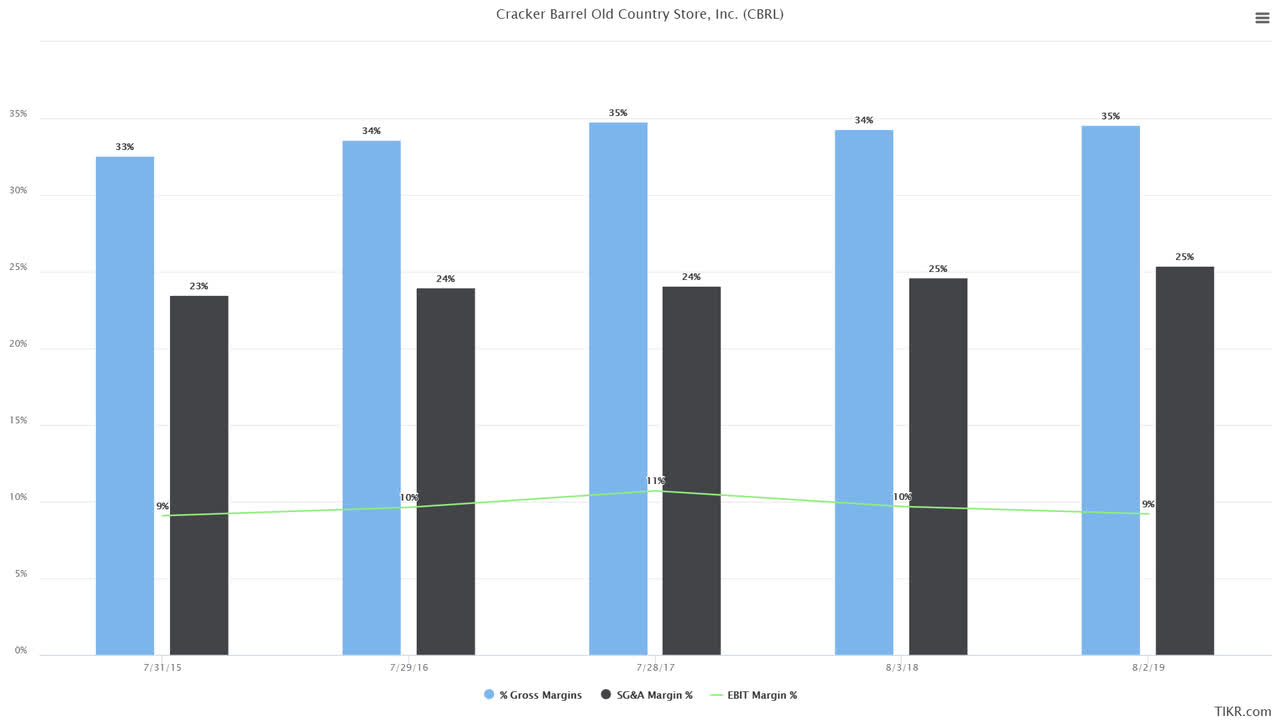 Source: TIKR.com
One thing restaurant stocks in general exhibit is fairly strong operating leverage created by rising revenue. Essentially, what this is means is that as revenue rises, things like back office support costs, store lease costs, supply chain costs, etc. are leveraged down, which results in higher operating margins. With Cracker Barrel producing little to nothing in the way of revenue growth, that isn't really an option.
The result is what you see above, with gross margins oscillating but remaining fairly constant, but SG&A costs moving higher as a percentage of revenue. That has resulted in declining operating margins for the past couple of years, and the magnitude has been substantial. Using EBIT as a measure of operating income, Cracker Barrel has suffered a nearly-2% decline in operating margins, which is tremendously difficult to overcome without substantial revenue growth. With the latter simply not in the cards given the company's mature store base, the prospect of operating margin expansion looks pretty dim.
Indeed, that is exactly what EPS estimates show, as we can see below.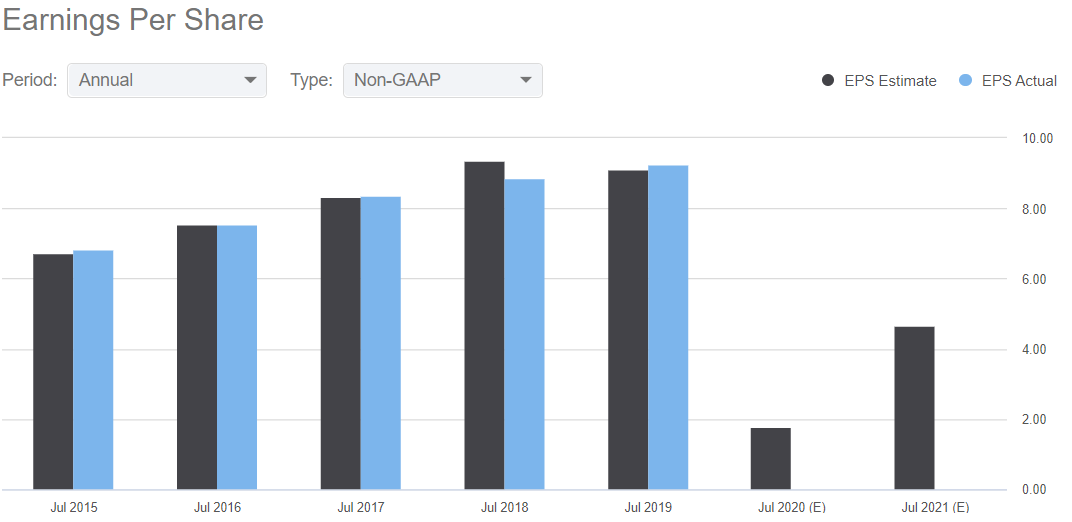 Source: Seeking Alpha
Analysts have a small profit this year, followed by a strong rebound into next year, but at roughly half of fiscal 2019 levels. That implies a huge deterioration in margins for the reasons I laid out above, and without strong revenue growth in the future, I'm not sure how Cracker Barrel will get back to its prior growth trajectory.
The other thing is that the valuation is absurdly high when viewed in the context of EPS estimates for this year and next year, so we must look even further out to fiscal 2022 to get some sort of normalized PE multiple.
Fiscal 2022 estimates are for $8.16 in EPS, putting the current price at ~17 times that value. In other words, investors must pay 17 times earnings that may or may not occur for another two years in the face of high levels of uncertainty. That's something I'm simply unwilling to do, especially for a restaurant in these unprecedented times.
To my eye, the valuation is far too high, and is good enough on its own to warrant a sell rating.
The yield is another sell signal
In much the same way that we can use valuations to judge how expensive or cheap a stock is, for dividend stocks, we can use the yield to determine relative value.

Source: Seeking Alpha
Above is Cracker Barrel's yield for the past five years, and with the stock sporting a yield that is well within its historical range, again, it appears to me that investors have already priced in a return to normalized conditions.
I won't rehash the whole argument, but with the valuation and the yield both at levels you'd expect to see without a pandemic, one wonders exactly how market participants appear to be acting like the pandemic and its impacts have already passed.
Cracker Barrel has a long history of paying strong dividends, and it has a place in the crowded restaurant landscape. However, the valuation and yield are at normalized levels when the outlook is anything but, and heading into the earnings report, I think investors should take the money and run.
Disclosure: I/we have no positions in any stocks mentioned, and no plans to initiate any positions within the next 72 hours. I wrote this article myself, and it expresses my own opinions. I am not receiving compensation for it (other than from Seeking Alpha). I have no business relationship with any company whose stock is mentioned in this article.